Join us and learn about GDS' transformation work! Alumni will present as we celebrate 25 years of Excellence and Reaching Our Potential!
About this event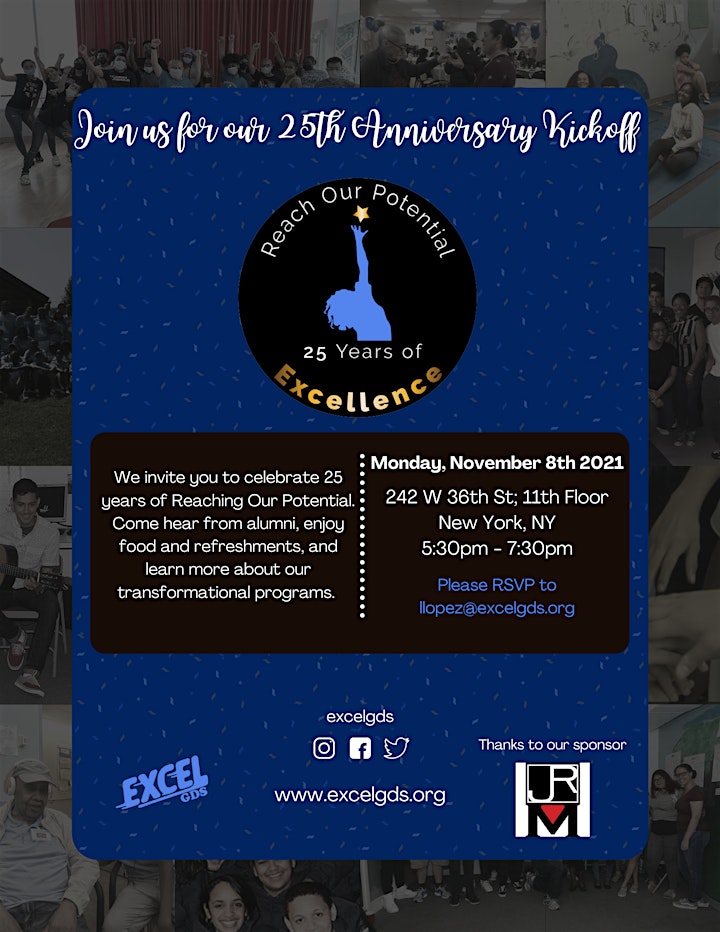 The inner-city youth of Washington Heights, Inwood, and the Bronx served by GDS are going through an especially challenging time due to COVID and the intensified social injustice in our neighborhoods; thus, GDS' mental health, youth development, and intergenerational programs are needed now more than ever.
We are so excited to update you on celebrating our upcoming 25th Anniversary and recent accomplishments. Growth and Development Services (GDS) was founded on November 8th, 1996 with the purpose of providing therapeutic services in multi-marginalized communities. Exactly 25 years later to that day, we invite you to the kickoff to our Platinum Anniversary on Monday, November 8, at 5:30 pm. We will be celebrating GDS programs and honoring volunteers and supporters like you that have made this vital work possible.
Join us and celebrate this milestone with us as we take into account the new challenges that our communities face and set intentions for the next 25 years and beyond!
Please note you may also attend virtually by emailing llopez@excelgds.org, you will receive a Zoom link.
The Excel Program and Leaders for Change
GDS' innovative virtual model, Leaders for Change (LFC), created in 2020 in response to in-person prohibitions, had incredible success. This success has granted the enhancement and expansion of the LFC program. Outcomes indicated that 100% of participants received help with their resumes and cover letter, felt supported, learned about self-care and wellness, and now have a better understanding of advocacy. GDS continues to expand our wellness, leadership development, arts, job readiness, educational guidance, and youth advocacy services so that more youth in need can receive betterment resources to be the best version of themselves.