Description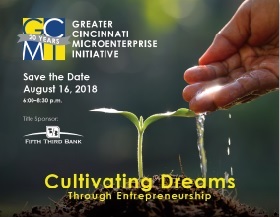 Get Engaged....Get Informed....Get Excited....
Tickets are on Sale Now!!!
You are cordially invited to the Greater Cincinnati Microenterprise Initiative 20th Anniversary celebration! Join us in commemorating 20 years of Entrepreneurial Exploration, Business Development, and Entrepreneur Education. Dine and mix n` mingle with us at the new and modern Summit A Dolce Hotel in Madisonville, also meet one of the most influential and internationally recognized thought leaders in Entrepreneurial Education, Gary Schoeniger - Founder of the Entrepreneur Learning Institute. Since 1998, GCMI continues to support entrepreneurs and emerging small business with entrepreneurship education, business development, and funding. There is no better way to get engaged or rub shoulders with GCMI business professionals, thought leaders and successful entrepreneurs under one roof!
Please plan to join us in celebrating "Cultivating Dreams Through Entrepreneurship" on Thursday, August 16th at 6:00pm until 8:30pm at the new Summit Hotel A Dolce Hotel at 3454 Medpace Way Cincinnati, OH 45227 in Madisonville.
Event Details:
6:00- 8:30pm - Program Starts & Dinner
You can purchase tickets here on Eventbrite.com (small fee) or also purchase your dinner tickets (no fee) by directly contacting GCMI. Tracey Hayes 513-924-2047 or Willie Hill 513-569-1247. For more information about purchasing corporate tables or event sponsorship email gcmiasst@cincy-caa.org.