Actions and Detail Panel
GCC Majors Bahrain 2016
Fri, Dec 23, 2016, 2:00 PM – Sat, Dec 24, 2016, 9:00 PM AST
Description
GCC Majors is a high profile E-Sports Championship series covering the GCC Region with a focus on the Fighting Game genre.

Organized by members of the GCC Fighting Game Community, GCC Majors Bahrain 2016 shall host tournaments for Street Fighter V, The King of Fighters XIV and Guilty Gear Xrd -REVELATOR- on PlayStation 4, and Super Smash Bros. 4 on Wii U. Additionally, it shall host side tournaments for BlazBlue Central Fiction on PlayStation 4 and Super Smash Bros. Melee on GameCube.
Schedule: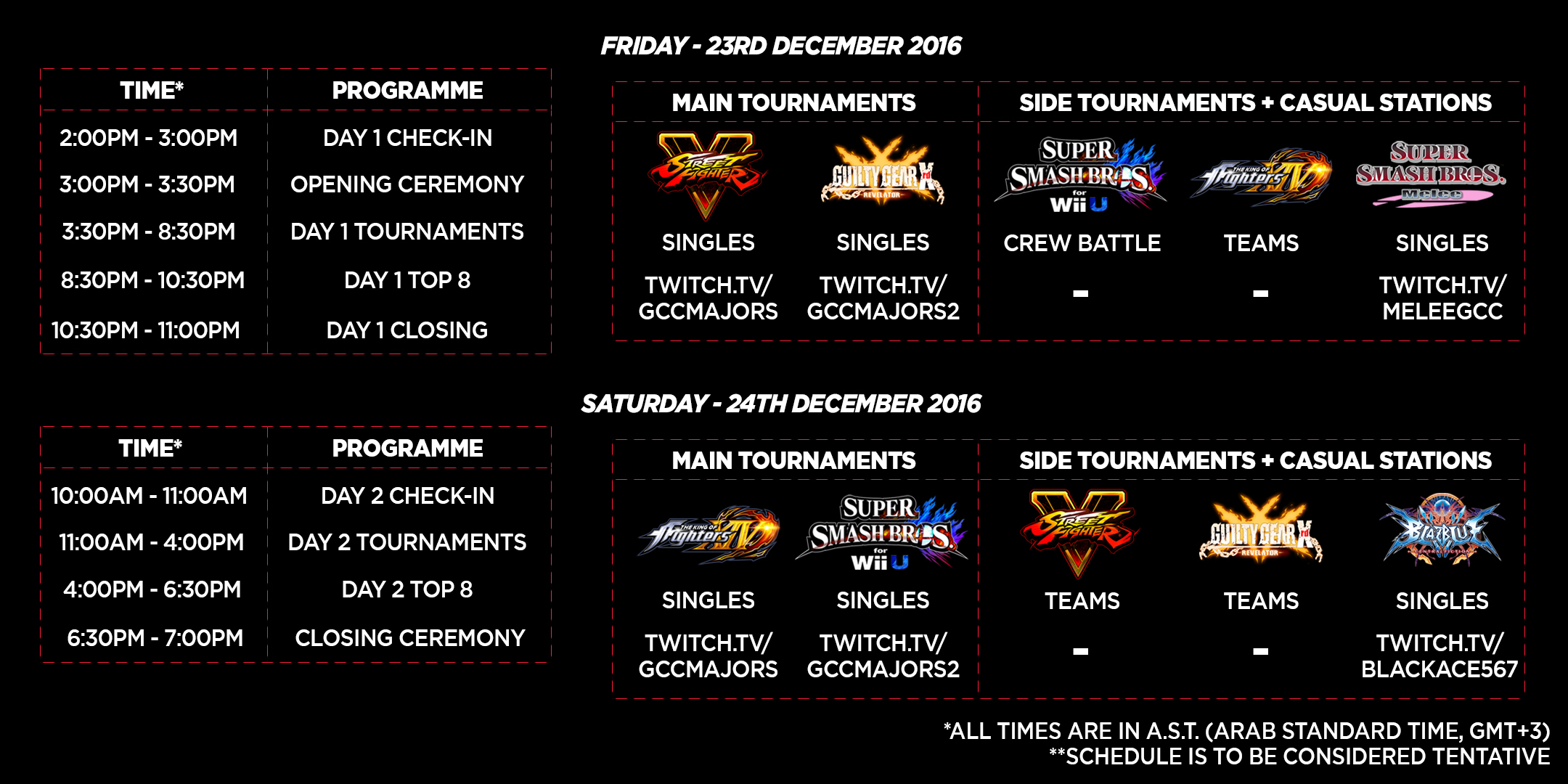 Prizes: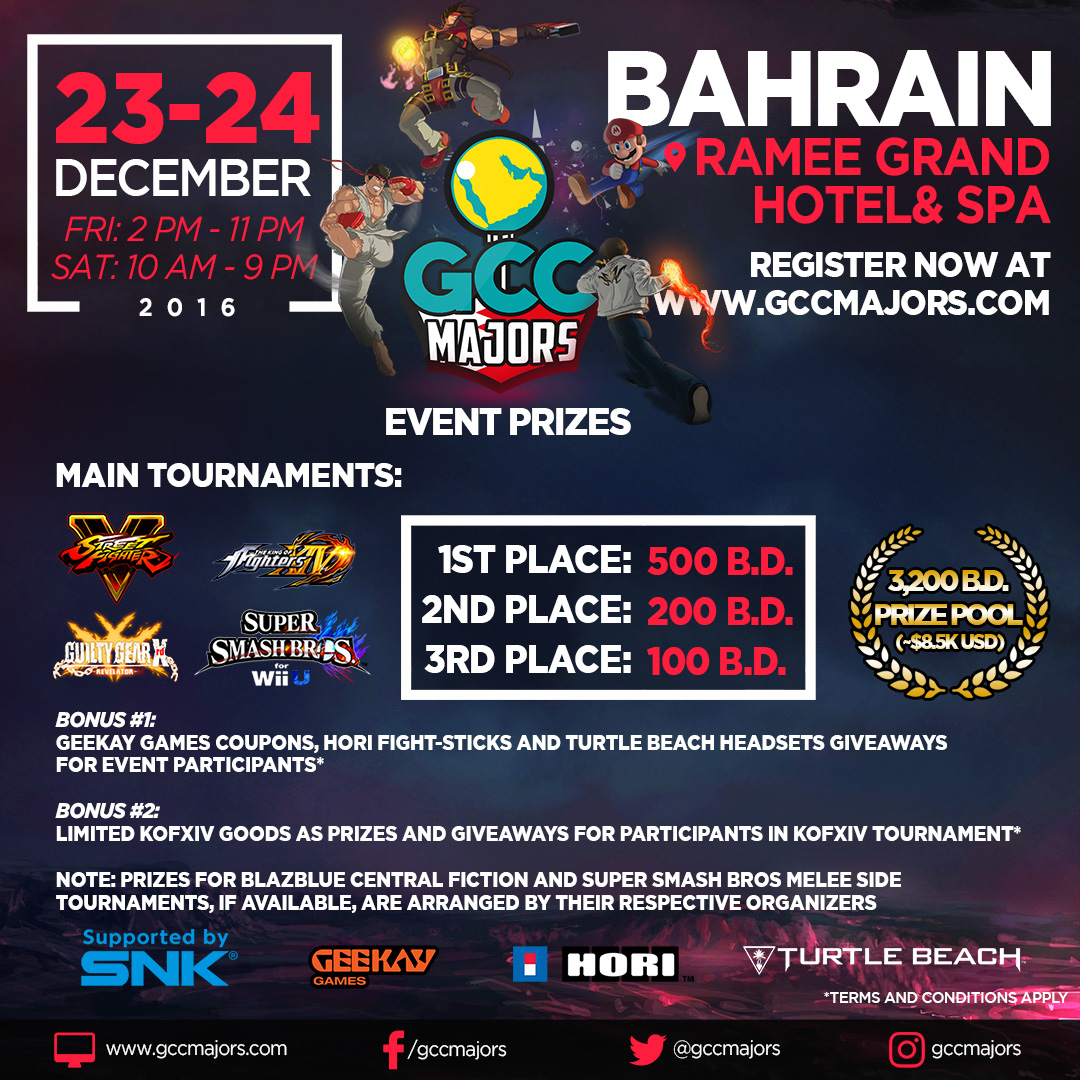 Note: Don't miss out on the early-bird discount by buying your tickets on or before the 3rd of December!
FAQ
Q: There are many ticket types, which one should I get?
A: Depends on what you would like to do in the event. If you would like to join any of the main tournaments, you would need to get the 2-day Competitor's Pass. If you would just like to spectate, play some casual matches or even join one of the side tournaments, the 1-day Spectator Pass would be an option.
Q: Where is the event going to be held?
A: Ramee Grand Hotel & Spa in Bahrain. The event will be in the Acacia Ballroom, accessible from the lobby via a separate elevator. Please ask the lobby for assistance if needed.
Q: Will there be a special hotel room rate for participants in the event?
A: Yes! Ramee Grand Hotel & Spa is offering GCC Majors participants a special discounted room rate. Book directly with the hotel through phone on (+973) 1711-1999 and ask for the GCC Majors rate.
Q: When is the event going to happen?
A: It will be on the weekend of December 23rd-24th. The schedule is above in the event description.
Q: How long will it run each day?
A: It will run from 2PM - 11PM on the first day, and from 10AM - 9PM on the second day. Please be there on time and don't be late, or else you risk getting disqualified (Please inform any of the TO's about any lateness if you plan to compete). All times are in AST (GMT+3). For more details, please check the schedule above in the event description.
Q: What games are at GCC Majors this time?
A: We will have a total of 6 games: 4 highlighted in our main tournaments and 2 joining as side tournaments.
The games are as follows:
Main Tournaments
Street Fighter V on PS4

Super Smash Bros. 4 on Wii U

Guilty Gear Xrd -REVELATOR- on PS4

The King of Fighters XIV on PS4
Side Tournaments
BlazBlue: Central Fiction on PS4

Super Smash Bros. Melee on GameCube
Q: I bought a ticket, but now can't attend due to some reason. Can I get a refund?
A: Our tickets are Non-Refundable. Please be very careful before registering.
Q: Do I have to qualify to enter the tournament?
A: No, this tournament is free for anyone interested in joining as long as they purchase a competitor pass.
Q: I like your events and would like to help out, is there a way I can donate to support the events?
A: Yes, you can donate to us online through the same service for booking your tickets by adding a donation ticket. Thank you for your support, we wouldn't be able to do this without you!
Q: I see a team tournament section in the schedule, where can we register for that?
A: The team tournament registrations will be taken at the event. Please have your team, character(s) for each player and the order you will play by ready whenever asked to make things run smoothly.
Q: Will there be a deadline for registration?
A: The deadline for online registration will be an hour before the event starts (1 PM on 23rd of December). There will be on-site registration as well, however please note that ticket prices at the gate will be slightly higher than online ticket prices.
Q: How do I get my pass?
A: Please come to the reception just in front of the venue hall to collect your badge. You will need to show your email confirmation.
Q: Are there going to be prizes?
A: Yes, cash prizes for our main tournament games. Team tournaments for the main games will not have prizes. The provision of prizes for side tournaments will be at the discretion of their respective organizers. Please contact the relevant parties for more information pertaining to the side tournament of your interest.
Q: I/my family/friends couldn't attend the event but want to watch it, is that available?
A: Yes! We will be streaming the main event tournaments on our twitch channels at Twitch.tv/GCCMajors and Twitch.tv/GCCMajors2. Side tournaments are planned to be streamed by their respective organizers. Schedule and stream links are highlighted in the event description.
Q: Why doesn't *game name* have a tournament?
A: We have different games every year based on several factors, including activity in the region, and community feedback. If you would like to support your favorite game to be hosted at our future events, please don't hesitate to get in touch with us through any of our contact methods.
Q: Can I use my own D-Pad/Arcade Stick?
A: Yes, please check the Rules page on our site. For the short answer, you need to bring your own controllers, preferably they would be wired ones. For wireless controllers, please desync them as soon as you finish playing at a station.
Q: What happens when someone pauses (for whatever reason) during a match?
A: They risk giving up the round or match. Please check the rules for further details.
Q: Will there be any souvenirs for this event?
A: Yes! We will have two T-shirts and a mug as online purchasable souvenirs. Please make sure to add the souvenirs of your choice as you purchase your tickets as they are not sold separately.
Q: Will there be food available?
A: Yes.
Q: Can I Smoke/Vape in the event hall?
A: No, please go outside for that. Please inform the TO if you are a competitor so you don't get disqualified if you aren't there when they call for you.
Q: How can I get updates about this and any future events?
A: Please follow us on Twitter, Facebook, Instagram and subscribe to our newsletter (we promise not to spam you with many emails).