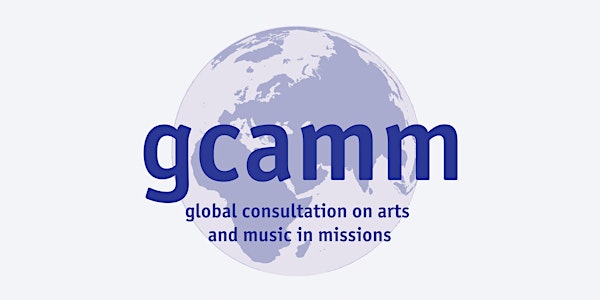 GCAMM 2023 (Sept. 11-14)
The purpose of the Global Consultation on Arts and Music in Missions is to explore how God is drawing the nations to Himself via the arts.
By Southwestern Baptist Theological Seminary
Date and time
September 11 · 7pm - September 14 · 10pm CDT
Location
Southwestern Baptist Theological Seminary 2001 West Seminary Drive Fort Worth, TX 76115
Refund Policy
Contact the organizer to request a refund.
Eventbrite's fee is nonrefundable.
About this event
3 days 3 hours

Mobile eTicket
PURPOSE OF GCAMM 2023
The purpose of the Global Consultation on Arts and Music in Missions is to explore how God is drawing the nations to Himself through music and related arts. We are calling together mission, music, and artistic leaders from around the world to:
Dialogue about the roles and functions of the arts in the lives of all Christians
Connect and form personal friendships and organizational partnerships
Share resources, strategies and models that have proven useful in a variety of contexts
Identify current challenges and opportunities
Encourage further communication and networking (e.g. journals, databases, websites)
HISTORY OF GCAMM
The idea for the Global Consultation on Arts & Music in Missions (GCAMM), formerly the Global Consultation on Music and Missions (GCoMM), originated at a breakfast meeting during Urbana 2000, a large student missions conference held in the USA. Since then, five worldwide in-person events have been held: Two in the USA at Ft. Worth, Texas, in 2003 and St. Paul, Minnesota, in 2006 and three outside the USA at Singapore in 2010, Chiang Mai, Thailand, in 2015, and Brackenhurst, Kenya, in 2018. Since the Kenya gathering and because of Covid 19, in person meetings have not been organized, but a large-scale webinar took place in the summer of 2021 with smaller webinars being held every few months. Now GCAMM 2023, a face to face consultation, is being planned as a 20th anniversary celebration at Southwestern Baptist Theological Seminary in Ft. Worth, Texas, where the first meeting was held in 2003. GCAMM is officially endorsed by the Lausanne Arts Network.
CONSULTATION ACTIVITIES
JOIN with artistic creatives and mission leaders from around the world
SHARE knowledge and experiences with like-minded believers from both similar and diverse geographic areas
LEARN how to use culturally relevant art forms to reach and encourage others with the good news
CELEBRATE God's manifold wisdom through multi-ethnic praise
GCAMM 2023 THEME
Eternal Praise: "To Him be glory in the church and in Christ Jesus throughout all generations, forever and ever. Amen." (Ephesians 3:21)
EVENT DETAILS
The check-in for GCAMM 2023 will begin at 3 pm CDT on September 11. The evening meal on September 11 will be from 5:30 pm CDT to 6:30 CDT for those who have purchased tickets. The opening program will begin at 7 pm CDT on the evening of September 11.
GCAMM 2023 will begin with an opening plenary session on the evening of September 11 and will end with an evening plenary session on September 14. 7 plenary sessions will be held with 4 in the evenings and 3 in the mornings. The plenary sessions will include multi-cultural worship, presentations, and plenary speakers. 6 breakout sessions will take place with 3 in the mornings and 3 in the afternoons of September 12 through 14. Topics that will be addressed will include but not be limited to Regional Gatherings, Arts & Discipleship, Multi-Media, Theology of Worship & Missions, Arts and Church Planting, and Cross-Cultural Communications through the Arts. Artistic areas involved in Missions that will be covered include music, drama, visual arts, and dance.
MORE INFORMATION
More detailed information about GCAMM including aspects of the program can be gleaned from our website at gcommhome.org. Registration for exhibit booths can be found at this GCAMM website.
REGISTRATION DETAILS*
General Registration Fee: $100.00
Student Registration Fee: $50.00
To pay for catered meals at the event, see "Add-Ons" section after clicking "Get tickets."
Registration can be purchased on the first day of the event (September 11) for those who want to pay in-person. However, meal tickets for the event cannot be purchased after September 4.
Online registration can be purchased using 3 methods: Credit or Debit Card, Pay Pal (use the box with the Pay Pal Icon), and Google Pay.
*Attendees must have registered and paid in order to attend daytime activities at the conference. Evening sessions are open to the public.
ABOUT THE MEAL TICKETS
Please note that the final date on which meal tickets can be purchased is September 4, 2023. This is a hard cutoff to ensure that catering numbers are finalized a week before the beginning of the event. Please ensure that you purchase all of the meal tickets that you will want prior to the event, as attendees will not be able to purchase meal tickets after September 4, 2023.
For those who will need meal accommodations on the days of the event, please see the Naylor Student Center for on-campus dining as well as other establishments in the area.
LODGING INFORMATION
The conference will be held at the Ray I. Riley Center on the campus of Southwestern Baptist Theological Seminary. The Riley Center also has hotel rooms, which are being made available to GCAMM attendees at the special rate of $60 per room per night. This special rate will be available from Sunday night through Thursday night, September 10-14.
Because of the limited number of rooms available at the Riley Center, we are asking that whenever possible attendees share a room (and split the cost, of course). There are single queen, double queen, and single king rooms available. In order to reserve a room, please email Ron Man at rmgcamm@gmail.com, and he will contact you regarding the details. You may pay for your room upon arrival at the conference.
For those arriving earlier than September 10 or staying later than September 14, rooms may be available but at a higher rate and must be booked separately by going to www.tinyurl.com/rileycenter.
Other options for lodging are available in the area. Please see especially the TCU Hyatt for your lodging needs.
TRANSPORTATION FROM DFW AIRPORT
Please note that transport from DFW Airport to the Riley Center/Southwestern Seminary campus is NOT provided. However, there is a very low-cost option: train service from the airport into Fort Worth; then you can take Uber/Lyft, or a bus, from Fort Worth Central Station to the campus. More information at https://www.rome2rio.com/map/Dallas-Ft-Worth-Airport-DFW/2001-W-Seminary-Dr-Fort-Worth-TX-76115-USA