Description
Grandchamps Author Spotlight is an open discussion of literary works where writers, scholars, and folks of the community gather for a conversation over Haitian fare.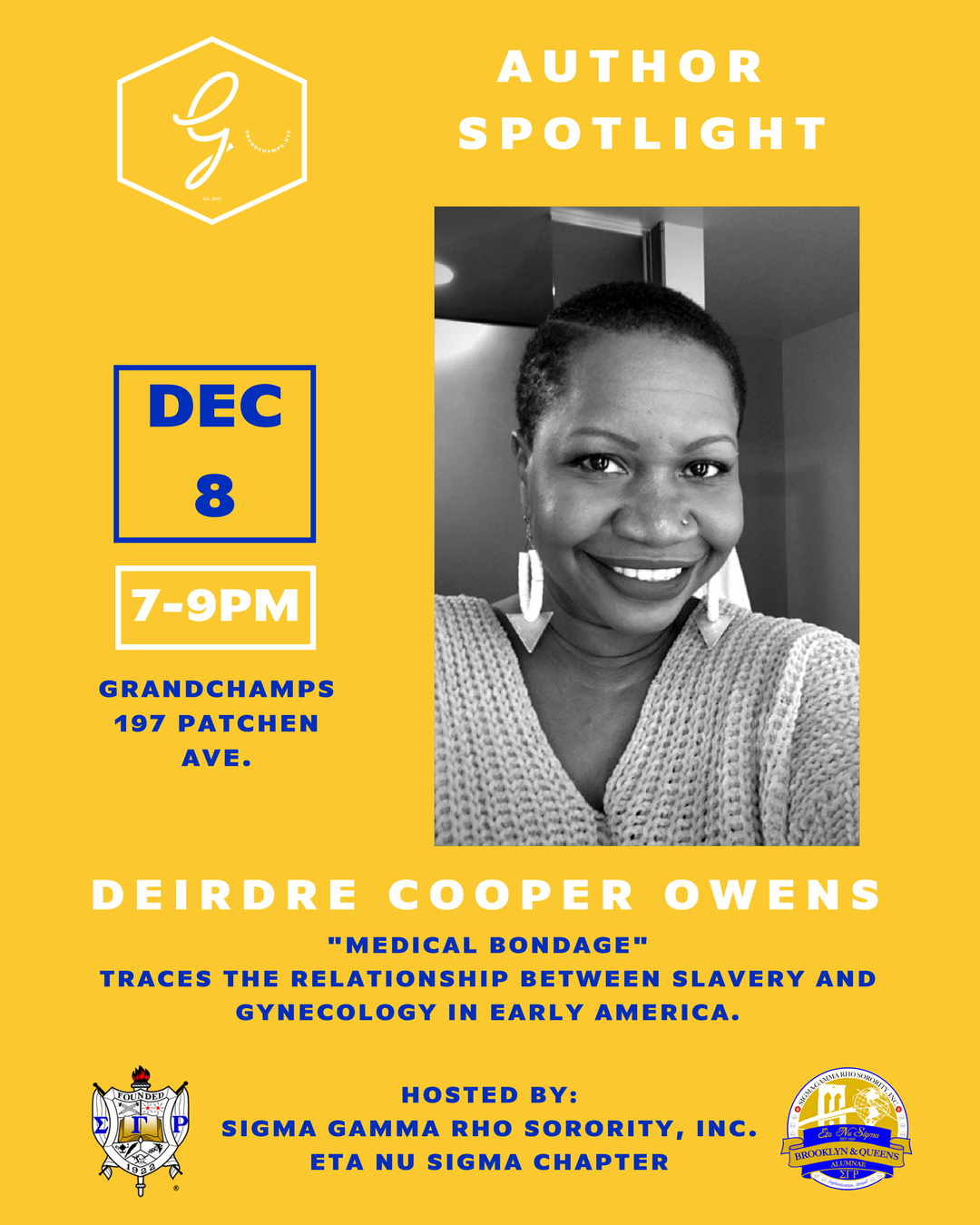 Program
7pm: Book signing
8-9pm: Q&A with book discussion

Join us as we unpack some of the injustices of medical history and how they've shaped our world today.
Hosted by Sigma Gamma Rho Sorority, Inc. Eta Nu Sigma Chapter
Author
Deirdre Cooper Owens is an Assistant Professor of History at Queens College, CUNY. She has won a number of prestigious honors that range from the University of Virginia's Carter G. Woodson Postdoctoral Fellowship in the Woodson Institute for African-American and African Studies to serving as an American College of Obstetrics and Gynecology Fellow in Washington, D.C. She received her Ph.D. in History from the UCLA. Dr. Cooper Owens has published essays, book chapters, and popular blog pieces on a number of issues that concern African American experiences. She has also made a number of appearances on national media outlets like NPR, PBS, Slate, and Al Jazeera America as an expert on issues of race, racism, and U.S. slavery and continues to lecture widely across the country. Currently, she works on issues related to reproductive justice and anti-racism and is currently working with Teaching Tolerance and the Southern Poverty Law Center on a podcast series about how to teach U.S. slavery. Cooper Owens' book, Medical Bondage: Race, Gender and the Origins of American Gynecology, is a recent release from the University of Georgia Press' Race in the Atlantic World Series. It traces the relationship between slavery and women's professional medicine in early America.
About Medical Bondage
The accomplishments of pioneering doctors such as John Peter Mettauer, James Marion Sims, and Nathan Bozeman are well documented. It is also no secret that these nineteenth-century gynecologists performed experimental cesarean sections, ovariotomies, and obstetric fistulae repairs primarily on poor and powerless women. Medical Bondage breaks new ground by exploring how and why physicians denied these women their full humanity yet valued them as "medical superbodies" highly suited for medical experimentation.
In Medical Bondage, Cooper Owens examines a wide range of scientific literature and less formal communications in which gynecologists created and disseminated medical fictions about their patients, such as their belief that black enslaved women could withstand pain better than white "ladies." Even as they were advancing medicine, these doctors were legitimizing, for decades to come, groundless theories related to whiteness and blackness, men and women, and the inferiority of other races or nationalities.
Medical Bondage moves between southern plantations and northern urban centers to reveal how nineteenth-century American ideas about race, health, and status influenced doctor-patient relationships in sites of healing like slave cabins, medical colleges, and hospitals. It also retells the story of black enslaved women and of Irish immigrant women from the perspective of these exploited groups and thus restores for us a picture of their lives.