GBWF Lunch | Where Have all The Women Gone? #WomenInTech | Thurs. Nov. 15
Description
Greater Burlington Women's Forum presents: Where Have all The Women Gone? #WomenInTech
In 1985, 37% of computer science bachelor degree recipients in the U.S. were women. By 2016, that number had dropped to 19%.* In Vermont, it's even lower: a scant 14% of computer science program graduates from UVM and Vermont state colleges identify as female.** Those declining numbers play out in the workforce: in 2017, only 26% of all professional computing occupations were held by women. And the percentage of women in leadership positions in technology is small, and it isn't growing very quickly. What's going on here?
The technology industry is expanding. The gender wage gap in computer science, engineering and other tech fields is low. And employers are eager to diversify their workforce and recruit more women. PLUS tech jobs often provide good benefits, flexibility and opportunities to work remotely which are all a proven advantage to working women, especially in a small, rural state like Vermont.
Come listen to our panel of professional women in technology careers tell their stories. Find out how they got where they are today, what some of the obstacles were along the way and how they overcame those obstacles. Engage in conversation about what it means to be a woman in tech and what it takes to get there.
Our panelists include:
- Sam Roach-Gerber of Vermont Center for Emerging Technologies (VCET).
- Lisa Dion, Professor in the University of Vermont Computer Science department.
- C.D. Mattison, Principal UX Architect & Designer at Social Sentinel, Inc.
- Meghan Purvis, Scrum Master at Dealer.com/Cox Automotive, Inc.
Panelist Bios
Sam Roach-Gerber: Sam Roach-Gerber is the Director of Innovation at Vermont Center for Emerging Technologies (VCET). She is the founder of the Female Founders Speaker Series, and co-host of Start Here, a podcast "sharing the stories of active, aspiring and accidental entrepreneurs". Sam lead Sales and Customer Service at Vermont Farm Table before her time at VCET. Originally from Western Massachusetts, Sam graduated from Northeastern University in Boston in 2013 before moving to Vermont.
Lisa Dion: Lisa is a Lecturer of Computer Science (CS) at the University of Vermont (UVM). She has a Master's degree in CS from the University of Michigan and Bachelors degrees in CS and Math from Providence College. This is Lisa's third year teaching, and her courses have covered topics ranging from web design to advanced programming to a discussion-based senior seminar. Besides teaching college students, Lisa also started a Girls Who Code club at UVM to introduce local middle and high school girls to coding.
Meghan Purvis: A UVM graduate, and recent transplant back to VT, Meghan Purvis is now a Scrum Master at Dealer.com. Before diving into the tech world, Meghan had a small sewing and design company that she owned and operated in San Francisco. Her inquisitive nature and constant desire to learn led her to this role, where she now has the opportunity to help those around her through coaching and mentoring.
C. D. Mattison: C. D. Mattison is the Principal UX Architect & Designer at Social Sentinel. Her work is built on a foundation of "we must always do better." It is an ethic that promotes the development of a website that makes shopping and working online more than just easy; we must deliver an experience and a product that anticipates and satisfies the customer's needs and expectations. She has 20+ years of experience as a UX consultant and developer working with Social Sentinel, Burton Snowboards, Localvore, Adobe Sign, YLighting, IDX (GE Healthcare), and IBM. Mattison graduated from Dartmouth with a B.A. in Mathematics, Psychology and Economics.
Featured User Experience Projects:
– Burton.com, online store optimization and path-to-purchase redesign & relaunch, August 2016
– Adobe Sign (originally EchoSign), design & development of UX/UI framework for digital signatures in 2006 that is still deployed today
---
Bring a lunch, listen, learn, share, and network with women in our community. The program closes at 1:15pm with time for participants' announcements (job openings, services available, upcoming events...). The space is available until 1:30pm for informal networking.
Please register to save your seat at the table (no need to print out a ticket, though!).
BY DONATION. For our events to be accessible and affordable for all women, we rely on your contributions! We ask for a $5-$15 sliding scale donation at the door—credit card, cash or check (payable to Greater Burlington Women's Forum). To make your contribution online, please click DONATE.
Special thanks to the legal firm of PRIMMER PIPER EGGLESTON & CRAMER PC, our Founding Business Supporter; DUNKIEL SAUNDERS, Community Supporter; MERCY CONNECTIONS, our Fiscal Agent, providing fiscal oversight and tax-exempt status; and to MAYOR MIRO WEINBERGER, our Event Host Sponsor.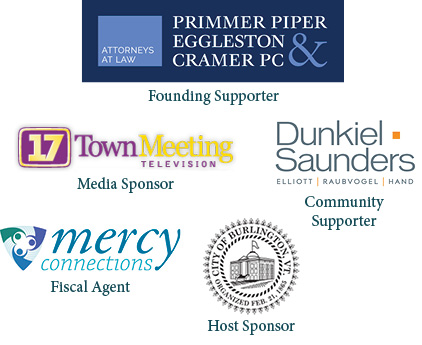 Share this event on Facebook and Twitter.
We hope you can make it!
Cheers, Greater Burlington Women's Forum Leadership Team:
Alexa Clauss, Amy Barcomb, Ashley Michelle Fowler, Belinda Dejesus, Carina Driscoll, Charlene Wallace, Christine Beall, Jessica Meller, Jessica Nordhaus, Joanne Jastatt, Kae Burdo, Lola Houston, Stephanie Segretto
---
* Data provided by National Center for Women & Information Technology.
**Data provided by Change The Story VT status report, Where Vermont Women Work...And Why it Matters (updated 2018).