GBWF Evening Event | The Future is Female: Women in Leadership | Thurs. Apr...
Description

Greater Burlington Women's Forum presents "The Future is Female: Women in Leadership", co-sponsored by People's United Bank and UVM Continuing Education.
Women follow many different pathways to leadership. Join us to hear our panelists share stories about their journeys, how they have facilitated the development of women's leadership more broadly, and what they've learned along the way.
We look forward to a lively discussion around professional and personal development. This open format panel welcomes conversation and questions such as: What advice would you give now to your younger self? What accomplishments bring you the most pride? What leadership work excites and inspires you? What are some professional resources for elevating women and building confidence in our roles as leaders? What are some of the unique challenges, and what might we all have in common? How can we all work together in promoting women to positions of power and leadership?
Our Panelists:
Ashley Michelle Fowler, Communications and Development Associate, Mercy Connections & Faculty, Community College of Vermont (CCV). Ashley Michelle Fowler has a Bachelor of Science in Public Communication with a minor in Community and International Development, and a Master of Education in Interdisciplinary Studies with a focus in Career Counseling, both from the University of Vermont (UVM). Originally from the Bronx, NY, Ashley Michelle moved to Burlington over a decade ago to attend UVM and never left. She currently resides in South Burlington, VT, with her fiancé and two kids, and was named a Rising Star by Vermont Business Magazine in 2016.
Ashley Michelle's career has been focused on providing access to underrepresented people, advocating for increased social justice, and motivating those who experience adversity. Ashley Michelle is currently working as the Communications and Development Associate for Mercy Connections and teaching adult learners at the Community College of Vermont (CCV). She has worked at the University of Vermont, taught in the Mercy Connections Women's Small Business Program, and served in multiple capacities on the Board of Directors for Vermont Community Access Media (VCAM), most recently as Chair of the Board from 2015-2017. When she's not working, Ashley Michelle enjoys spending time with her family, being outdoors, attending concerts and sporting events, traveling, reading, and watching television and movies.
Linda Tarr-Whelan, Visiting Fellow at Champlain College & Author of Women Lead the Way: Your Guide to Stepping Up to Leadership and Changing the World. Linda is a Visiting Fellow on Women's Leadership at Champlain College. She is the author of "Women Lead the Way: Your Guide to Stepping Up to Leadership and Changing the World" as well as Deputy Assistant for Women's Concerns in the Carter White House and Ambassador to the United Nations Commission on the Status of Women under President Bill Clinton. Other leadership positions included serving as a top appointee in New York State government, as CEO of a national progressive think-tank and as a partner with her husband in an international management consultancy.
Nursing was her original career and she holds a BSN from Johns Hopkins, a MS from the University of Maryland and Honorary PhD's from Plymouth University (NH) and Chatham University (PA) and was named a Fellow in the American Academy of Nursing. She is currently writing a second book, "Winning: Activism after the Marches and Rallies." She is a Patient and Family Advisor at the UVM Medical Center, a member of the Vermont Commission on Financial Literacy and on the boards of the United Way of Northwest Vermont and the Visiting Nurse Association of Chittenden and Grand Isle. The Tarr-Whelan's live in Burlington and have two adult children and four grandchildren in FL and CO.
Cortney Cahill, Leadership and Organization Development Consultant & Owner of Cahill Collins Consulting Partners. Cortney Cahill is an organization development coach and consultant focused on developing leaders and their teams to drive business results through organizational alignment and strategic initiatives. Coaching and consulting to leaders since 1997, Cortney's clients range across professional services, healthcare, federal government, NGO, and non-profit organizations.
Cortney specializes in working with leaders and teams to develop their skills and competencies around all aspects of business performance. Working with Cortney, leaders and teams examine the patterns that support or hinder their ability to realize their full potential. Cortney's expertise is focused on providing leaders and teams an opportunity to understand their impact on their immediate and market environments and thus, make more intentional decisions about how to optimize their influence on all factors affecting business results. Clients often talk about the transformational nature of the work. Her style builds on strengths while also providing a supportive and clear platform for the exploration of key areas for development.
Carina Driscoll, Co-Founder/Owner Vermont Woodworking School & Co-Founder of the Greater Burlington Women's Forum. Carina Driscoll is a lifelong Vermonter, save for a stint in Montana for undergraduate schooling. Carina earned a Bachelor of Arts in Political Science and Sociology from the University of Montana where she met her husband, Blake. After college, they moved together to Burlington. Over the years, Carina has lived all over the city from the Five Sisters and the Old North End, to Downtown, on North Avenue, in the New North End and now lives with her husband, Blake and two children, Cole and Tess in the South End.
Between returning to Vermont and prior to starting their business, the Vermont Woodworking School in 2007, Carina worked as a Human Resources Assistant at Burton Snowboards; managed the Burlington Skatepark Taskforce as they launched their fundraising campaign and set up the first temporary skatepark in the South End on the dormant Champlain Parkway road; coordinated the 2000 campaign to re-elect her stepfather, Bernie Sanders to Congress, coordinating town hall meetings and spaghetti suppers all over the state of Vermont, and building national support for his grassroots campaign to represent working class families across the country. Carina also worked in entrepreneurship and small business development as the Resource and Referral Specialist for the Vermont Women's Business Center and the Women's Small Business Program. Before she left to tend to her new small business, Carina was the Communications Director of Vermont Businesses for Social Responsibility. Carina has been dedicated to promoting women to leadership throughout her career; from serving on the Burlington School Board to running her own grassroots mayoral campaign. Last but not least, Carina co-founded this volunteer-led organization, Greater Burlington Women's Forum.
---
Soft drinks and snacks will be served. Come listen, learn, share, and network with women in our community. The program will close with time for participants' announcements (job openings, services available, upcoming events...). The space is available from when the program finishes until 8:30pm for connecting with the GBWF community.
Please register to save your seat at the table (no need to print out a ticket, though!).
BY DONATION. For our events to be accessible and affordable for all women, we rely on your contributions! We ask for a $10-$20 sliding scale donation at the door—credit card, cash or check (payable to Greater Burlington Women's Forum). To make your contribution online, please click DONATE.
Special thanks to the legal firm of PRIMMER PIPER EGGLESTON & CRAMER PC, our Founding Business Supporter; DUNKIEL SAUNDERS, Community Supporter; MERCY CONNECTIONS, our Fiscal Agent, providing fiscal oversight and tax-exempt status; and to MAYOR MIRO WEINBERGER, our Event Host Sponsor.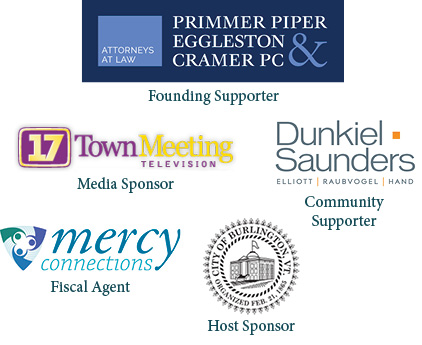 Share this event on Facebook and Twitter.
We hope you can make it!
Cheers, Greater Burlington Women's Forum Leadership Team:
Abby Kendall, Alexa Clauss, Ali Thomson, Amy Barcomb, Carina Driscoll, Charlene Wallace, Christine Beall, Dawn Moskowitz, Jessica Nordhaus, Jill Kaplan, Joanne Jastatt, Kae Burdo, Lola Houston, Valerie DeBrita