Description
Join the Greater Birmingham Republican Women for our Legislative Days!
The Greater Birmingham Republican Women will host its legislative days Wednesday, April 19th-Thursday, April 20th. Some of our members will travel to Montgomery on Wednesday evening for dinner at Central. On Thursday, we will enjoy a tour of the State Capitol, the Alabama Supreme Court Building, the Senate Chamber, and the House of Representative's Chamber. We will also sit in on two congressional budget hearings. We will provide lunch on Thursday and a couple of local representatives will join us!
The cost of GBRW legislative days is $75.00. Please give your payment to Susan Blankenship or online through our link located on our Payments page. Our website is www.greaterbhamrepublicanwomen.com. The online option will be available beginning the week of April 3rd.
Agenda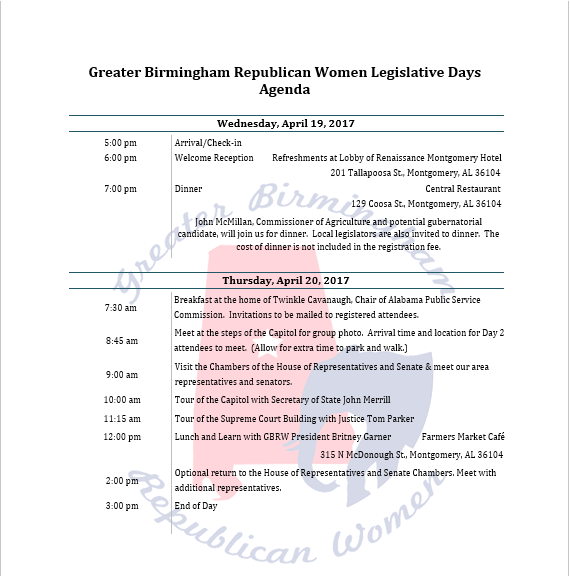 *Hotel room and dinner costs on Wednesday are not provided. If you would like to stay overnight, we have three options for hotels. Please make a reservation as soon as possible, as hotel rooms are booked quickly due to legislators being in town for session. Hotels:
1) Renaissance Montgomery Hotel & Spa at the Convention Center
201 Tallapoosa St, Montgomery, AL 36104
(334) 481-5000
2) Embassy Suites, Montgomery
300 Tallapoosa St, Montgomery, AL 36104
(334) 269-5055
3) Holiday Inn Express & Suites Prattville South
203 Legends Court, Prattville, AL 36066
(334) 290-2970