#GBIMCJACKSONVILLE 2013: Exhibitors & Vendors Booth

Saturday, September 28, 2013 from 9:00 AM to 1:00 PM (EDT)
Event Details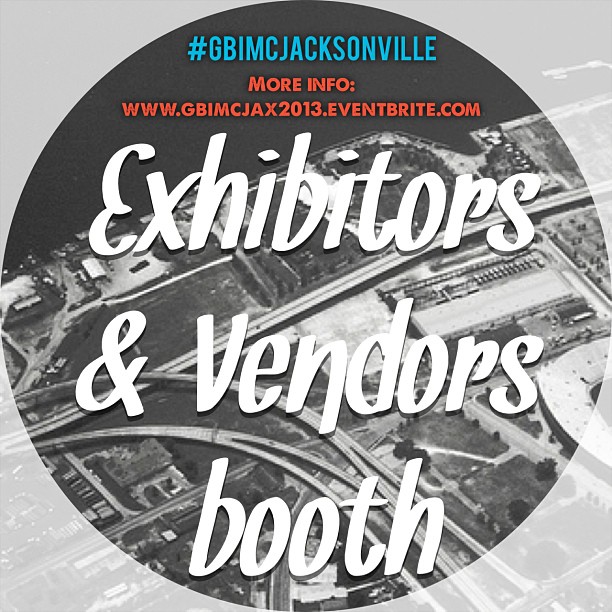 God Belongs In My City Jacksonville has an exhibitor's area open on September @9:00am-1:00pm Saturday Morning. The exhibitor's area is located in Jacksonville Metropolitan Park. This is a high traffic area where many of people will pass thru to our main event. There is also a LIMITED amount of vendors this Years. This event will attract well over 1,000 people. The crowd is made up of a diverse group of people; church leaders, youth pastors, pastors, volunteers, artists, and lots of fans of the music and the movement. This is a great opportunity for you to present your products and your resources to a unique influential demographic from Jacksonville Florida.
Exhibitor's Guidelines: 
1.  We understand you may be excited to share your products and resources with people, but we ask that you do this in a professional manner and you're not trying to pressure or "hustle" people to buy your stuff.
2. You are free to promote your organization or your products and sell T-Shirts, CD's, magazines, books, DVD's, and other resources. You are NOT permitted to sell any food, candy, or drinks at your booth.
3. You are encouraged to set your booth up in a presentable fashion with posters and banners and we also encourage you to have a free item to give away to the concert attendees (ie: promo CD, DVD, magazine, or candy - no gum please).
4. As this is a Christ Centered event we ask that none of your material has content that would go against the mission of the GBIMC Prayer Walk event. The GBIMC planning team reserves the right to decide what is appropriate.
5. Please be respectful of the GBIMC staff and volunteers and adhere to the hours we have set for this event. Vendor sign in is at 8:30am and all booths must begin to shut down at 12:30pm and exhibitors must be off the park 1:00pm
*Note: By purchasing an exhibitors table you are accepting the above Guidelines, if any of these guidelines are not met the GBIMC team has the right to decide if any disciplinary action is needed.
All 

Exhibitor's

 must provide thier own canaopy-chairs and tables for thier booth space.
Every vendor Must have a COI. Please email us to get a copy what type of COI you need. @ Gbimcjaxfl@gmail.com
When & Where

Jacksonville Metropolitan Park
1410 Gator Bowl Boulevard
Jacksonville, FL 32202


Saturday, September 28, 2013 from 9:00 AM to 1:00 PM (EDT)
Add to my calendar
Organizer
God Belongs In My City-Jacksonville
IT ALL STARTED…
In October of 2009, a youth group passionate for God in New York City saw an Atheist advertisement campaign in their subway system which stated, "A Million New Yorkers Are Good Without God. Are You? They were so stirred up by this, that they went to their Youth Pastor who then went to his network of Youth Pastors/leaders to ask, "What are we, as the body of Christ going to do about this?". They prayed and decided to take action and have Youth Ministries from all around the 5 boroughs hold a prayer walk wearing a simple T-shirt which stated "God Belongs in My City". In less than 2 weeks, on November 14th, 2009, over 1,500 youth walked from North and South of Manhattan meeting at Times Square and Grand Central Station making a bold statement that made history in the city and now the nation. Will your city be next?
http://www.godbelongsinmycity.com/
#GBIMCJACKSONVILLE 2013: Exhibitors & Vendors Booth