Event Information
Location
Globe Hall
4483 Logan Street
Denver, CO 80216
About this Event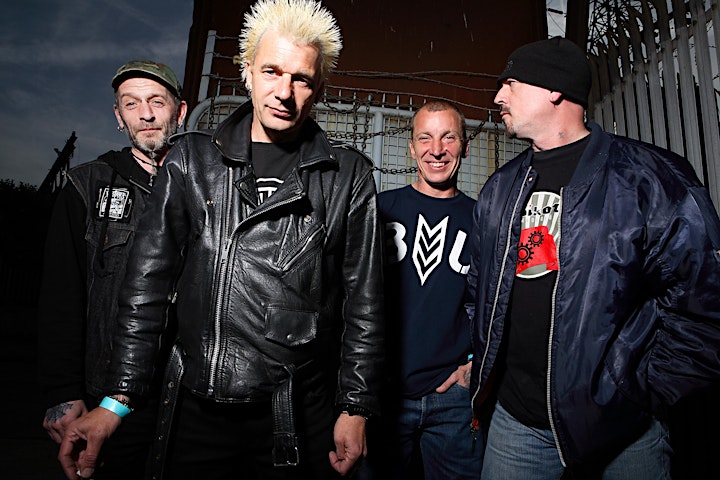 Website | Facebook | Instagram
In 1981 GBH's album Leather, Bristles, Studs and Acne exploded out of nowhere and forever changed the sound of both punk rock and heavy metal. Originally clocking in at a little over 22 minutes the album launched the genre of hardcore punk and its brutal yet melodic sound has been a key influence for punk and metal bands ever since. The band is proud to announce that they will perform Leather, Bristles, Studs and Acne in its entirety as part of their September 2014 North American tour.
The idea of opening the set with Leather, Bristles, Studs and Acne originated in a San Diego hotel room in 2012. "We were sitting around on a day off," said vocalist Colin Abrahall, "and 'State Executioner'came on one of the crew's computer. Ross said 'who's this, they're pretty good'. The crew guy says 'it's you!' We all had a great laugh but the idea got planted that it had been far too long since some of these songs had been in the set."
With over 20 albums and EPs to their credit GBH could be forgiven for forgetting a track or two but their fans remember every note. "We tried it out back home," says Abrahall, "the response was incredible. People were singing every word". Coupled with classic early tracks like "City Babies Attacked By Rats"and "Diplomatic Immunity",as well as newer favorites like "Cadillac One" and "Kids Get Down" from 2010's critically acclaimed Perfume and Piss on Hellcat Records, the iconic band's current set cements their legacy for old and new fans alike. "What's great", says Abrahall, "is when people bring their kids to our shows. The dad might like 'Sick Boy' but his kid wants to hear 'Unique'."
Looking back on playing a record originally released in 1981 Abrahall confesses"we didn't think it'd last a week when we first got together. None of us could really play our instruments or do our specific job within the band." Nevertheless,GBH's unique sound, born in the Crown pub in Birmingham, UK–the same working class watering hole where Black Sabbath got their start–immediately influenced just about every punk and metal band from that point on. "I don't like metal," Abrahall declares, "but it's cool that metal kids like us. We share the same attitude...and that's what good rock and roll has always been about."
33 years later, GBH still tour constantly, playing everywhere from major rock festivals to illegal tenement squats. "It's what we live for--the main purpose of each and every day is to get to the gig; that's the raison d'être."
And so what would the GBH of 1981 think about the GBH of 2014?" I think they'd be pretty speechless that we're still together, doing what we're doing,"Abrahall says, noting that 3 of the 4 original members still play in the band. "We used to live for the day. We never used to think about the future that much. We're still true to our roots.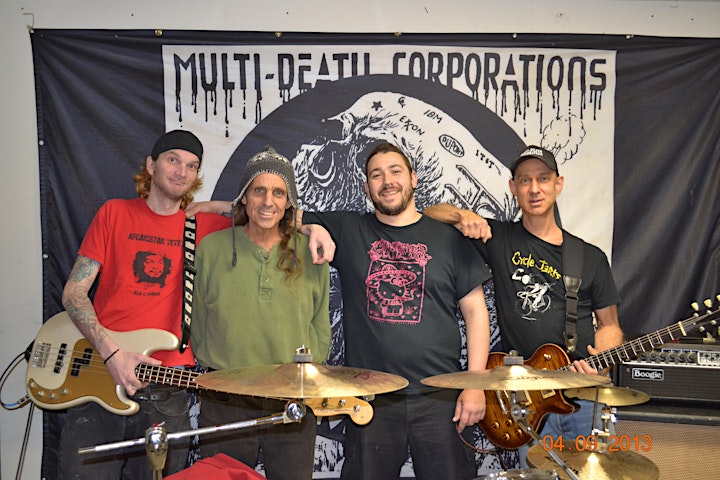 Website | Facebook | Instagram
M.D.C. is an American Punk Rock classic; formed out of the depths of Texas in 1981 by Dave Dictor, they are now based out of Portland Oregon and continue to lead the punk scene in catchy, far left socio-political ideology and through a high energy sound. The name is something of an enigma, changing with every release to reflect the issues of the day; previous names have included Multi Death Corporation, Millions of Dead Children, Millions of Damn Christians, and of course, the classic (and most controversial) Millions of Dead Cops.
MDC exists today, merging an 80s feel, with original members Dave Dictor still rocking the mic, championing causes dear to his heart such as Animal Rights, and Ron Posner on Guitar. They are joined by relative new comers, Mike Smith (No Red Flags) on bass, Jesse Onion Cobb (Embrace the Kill, Dirty Kid Discount) on drums, and second guitarist Bill Collins (from MDC's 1990 line-up with Rancid's Matt Freeman) which keeps things unpredictable and current.
MDC have racked up over 2000 gigs in its 36 year career with countless North American tours, 20 European tours, and have travelled to as far flung places as Brazil, Mexico, Australia, even New Zealand, and stir up energetic crowds wherever they go. MDC is excited by reports of protesters shouting "NO TRUMP, NO KKK, NO FASCIST USA" (MDC lyrics) at a recent Trump rally in South Carolina; the ideals that formed in 81 are still around and kicking today. MDC is heading to your home town soon, and are not to be missed!
Performers
Date and Time
Location
Globe Hall
4483 Logan Street
Denver, CO 80216
Refund Policy