SUNWAH INTERNATIONAL INNOVATION PLATFORM' Kick-off Event: Explore great potential of Guangdong-Hong Kong-Macao Greater Bay Area market
About this event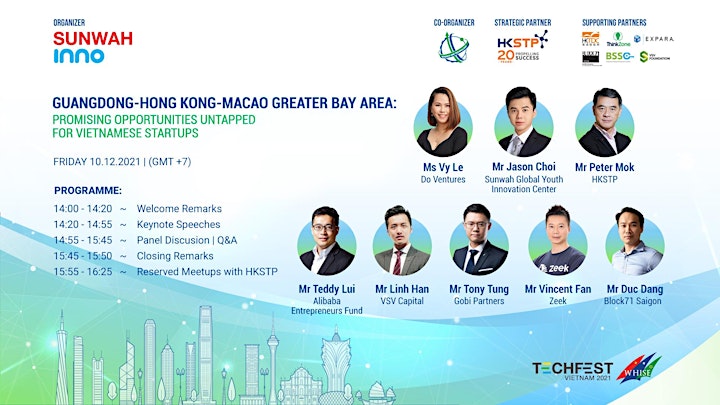 WEBINAR INFOMATION
Date & Time: Friday | 10 Dec 2021 | 14:00 – 16:25 (GMT +7)
Language: English (plus Vietnamese interpretation)
Format: Hybrid | Online (via Zoom) & Offline (@ Sunwah Innovation Center, 6F, Golden House, Sunwah Pearl, 90 Nguyen Huu Canh, Bình Thanh District, Ho Chi Minh City, Vietnam)
Organizer: Sunwah Innovations
Co-organizer: Ho Chi Minh City Department of Science & Technology
Strategic Partner: Hong Kong Science & Technology Parks Corporation (HKSTP)
AGENDA (GMT+7)
└ 14:00 – 14:20 | Welcome remarks
Jesse Choi - Director, Sunwah Vietnam & CEO, Sunwah Innovations
Leader of HCMC Department of Science & Technology
└ 14:20 – 14:30 | The tech investment landscape in Vietnam by Ms Vy Le - General Partner, Do Ventures
└ 14:40 – 14:45 | GBA's startup ecosystem landscape by Mr Jason Choi - Director, Sunwah Group & Chairman, Sunwah Global Youth Innovation Center
└ 14:45 – 14:55 | Hong Kong as the springboard and gateway to the GBA by Mr Peter Mok – Head of GBA, HKSTP
└ 14:55 – 15:45 | Panel Discussion "How to pave a global path for Vietnamese startups"
Panelists:
Mr. Peter Mok, Head of GBA, HKSTP
Mr. Tony Tung, Managing Director of Gobi Partners
Mr. Linh Han, Founder & Managing Partner, VSV Capital
Mr. Teddy Lui, Operations Director, Alibaba Entrepreneurs Fund
Mr. Vincent Fan, Co-Founder & CSO, Zeek
Host: Mr. Duc Dang, Head of Block71 Saigon
└ 15:55 – 16:25 | Reserved Meetups with HKSTP for Startups
ONLY AT THIS EVENT
10 selected startups will be invited to talk to HKSTP in 30 minutes at the end of the event. This is a unique opportunity for the startups to:
Expose your solutions to HKSTP, the number-one driving force of Hong Kong's technology and innovation growth;
Get practical tips to raise funds from Hong Kong/GBA investors;
Leave your contacts for potential lineup meetings with local investors and stakeholders who can help setup and scale your business in the region;
Earn a chance to be nominated to TOP 100 of HKSTP's Elevator Pitching Competition 2022 and pitch to international investors, corporates;
Learn about the requirements and best path to apply for HKSTP programmes and opportunities to gain initial foothold in the GBA.
MORE DETAILS
The webinar is a part of Vietnam's largest national technology, innovation and startup festival TECHFEST and Ho Chi Minh City Week of Innovation, Startups & Entrepreneurship 2021 (TECHFEST - WHISE 2021).
About Sunwah Innovations
As the latest initiative of Sunwah Group, Sunwah Innovations undertakes the mission of building up a global platform fueling innovation economy by leveraging the Group's international resources and connecting various components of the local startup ecosystem in every location where Sunwah runs businesses. Understanding the unique potential of innovation in finding new solutions to existing and emerging problems, Sunwah Innovation Center is established in different countries and regions to create a culture for innovation and creativity to thrive and incubate next generations of entrepreneurs and changemakers.
The Group also launched the Sunwah International Innovation Platform (SWIIP) as a sharing network for various stakeholders of startup ecosystems around the world to foster cross-border collaboration, facilitate greater information exchange, market exposure, connectivity, and access to programs.
About HKSTP
Comprising Science Park, InnoCentre and Industrial Estates, HKSTP is a statutory body dedicated to building a vibrant innovation and technology ecosystem to connect stakeholders, nurture technology talents, facilitate collaboration, and catalyse innovations to deliver social and economic benefits to Hong Kong and the region.
Established in May 2001, HKSTP has been driving the development of Hong Kong into a regional hub for innovation and growth in several focused clusters including Biomedical Technology, Electronics, Green Technology, Information & Communications Technology, Material and Precision Engineering.
We support science and technology companies to nurture ideas, innovate and grow through our R&D facilities, infrastructure, market-led laboratories and technical centres with professional support services. We also offer value added services and comprehensive incubation programmes for technology start-ups to accelerate their growth.
About TECHFEST - WHISE 2021
Themed as Embracing Innovation - Reshaping The Future, TECHFEST VIETNAM 2021 is the 7th edition of the national biggest festival for the startup community. More than 50 events will be held throughout the country from September to December on online platforms, promising to bring together both Vietnamese and international startups, support organizations, experts and investors in 16 technology fields.
Ho Chi Minh City Innovation, Startup and Entrepreneurship (WHISE) is the annual largest event of the city related to startups and innovation, launched by the Ho Chi Minh City People's Committee and the Ministry of Science and Technology. This year, Ho Chi Minh City will host TECHFEST and WHISE together, with the Ho Chi Minh City Department of Science and Technology as the main organizer of the entire event.
FOLLOW US
🌟 Website: https://swinno.com.vn/en/
🌟 Fanpage: https://www.facebook.com/sunwahinno
🌟 LinkedIn: https://www.linkedin.com/company/sunwah-inno-hcmc/
Organizer of GBA: Promising Opportunities Untapped for Vietnamese Startups