GaymerX (GX3)
When and where
Location
San Jose Marriott & San Jose Convention Center 301 S. Market Street San Jose, CA
Description
GaymerX is back for a third exciting year as GX3: Everyone Games.
Join us in 2015 for three days of fantastic gaming, special guests, cosplay, expo and merch halls, with a welcoming, fun community!
GX3: Everyone Games
GaymerX is an annual convention focused on games and gaming culture - Video Games, Tabletop Games & Card Games.
We focus on creating a fun and safe space for gamers and gaymers of all identities to have fun and hang out with like minded folks. GX3 is a "queer space", in that many of the panels revolve around queer issues or queer devs, but GX3 is made for everyone and everyone is welcome!
It's December 11-13, 2015 at the San Jose Marriott and San Jose Convention Center in downtown San Jose!
There's also a VIP party on December 10th (and you can also pick up your badges that day!)
We also have a mailing list below if you'd like to stay in the loop!
Who Can Come?
We stand side-by-side with all communities who've been left out of mainstream gaming, and we are dedicated to providing a safe, harassment-free space throughout our entire convention. So no matter who you are, if you want to game with respect, you're invited to GX3.
"I've never been discriminated against, harassed, or marginalized... I just think those things are wrong. Am I invited too?" Yes, you are. We really mean everybody.
GX3 is 18+ - no exceptions. This allows us to keep to conversations professional and curate a really awesome experience for you!
Bosses of Honor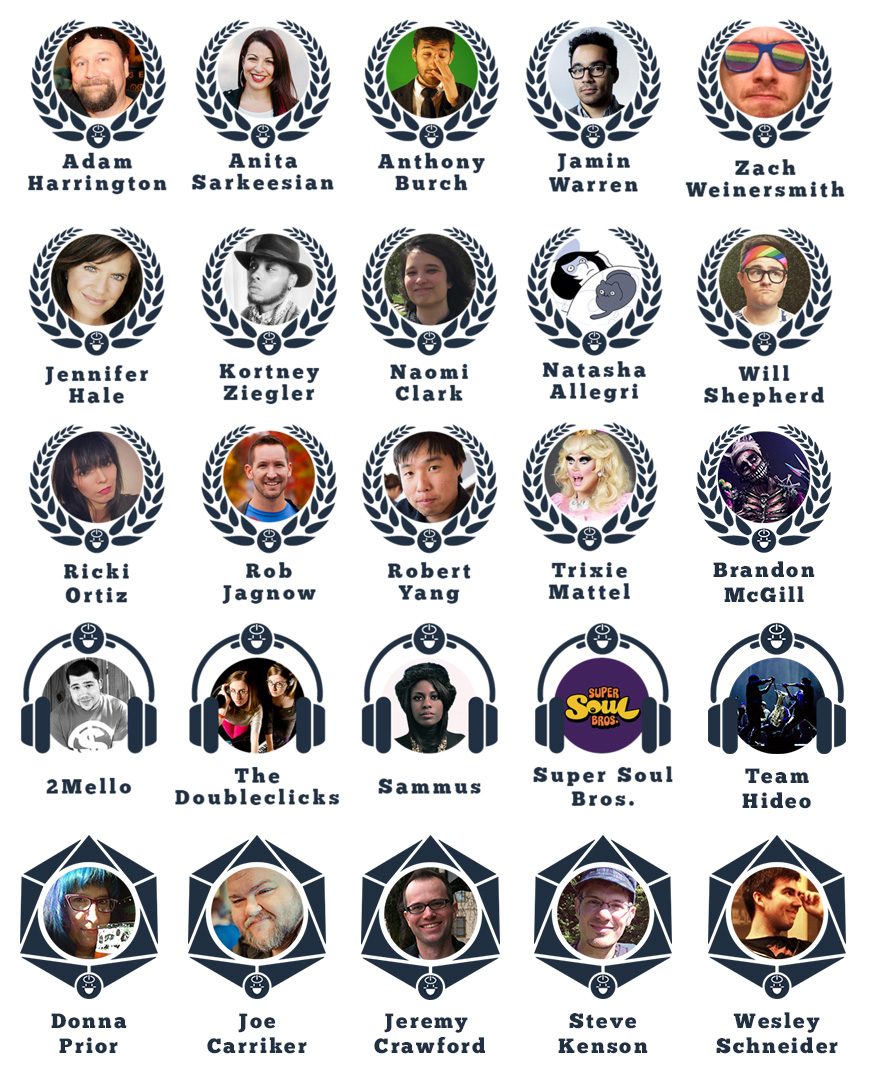 Special Thanks
We couldn't be here without your support. So thanks, everyone, and we'll see you December 11- 13, 2015.
With love,
GaymerX!
---
A note about badge names:
Don't want to go by your legal name? Have a gamertag or nickname? COOL! You can write anything you'd like on the badge - it's write-on-able :) We don't print out names as a lot of people aren't going to be going by their legal names :D
However, If you don't use your legal name for purchase, just make sure you print out your badge or have a copy of this email on hand! We want to be as respectful of possible, but we need /some/ way of knowing you bought your ticket :3
See you at GX3!!
li[itemprop="performer"] { margin-bottom:40px;text-align:center;font-size:15px;line-height:22px;font-weight:400;letter-spacing:.5px;-webkit-box-sizing:border-box;-moz-box-sizing:border-box;box-sizing:border-box;display:inline-block;overflow:hidden;vertical-align:top;width:25%;padding-left:15px;padding-right:15px;list-style:none } .g-cell { text-align: center; } #eb_sched ul {padding:0 !important;} #eb_sched li {width:33%;}