Sales Have Ended
Registrations are closed
Sold Out!
Sales Have Ended
Registrations are closed
Sold Out!
Description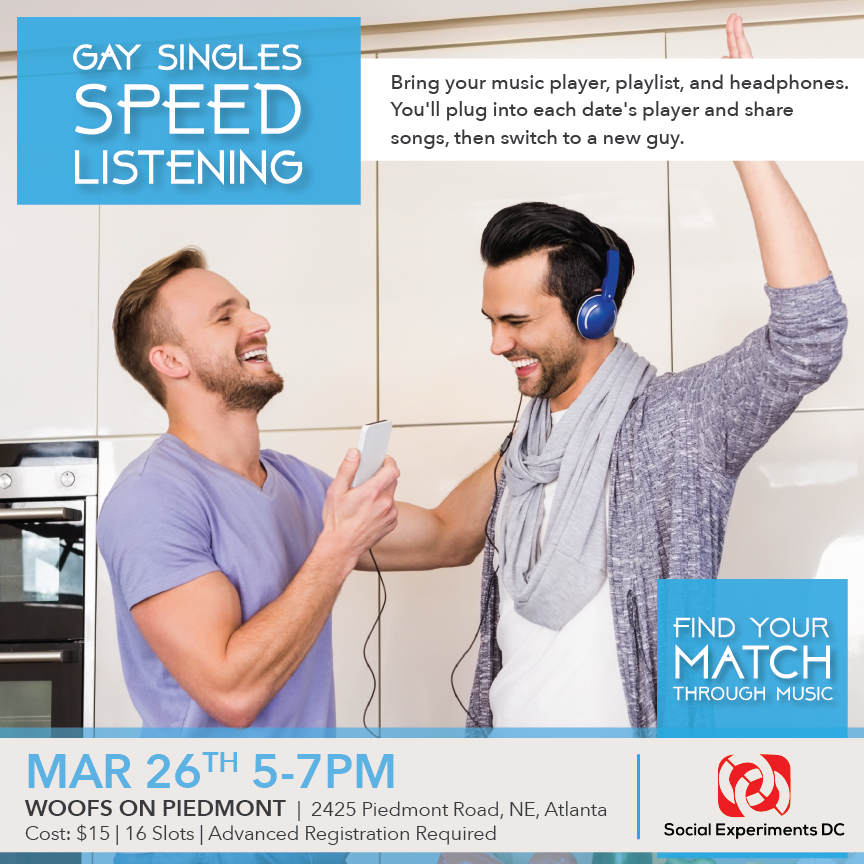 Description
Gay Speed Listening is a unique opportunity for men to meet someone similarly interested in dating and/or establishing a relationship who shares a love for music.
Guys bring their listening devices with any 5 songs or tracks downloaded on it and a pair of headphones. With a maximum of sixteen (16) registrants, participants will have an opportunity plug into the listening devices of up to fifteen (15) different guys and select songs and discuss each other's selections while on a mini-date. Each date lasts four (4) minutes. Participants are given a "Dating Card" to track each date and to indicate whether they would like to date a guy again.
Within twenty-four (24) hours of the event, participants will be notified of their "mutual" matches. A "mutual" match results when two people like each other. A participant's mutual match is only provided with the participant's first name and e-mail address.
What to Expect
Dowload 5 songs of your choice on your listening device and bring a pair of headphones.

Check-in begins at 5 p.m. Dating begins promptly at 5:30 p.m.

The event requires an even number of guys; so, be on-time or arrive before the dating begins to secure your dating slot.

If you arrive after check-in has ended, we reserve the right to replace you or proceed without you.

Find the check-in table, sign-in, grab your Dating Card, put on your name-tag and head to the bar for a drink.

Sit at your designated table at 5:30 p.m. and que you music selections.

Write down the name of the person you spoke to and indicate if you want to date the person again.

Write down the names of artists and tracks or songs you enjoy to remember.

In addition to your Dating Card you'll receive a Dating Schedule advising you where you'll be seated for each round of dates.

When the event is over, hand your Dating Card to the host.

Within twenty-four (24) hours, you will receive an e-mail with your "mutual" matches.

It is then up to you to e-mail your "mutual" matches to set-up your future date.
Cancellation/Refund Policy
In the event participation does not reach a worthwhile capacity the event will be cancelled within a minimum of twelve (12) hours. In the event we have to cancel an event, you will be fully refunded. When you register provide an e-mail adress you check regularly so you may be notified accordingly. No refunds will be given as long as the event you registered for occurs.
We appreciate your understanding of this policy because it allows us to ensure an appropriate number of daters at each event.
Photography/Video Recording of Event
SocialExperimentsDC, LLC may take photographs and/or make audio and/or video recordings of participants involved in its public events. It may use such photographs or video recordings on SocialExperimentsDC's website and social media accounts (e.g. Facebook, Instagram, Twitter, etc.) to let others know of our event.
By registering for and participating in one of our public events you consent to: photography, audio recording, video recording and its/their release, publication, or reproduction to be used for promotional purposes, advertising, inclusion on web sites, social media accounts and/or any other purpose by SocialExperimentsDC, LLC. You release SocialExperimentsDC, LLC, its organizers, employees, and/or representatives from any liability connected with the taking, recording, digitizing, and/or publication of photographs, computer images, video and/or sound recordings.
By registering for and participating in a SocialExperimentsDC, LLC's public events, you waive all rights you may have to any claims for payment or royalties in connection with any publication of these materials. You also waive any right to inspect or approve any photo, video, or audio recording taken by SocialExperimentsDC, LLC or the person or entity designated to do so by SocialExperimentDC, LLC.
Disclaimer & Waiver
By signing up for this event, you are acknowledging that the event organizer has not checked the validity or backgrounds of individuals participating in the event. The event organizer is not responsible for what happens between any individuals at the speed dating event or in future meetings of any kind between two individuals who met at the speed dating event. Participants agree by registering for an event that they will indemnify and hold the event organizer, his agents and the venue harrmless for any damages, claims or liability.
By registering to attend this event, you agree to have read and are fully aware of the above polcies and/or terms and conditions and agree to abide by them.