Sales Have Ended
Registrations are closed
The event capacity has been reached! But thank you for your interest in the event.
Event Information
Location
Woofs On Piedmont
2425 Piedmont Road Northeast
Atlanta, GA 30324
Sales Have Ended
Registrations are closed
The event capacity has been reached! But thank you for your interest in the event.
Description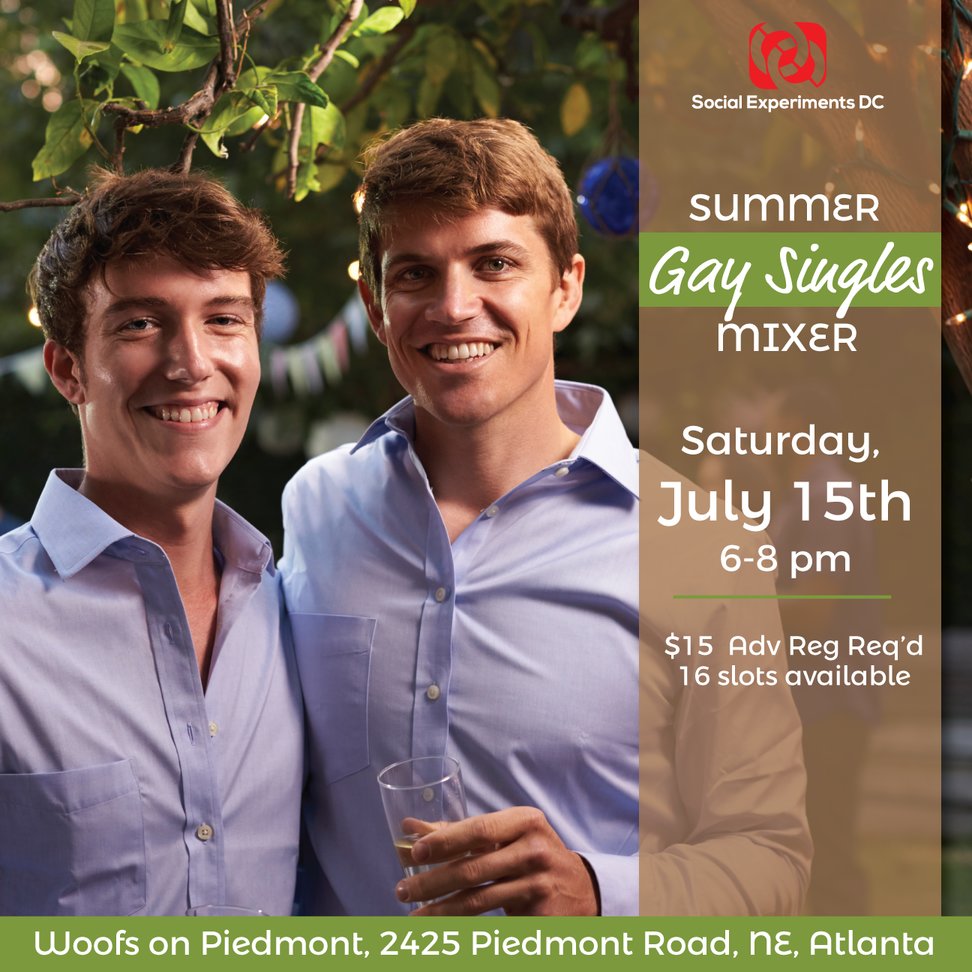 Description
Our singles mixer is a "social experiment" in which single guys come together to meet other single men interested in dating and/or establishing a relationship. At the singles mixer you will participate in multiple mini icebreakers. Participation in the icebreaks will ensure you meet every single guy in attendance at the event without the pressure of having to introduce yourself.
You will be given a "Mixer Card" to track the guys you meet and indicate whether you would like to connect (or go on a date) with the person in the future. Upon the conclusion of the icebreakers, you will have an opportunity to mix and mingle with the guys you admire more extensively.
Within twenty-four (24) hours of the event, participants will be notified of their mutual matches. A "mutual" match results when two people express an interest in connecting in the future with each other.
What to Expect

Check-in begins at 6 p.m. The first mini icebreaker will begin promptly at 6:30 p.m.

Upon arriving, find the check-in table, sign-in, grab your Mixer Card and name tag, and head to the bar for a drink.

Write down the names of guys you spoke to that you liked and make brief notes.

When the event is over hand your Mixer Card to the event host.

Within twenty-four (24) hours you will receive an e-mail with your "mutual" matches.

E-mail your "mutual" matches to set-up a date.
Registration
The advance registration fee is fifteen dollars ($15). Advanced registration is required because it contributes to a seamlessly run event and enables us and the venue to meet your expectations. Also, it saves you and us time.
Cancellation/Refund Policy
No refunds will be given as long as the event you registered for occurs. However, if we have to cancel the event, for whatever reason, you will be notified via e-mail at least eight (8) hours in advance. When you register provide an e-mail address you check regularly so you may receive notification timely.
Photography/Video Recording of Event
SocialExperimentsDC, LLC may take photographs and/or make audio and/or video recordings of participants involved in its public events. It may use such photographs or video recordings on SocialExperimentsDC's website and social media accounts (e.g. Facebook, Instagram, Twitter, etc.) to let others know of our event.
By registering for and participating in one of our public events you consent to: photography, audio recording, video recording and its/their release, publication, or reproduction to be used for promotional purposes, advertising, inclusion on web sites, social media accounts and/or any other purpose by SocialExperimentsDC, LLC. You release SocialExperimentsDC, LLC, its organizers, employees, and/or representatives from any liability connected with the taking, recording, digitizing, and/or publication of photographs, computer images, video and/or sound recordings.
By registering for and participating in a SocialExperimentsDC, LLC's public events, you waive all rights you may have to any claims for payment or royalties in connection with any publication of these materials. You also waive any right to inspect or approve any photo, video, or audio recording taken by SocialExperimentsDC, LLC or the person or entity designated to do so by SocialExperimentDC, LLC.
Disclaimer & Waiver
By registering for this event, you are acknowledging that the event organizer has not checked the validity or backgrounds of individuals participating in the event. The event organizer is not responsible for what happens between any individuals at the mixer or in future meetings of any kind between two individuals who met at the mixer. Participants agree by registering for an event that they will indemnify and hold SocialExperimentsDC, LLC, its agents and the venue harmless for any damages, claims or liability.
By registering to attend this event, you agree to have read and are fully aware of the above polices and/or terms and conditions and agree to abide by them.
Date and Time
Location
Woofs On Piedmont
2425 Piedmont Road Northeast
Atlanta, GA 30324
Refund Policy