Description
Are you meeting your business goals?
Learn from the startup funding experts why companies don't succeed and how you can beat the odds! After funding over 150 startups, we know what it takes to get to the next level and can help get you unstuck.
Our next Gauntlet Bootcamp is March 13-17, 2017
"The information shared during the bootcamp will help you make sound, nonemotional business decisions." - CEO ($300K+ revenue) - past bootcamp attendee
"The first few months of starting your business can be fraught with endless ToDo lists, and this is a nice way to circle back and ensure that you've checked every box in taking the correct "first steps."" - CEO (funded IoT startup) - past bootcamp attendee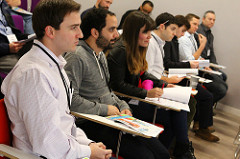 What You Can Expect:
Investor Pitch event on final afternoon of Bootcamp with active angel investors.

Multiple industry experts and special speakers sharing their stories and knowledge.

Templates and workshops to develop your: Marketing Plan, Financial Projections, Investor Presentation, Elevator Pitch, Company Valuation, Product Development Plan, and Organizational Structure.

Peer group to learn from and form relationships with

up to $1M in free and discounted platform tools such as cloud hosting, incorporation, CRM, accounting setup, and more.

1 month free access to Epicunity portal to keep up with your cohort, track progress, stay fresh, and receive Gauntlet updates and resources.
In this intensive one-week bootcamp, the experts in early stage investment take you through all the tips, tricks, things to watch out for, and how to use 'plug and play' platforms to build your ideas into scalable businesses.
What You Will Learn:
TRACTION: customer discovery, building and managing a pipeline, positioning and marketing

TEAM: determining who will do what and how to attract the best talent, teambuilding, HR tools, employment contracts

TECHNOLOGY/PRODUCT: MVP, beta launch, in house development vs outsourcing

TREASURE: business types and how to register, legal contracts, accounting, financial forecasting, valuation tricks

THE PITCH: elevator pitch, pitch deck, pitch practice, communicating with advisors and investors
YOU supply the creativity. WE supply the know how and access to the best platforms.
Nothing about this bootcamp will be easy. We know that building a business is a Gauntlet of its own and we prepare you for the challenge. Are you up for it?