GAUDI ● Maui ● Charley's Restaurant & Saloon

Friday, June 20, 2014 at 9:00 PM (HST)
Event Details
 Tickets Are Available at the Door.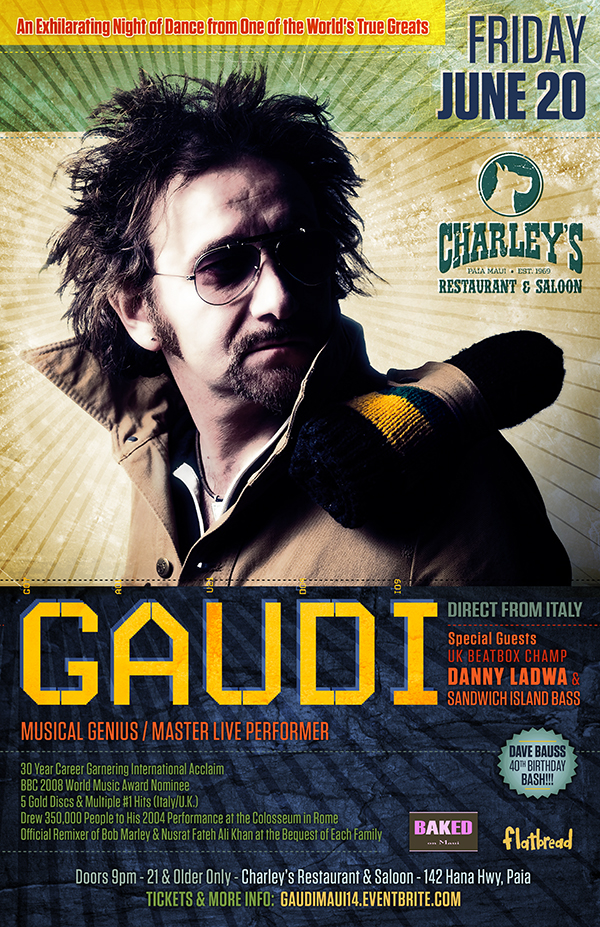 2014 Hawaii Tour:
Gaudi to deepen his island roots via his third Hawai'i visit in the past four years with shows In Honolulu (Thurs. 06/19), Paia, Maui (Fri. 06/20) and Kauai (Sat. 06/21).
Gaudi Returns!!
True Music Great with History
of Amazing Hawai'i Shows 
MASTER LIVE PERFORMER 
E-P-I-C Past Hawai'i Shows: 
SOLD OUT: Charley's - Paia, Maui (11/05/11 & 11/24/12), MAX CAPACITY: Soho - Honolulu, HI (10/29/11), MAX CAPACITY: Cafe Portofino - Lihue, Kauai (11/04/11)
INTERNATIONAL STAR
5 Gold Discs. Multiple #1 Hits (Italy/U.K.). Regular Mega-Festival Headliner:
Glastonbury (U.K.), Boom (Portugal), Ozora (Hungary), The Great Convergence at the Pyramids (Egypt), Sulafest (India), Eclipse (Australia), Halllowbaloo (Hawaii) and Lightning in a Bottle (USA)
DUB ALCHEMIST
Renowned Dub Producer:
Remixer of Bob Marley and collaborations with Lee Scratch Perry, Michael Rose (Black Uhuru frontman - past recordings and special upcoming duo performance at Reggae on the River 2014), Horace Andy
SPIRITUAL HEALER
Spiritual Human - Spiritual Music:
Internationally-celebrated remix of iconic Qawwali vocalist, Nusrat Fateh Ali Khan, and a lifetime of uplifting recordings and performances
Gaudi Links - Music: 
Gaudi - Fav Images (click for full-size):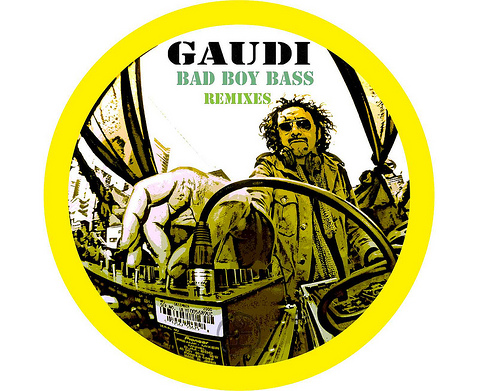 Mahalo to our sponsors for helping bring great LIVE music to Maui
Show Preview / Gaudi Bio:
Gaudi returns to Hawaii on 06/19 for his third multi-island tour in the past four years. He will be joined by long time stage partner/U.K. beatbox champion, Danny Ladwa. Live performances include Thursday 06/19 in Honolulu at NextDoor, Friday 06/20 on Maui at Charley's Restaurant and Saloon and a special summer solstice performance Saturday 06/21 on Kauai at Tahiti Nui (Luau Room). During Gaudi's past island sojourns, Hawaii has welcomed him with open arms with multiple sold-out shows on Maui and max capacity affairs in Honolulu and Lihue.
Through his repeat Hawaii visits, Gaudi has clearly demonstrated why his career has spanned over 30 years and earned him great critical acclaim including a 2008 BBC World Music Award Nomination, 5 Gold Discs, multiple #1 hits in the U.K./Italy and a starring role as vocal coach on Italy's "X Factor" and "The Voice." He is a true musical genius and spectacular live performer. His innate musical sense, as well as his affinity for global sounds, can be fairly compared to current megastar Diplo (production/collaborations with Beyoncé, Brittany Spears, M.I.A., Shakira, etc.). Mark Tarone, head of T-Rx Entertainment, LLC (the producer of Gaudi's Hawaii visits and past Diplo shows), shares: "when you spend time with both Gaudi and Diplo, they exude an aura of immense musical knowledge and appreciation. They approach recording and performance as musicians, and their body of work in the studio and on-stage makes clear that they are true musical greats in the same class as Bruno Mars and other such superstars."
Looking at Gaudi with this perspective, the entire picture begins to make sense - his ability to create a heart pounding recording with anything from an acoustic Persian melody to Jamaican drum n' bass; his on-stage dexterity through which he takes shows to euphoric levels via whichever path the audience seeks - be it spiritual meditative rhythms or face plastering beats; and last but not least, his insatiable appetite for musical creation and performance.
Gaudi's history sheds further light on his chameleon musical persona and makes for quite a read. At the tender age of 17 in 1981 in his home country of Italy, his professional career began with his playing keys for new-wave band, 'Wild Planet.' The next 10 years saw Gaudi indulge in everything from band member in the Violent Eves (which combined electronica, punk and traditional Italian melodies) to Ragga singer to producer of Italian hip hop luminaries, 'Isola Posse All Stars.' Then, in 1991, Gaudi himself became a household name in Italy with release of his album, 'Basta Poco,' and his winning his first Italian music award for "Best Italian New Coming Artist 1991." In the following years, Gaudi further cemented his star status in Italy with several additional high profile releases and live performances backed by reggae band WDX.
Gaudi's next colors emerged in 1995 when he moved to one of the world's great international music centers, London, and tapped into its diverse and deep pool of talent and opportunity. Opening his own studio, he ran the gauntlet from songwriting (penning a song featured on Irene Grandi's double-platinum selling album 'Per fortuna purtroppo') to TV production (creating music for Sony PlayStation, Fiat, Energie and more) to his own completely unfettered recording, 'Earthbound,' featuring 39 musicians from around the globe (!!) with songs ranging from Indian ragas to African chanting to Jamaican chatting to Italian traditional melodies and even included percussion sounds recorded in a cave by 'playing' natural stalagmites! The album surpassed 350,000 of certified sales in England alone and following its worldwide release, established Gaudi as an internationally sought-after star.
With the doors to the world wide-open literally and professionally, Gaudi let his deep passion for musical exploration take him in all directions: a stint in Africa living in indigenous communities, a multi-year touring collaboration with DJ Pathaan under the moniker, 'Orchestral World Groove,' performing all across the globe and at mega-festivals such as Roskilde (Denmark), Skol Beat (Brazil), The Big Chill (England) and Gatecrasher (England). In 2003, Gaudi made a major foray into live orchestral performance co-composing a 20-instrument jazz/orchestral/electronic piece and bringing the composition to life performing on-stage with the ensemble at the 'Roccella Jonica Jazz Festival' and Villa Borghese in Rome. Building on that experience in 2004, Gaudi composed a long-play piece with Frenchman Michel Moglia focused on the Fire Organ (invented by Moglia) and Theremin and unveiled it in truly grand fashion performing it live (Fire Organ and all) in front of 350,000 people outside the Colosseum in Rome!
2004 also saw Gaudi enjoy great success on the recording front with the worldwide release of his solo album, 'Bass, Sweat & Tears.' The album reached #2 on the iTunes European Chart and 32 on iTunes in the U.S. and experienced significant exposure with songs being licensed for a wide-range of films. From there, songwriting and major collaborations continued with Gaudi writing another hit song for Irene Grandi and doing remixes of original Bob Marley tracks alongside the legendary Lee Scratch Perry.
By the end of 2006, Gaudi's catalog boasted 10 albums, 250 music productions, over 80 remixes and more than 100 compilations featuring his tracks. Sixteen years traversing the globe and upper echelons of the music industry in non-stop fashion . . . and he was just getting started.
2007 saw the release of one of Gaudi's most moving and successful releases of all-time, Dub Qawwali, a remix of and tribute to iconic singer, Nusrat Fateh Ali Khan. The album earned Gaudi a BBC World Music Award nomination and reached #2 on iTunes U.S. chart, #4 on iTunes UK chart and #1 in Amazon.com's electronic music category. In 2008, when hit TV series "X Factor" launched in Italy, the show tapped Gaudi as an on-air vocal coach. His group walked away victorious and ensconced Gaudi as a TV music celebrity. To date, he's starred on three "X Factor" series ('08, '09, '10) and two series of "The Voice" ('13, '14) in Italy. Studio recordings tied to the shows also proved successful with a Gaudi produced song by an "X Factor" artist reaching #1 in Italy and an EP achieving Gold Disc status.
As electronic music took off worldwide, demand for Gaudi as a live performer exploded as well.
Kicking off his 'No Prisoners' tour in 2010 with the release of his album of the same name (featuring among others, Six Degrees Records labelmate, Michael Franti), Gaudi crisscrossed the globe averaging over 70 shows a year for the next three years. Stops included headline sets at major festivals such as Glastonbury (England), Boom (Portugal), Ozora (Hungary), The Great Convergence at the Pyramids (Egypt), Sulafest (India), Eclipse (Australia), Hallowbaloo (Hawaii) and Lightning in a Bottle (USA).
Gaudi heads into Hawaii one year after the release of his 13th album, 'In Between Times' (featuring, among others, Black Uhuru frontman - Michael Rose, Lee Scratch Perry and Hawaii tour partner Danny Ladwa), and fresh off wrapping his second series as vocal coach on Italy's "The Voice." A thirty-plus-year career is clearly more than enough time for an artist to tire, grow disenchanted, become disconnected or simply run off the track. But for Gaudi, longevity has proven just as strong a trait as his creativity. Halfway around the world from his Italian homeland, Gaudi is poised to deepen his Hawaii roots and demonstrate the immense passion and musicality that has kept him walking amongst musical giants for so long. History shows that when Hawaii fuels the fire with aloha-charged dancing shoes, Gaudi fans the flames to epic proportions.
When & Where

Charley's Restaurant & Saloon
142 Hana Hwy
Paia, 96779


Friday, June 20, 2014 at 9:00 PM (HST)
Add to my calendar
Organizer
T-Rx Entertainment has been producing events in Hawai'i for over 15 years.
Each year, we produce festivals and roots music concerts around the state. Past festivals and shows include Hallowbaloo Music & Arts Festival (2008-2016), Mardi-Gras Carnaval (2008-2015), Booker T. Jones, Edward Sharpe & the Magnetic Zeros, Diplo, 
Maceo Parker,
Xavier Rudd,
 Allen Toussaint, 
Big Freedia, Nahko and Medicine for the People,
Z-Trip, Steve Gadd, Cut Chemist, DJ Shadow, Greensky Bluegrass, 
Anders Osborne,
David Lindley, Gaudi, Jake Shimabukuro, Quantic, Brett Dennen, Ozomatli, Rebirth Brass Band, Warpaint, 7 Walkers (feat. Bill Kreutzmann & Papa Mali), Luther Dickinson, Iyeoka, Blitzen Trapper, Jon Cleary (with Steve Ferrone and Reggie McBride), Delta Spirit, John Cruz, The New Mastersounds, Mad Professor, Mike Love, Old Blind Dogs, Eddie Bo, Man Man, Big Chief Monk Boudreaux, Dengue Fever, Baths, The Budos Band, Paper Diamond, The Helio Sequence, Taimane, Badfish - A Tribute to Sublime, Benzi, Ron Artis II and The Truth, Tavana, Ursula 1000, DJ Logic, Thunderstorm Artis, Jeremy Sole and more.