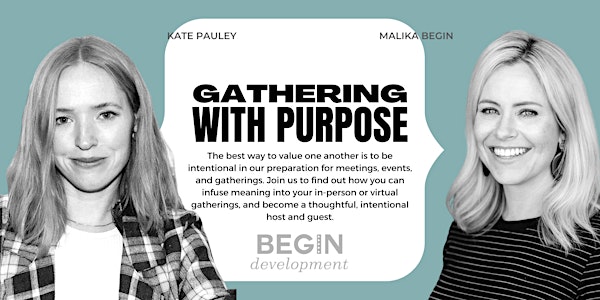 Gathering With Purpose: How to make Meetings & Gatherings More Meaningful
The best way to value one another is to be intentional in our preparation for meetings, events, and gatherings.
About this event
Join us to find out how you can infuse meaning into your in-person or virtual gatherings, and become a thoughtful, intentional host and guest.
Who is leading the session:
Kate Pauley is a Texas native who grew up spoiled by southern hospitality and good food. In high school, she told a mentor that she dreamed of having her own place so she could host. Though it would be a long while before she'd call a place her own, her mentor gave her a set of plates, encouraging her to hang onto her dream. She now has an ever growing plate collection, and every time she pulls one or many out, she's reminded of how important it is to intentionally gather around the table and connect with other humans. She currently splits her time between NYC and Rhode Island, planning dinner events across the country.
Malika Begin has worked in the leadership development space partnering with startups and established companies in tech, marketing, and entertainment to create award-winning culture. Her company, Begin Development, works with companies to build strategic organization development and people focused cultures. Begin Development specializes in creating internal integrated leadership programs; including COLLAB (8 month leadership development program), manager development, monthly all company Learning & Development and coaching programs. She partners with executives to build in organization development capabilities, and works with teams to remove barriers to cross-departmental collaboration.
begindevelopment.com