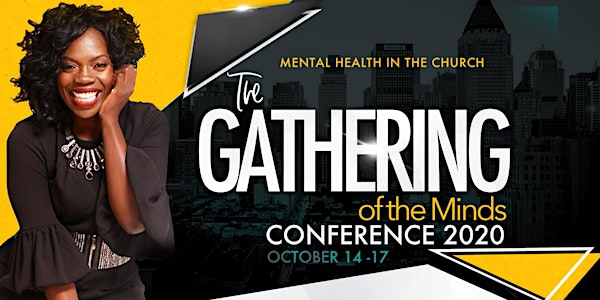 Gathering of the Minds Conference
When Ministry Minds & Mental Health Professionals meet to refuel, engage, inspire, & empowered to be mentally effective in the marketplace
When and where
Location
Crowne Plaza- Concord 45 John Glen Drive Concord, CA 94520
Refund Policy
Contact the organizer to request a refund.
About this event
Gathering of the Minds Conference was created for people to be educated about Mental Health and how it affects the church and how ministry minds can impact the mental health and the marketplace. We are the bridge between behavioral health and faith based communities across the country. Offering didactic and innovative ways to create wellness spaces for communities.
During the day we will have various classes designed to engage the community and behavioral health professionals about mental health.
We will end every night with a worship service and a keynote speaker who will motivate, inspire, and encourage both the faith based communities and healthcare professionals to better navigate the world of mental.
Wednesday, October 14th
Civic Engagement Night
Dialogue of the Decade is designed to discuss multi-generational experiences and expectations from those in the church and in the marketplace to positively enhance the furtherance of individual lives in the community and the surrounding areas.
It will also speak to ways to strengthen the integrity of God's plan all over the world and to use unique opportunities to win those who are hurting and reach them all
Thursday, Oct. 15, 2020
When Millennials Meet "Not Struggling in Silence"
Millennials will learn how to us their God given gifts, talents, and abilities to challenge and redirect their energy to those things that are profitable and spiritually engaging. This could not happen if they are suffering from depression, anxiety, trauma, etc. The world has yet to see the brilliance of the millennial population because often times they are suffering in silence. We designed classes to enhance their personal, spiritual, and professional life.
Friday, Oct. 16, 2020
When Shepherds Bleed "Being Sane while Preaching the Sacred"
Truth is what is shared from the lips of the pastor but who is able to speak their truth when pastoral burnout and compassion fatigue hits the pulpit. Pastors and leaders do not feel the reciprocity of what they give out on a weekly basis. When Sheperd's bleed is designed to strengthen the view of pastors and leaders to inspire and encourage their vision to reach the hurt and loss effectively. Mental Health affects everyone and we plan to arm faith based leaders with the tools they need to further their mission.
Saturday, Oct. 17th
Radical YouthTalk Out:  "Not Taking No For An Answer" Gen Z