Location
San Francisco's Ferry Building Grand Hall
San Francisco Ferry Building
CA
Description
An Evening of Craft Beverages and Food from America's Guilds

The butcher, the baker and … pretty much everyone else who makes incredible craft food and drink are coming to the Ferry Building to help CUESA and the Northern California chapter of the United States Bartenders Guild kick off their Cocktails of the Farmers Market series. In honor of the upcoming Good Food Awards and their newly formed Good Food Merchants Guild, we're gathering several of our own local guilds and hosting a special evening of sips and bites.
Enjoy two full-sized signature drinks made with Campari and Espolon Tequila and 10 samples-sized cocktails plus unlimited bites from artisan food producers in this walkaround tasting in the Ferry Building Grand Hall.
Some of the Bay Area's most talented bartenders will highlight citrus from the Ferry Plaza Farmers Market, which is at the peak of its season, in their craft cocktails. Bearss lime, Oro Blanco grapefruit, Bergamot orange, Buddha's Hand citron, Meyer lemon, and Kishu mandarin are just a few of the incredibly versatile fruits that will inspire the evening's bright, creative drinks.
The evening will also feature a special insider's tasting of artisan products from businesses in the Good Food Merchants Guild, some of whom are finalists for this year's Good Food Awards, before the winners are unveiled on Saturday. With artisan bites from the girl & the fig, INNA jam, Llano Seco, Nany Joes, Sonoma Chocolatiers, Aunt Kitty's Kreations, and Garden Variety Cheese, guests can meet the makers and sample to their heart's delight. Members of our local guilds including The Butchers Guild, United States Bartenders Guild, San Francisco Brewers Guild (bringing tastes from Magnolia Pub & Brewery, ThirstyBear Brewing Company and Speakeasy Ales & Lages) and The California Artisan Cheese Guild will give you an inside look at their craft, share some secrets, and encourage you to taste the results of all their hard-earned knowledge.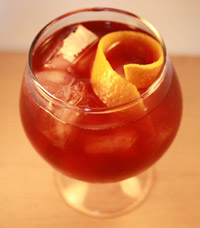 Participating Bartenders
John Codd, 15 Romolo and Wo Hing General Store
Keli Rivers, Hotsy Totsy Club
Josh Trabulsi, Burritt Room
Priscilla Young, S&P Brasserie
Seth Laufman, Comstock Saloon
Vita Simone, The New Easy
Nat Harry, Revival Bar and Kitchen
Adrian McCarron, Rye
Reza Esmaili, Sweetwater Music Hall and Ananas
Lenny Gumm and Fatima Wehidy, Dosa
Scott Baird, TrickDog
Ashley Curren, Rickhouse
Participating Spirit Companies
209 Gin
Basil Hayden's Kentucky Straight Bourbon Whiskey
Black Bottle Whisky
Campari
Charbay Blood Orange Vodka
Cointreau Noir
Espolon Tequila Blanco
pür•spice spice blood orange liqueur
Solerno blood orange liqueur
St. George Dry Rye Gin
Tequila Herradura Silver
Zaya Gran Reserva Rum
Get Your Season Pass to Enjoy the Full 2013 Series!
Cocktails of the Farmers Market events take place each quarter and are hosted in partnership with the Northern California Chapter of the USBG. Each event highlights seasonal produce which inspires creative cocktails.
Save money and receive special perks such as early entry, goodie bags and no wait at registration when you purchase a season pass for all four events.

Wednesday, May 15:

Celebrate the Ferry Plaza Farmers Market's 20th Birthday at the spring Cocktails of the Farmers Market

Wednesday, August 28: Grab your crew and set sail at our summer Cocktails of the Farmers Market: Yacht Rock

—

back by popular demand
Wednesday, November 20: The bounty of fall will be highlighted at our fall Cocktails of the Farmers Market