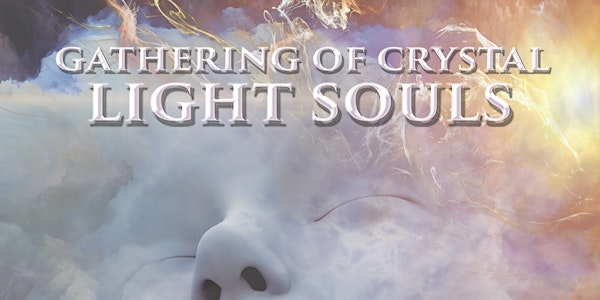 GATHERING OF CRYSTAL LIGHT SOULS
When and where
Location
Oakview Terrace Reception Centre 13256 Leslie Street Richmond Hill, ON L4E 1A2 Canada
Refund Policy
Refunds up to 30 days before event
Description
Are YOU moving into the ASCENSION frequencies that are now unfolding onto the Planet?

For those of YOU who are infusing these heightened Gamma Rays and Plasma Waves of LIGHT into your Etheric Fields and pouring into your Inner Hearts and Awakened Minds.
Join me for the Gathering Of Crystal Light Souls.

Begin to unlock patterns and programs. Unleash your mind from all that WAS to all that IS to be of Mastery.
All who enter will be raised up into Mastery Consciousness the moment they are seated into the vibrations of STILLNESS. The STILLNESS of the WORD within all hearts will awaken and shaken their Inner Minds to LISTEN….. to all that is spoken in words, languages, and music.
Please join us as a Collective Crystal Soul Family for a Sacred Weekend Workshop of Clearings, Alignments, Agreements and Sacred Activations. We join as One to anchor and connect to the Unified Field of Consciousness.

The Codes are here now to be claimed. It is time to step into your knowing's and Self Mastery.
Join NoraWalksInSpirit and Pete Bernard for a Transformational weekend of Master Teachings, Master Healings, and Shamanic Wisdom to shift your Consciousness to ALL that YOU truly are!!!
This event will be held in the Serenity of OAKVIEW TERRACE Quiet, Peaceful, Energies all overlooking the Essence of Beauty.

NOW ADDED - Audio Replay of Conference **
** Audio will be emailed within 4 business days**
Speaker Schedule:
Saturday October 26th,
8:00am - 8:30 am: Registration
9:00am- 10:15am: Introduction & Opening Music with Michael Moon
We welcome and honor the Presence of All Beings of Light, as we Gather in Stillness,
We Gather in Oneness of Consciousness to Create a Powerful Energetic Field of Love, Light and Harmony for this entire weekend.
We open our Hearts, expand our Minds and Attune our Bodies, to the Sacred Energies of Sound in preparation for the Activations to come.
NoraWalksInspirit 9:00-10:15am
Introducing a NEW understanding of how to "Transition your Body/Mind into 5D Quantum Light Fields"
Why are we stuck, how much Purifying, Clearing do we need to do each day? How can we keep Amplifying and Elevating both Inner Body & Mind into a Higher Consciousness Field?
What is IN my Field right now???? How do I let stop these repeating Thought Forms?
15 minute Activation on STILLNESS to assist and guide you into Rebuilding, through Re-Balancing, and Re-Aligning into a New Crystalline Consciousness within!
Pete Bernard 10:30 am – 12:15 pm
Algonquin Medicine Man
Pete will begin Energizing the Room with his own Teachings and Techniques that will
Unleash and Unblock the Inner Body Grid Systems of Consciousness.
What the Inner Mind is replaying, will seize as it begins to KNOW what is this density to what is this Crystalline Light Essence to prepare for this New Higher Consciousness.
Clearing the Inner Chakra Body of Cellular Memories held down by Karmic Body Vibrations of lingering hidden wounded 'Cells', will be exposed for the new Creation of a Matrix LIGHT Body
Clearing of the Inner Mind of Repetitive Thought forms allows you to "SHIFT your Mind" into a "Knowing" state of Consciousness to recognize your Light Soul
Lunch Break 12:15 pm – 1:30 pm and Speaker Tables
NoraWalksinSpirit 1:30 pm – 3:30pm
Explanation of the 3D Chakra Transmissions to the New 5D Crystalline Chakra Systems -Chart
The understanding of Transmitting, Projecting, Aligning and Balancing your Inner Chakra Body to your Aura Outer Body and Etheric Consciousness Fields.
You are building a New 5D Inner Chakra Body Alignment to your Auric Crystalline Fields of Plasma Light, that allows your Inner Body/Inner Mind to create LIGHT Vibrations of Intelligences to Telepathically Connect & Communicate to all 5D Intelligent Systems arriving.
LEARN how to Balance, Align, Connect to these new Crystalline Energies into your Chakra Systems
Visualizing 2 Spheres housing a STILLNESS 0Pt. Vibration to Balance the Body/Mind into 5D.
ACTIVATION of Inner Body/Outer Body Fields clearing entire Left/Right Frequencies of the Body.
Michael Moon. 3:30 pm – 4:30 pm.
Magic of Crystal Light Bowls, Symphonies of Chimes and Songs to take us into a Sacred Connections and Vibrations as we anchor into the ONENESS states of LOVE within our Bodies, Minds and Souls.
Sunday, October 27
8:30am – 9:30am Music with Michael Moon
9:45am – 11:00am Nora WalksInSpirit
A Divine Message as the ESSENCE and Presence of STILLNESS Aligns, Connects & Communicates into all the Multi- Dimensions through all of our Crystal Light Energetic Bodies.
Nora will discuss the Nature of How to continually connect and stay connected each day
How to LISTEN to the Knowing Mind and Soul to Transmit ONENESS of LOVE onto one another.
Crystalline Protection Shield Activation 40 minutes.
Pete Bernard 11:15am - 12:15pm
A further understanding of
How to connect into the Awakening Conscious Mind to the Infinite Fires of Light Essences arriving.
Through Stillness a Group Activation will Radiate these Teachings and Amplify the Crystal Light
Soul Connections of this entire weekend
Michael Moon Musical Closing with Pete and Nora 1:00 pm – 2:30 pm
***In the moment Message and Activation
Magic of Crystal Light Bowls, Symphonies of Chimes and Songs will take us into a Sacred Connection and Vibrations of Mother Earth as we anchor into a Heightened state of Transformation created by the Elevating, Accelerating Body, Mind and Soul.
Please Note: Speakers times are subject to change without notice.
To learn more about noraWalksInSpirit and I AM Infinite All visit the website: www.iaminfiniteall.com
On-Site Parking is available.

DISCLAIMER: The Healings and Techniques performed are not intended to be used as an alternative or substitute for Professional Medical treatment and care. Please note that during the reading of channels you will be energetically guided and connected with the Channeled LIGHT BEINGS who may elevate and activate your own Divine Gifts within. An All Knowing and Understanding that all is in Divine Orchestration of LOVE, LIGHT & PEACE may become fully operational as well.