Event Information
Location
JW Marriott Venice Resort & Spa
Isola delle Rose
Laguna di San Marco
30133 Venice
Italy
Description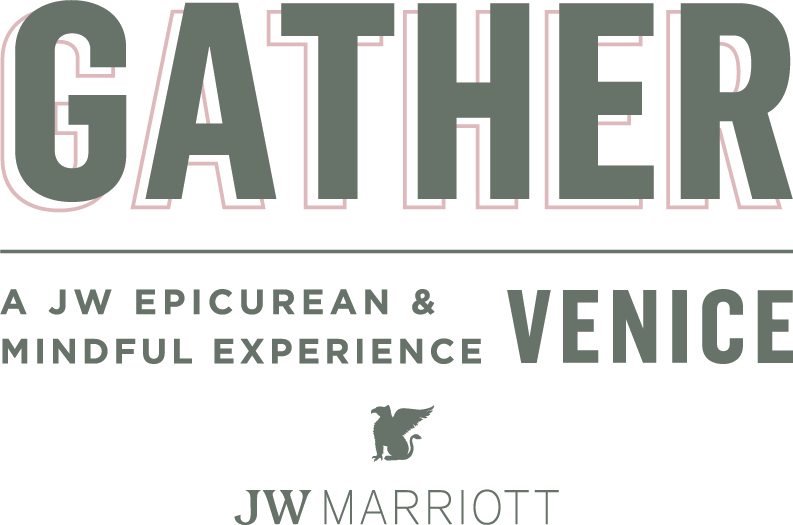 ________________________________
For culinary lovers and lovers of life's most authentic occasions, enjoy Gather, A JW Epicurean & Mindful Experience September 26-29, 2019. For the second year, this food and wine festival will take place at JW Marriott Venice Resort & Spa on the Venetian archipelago of Isola delle Rose and will include a range of events and exclusive Gather experiences catering to food, wine and mindfulness aficionados. And it will include the world's leading culinary and wellness experts.
EVENTS AVAILABLE FOR PURCHASE
CHEF DINNERS
THURSDAY, 26 September
La Nostra Casa Hosted by Ciccio Sultano at the Villa Rose
Benvenuti a casa! This is the warm greeting that welcomes guests into an Italian home or in this case, the luxurious Villa Rose. Enjoy a casually elegant house and lawn party where two-Michelin-Star chef Ciccio Sultano will share his reimagined classic Sicilian cuisine of Pastamara – Bar con Cucina and feature the quintessential Italian ritual of aperitivo.
Price: €180 / per person
La Famiglia Hosted by Angela Hartnett at The Church
Honest, simplified cooking is the guiding principle behind Chef Hartnett's Mayfair, London-based, Michelin-starred restaurant, Murano. Dine under two original majestic chandeliers from the restaurant's namesake island while savoring some of the essential dishes inspired by the chef's Italian grandmother and mother and paired with wines curated by Food & Wine experts.
Price: €170 / per person
An Italian Homecoming Hosted by Fabio Trabocchi at Fiola at Dopolavoro Venezia
This past spring, Michelin-star chef Fabio Trabocchi returned to his homeland and transformed Dopolavoro with his award-winning flavors inspired by the nostalgia and rich emotions of childhood memories, and the culture and the people that have enriched him with knowledge of the great Italian regional cuisine. The chef brings his personal interpretation in a deep look to the past, with respect for simplicity and origins of traditions.
Price: €210 / per person
CHEF DINNERS
FRIDAY, 27 September
"Pizza Sotto Le Stelle" Hosted by Jonathan Waxman at the Villa Rose
Chef Jonathan Waxman reveals his casual approach to fine dining on the grounds of the resort's Villa Rose, a beautiful structure built in the Romanesque Revival style. Mix and mingle while enjoying grilled artisan pizzas, wine and cocktails poolside under the stars that cling to a moonlit Venetian sky.
Price: €170 / per person
The Aeolian Mediterranean Hosted by Martina Caruso at Sapori Cooking Academy
Characterized by the freshness and lightness of raw ingredients, joyful creativity and a mastery of technique, Chef Caruso's take on Mediterranean cuisine is intensified by an authentic take on Sicilian hospitality that will transport you to the sunny archipelago for a most memorable meal and wine-drinking experience.
Price: €200 / per person
FINALE DINNER
SATURDAY, 28 September
Il Finale: All-Star Feast at The Church
Join Gather Venice's all-star chef roster for an exclusive dinner party in the resort's stunning church. Sip sparkling aperitifs and wine pairings hand selected by Food & Wine's own Ray Isle as chefs Fabio Trabocchi, Giada De Laurentiis, Ciccio Sultano, Angela Hartnett, Jonathan Waxman and Martina Caruso each prepare a course celebrating the deep, rich flavors of the Venetian fall harvest.
Price: €350 / per person
---
COOKING SCHOOL
FRIDAY, 27 September
12:00PM – Essentially Giada Hosted by Giada De Laurentiis
Don an apron and cook alongside chef, author and TV personality Giada De Laurentiis as she shares recipes for authentic Italian dishes, just as her family has prepared them for years. Giada will demonstrate how to put a contemporary California twist on some favorite classics.
Price: €250 / per person
3:00PM – Decadent Nonna Hosted by Angela Hartnett
Cook alongside Michelin-star chef Angela Hartnett as she shares her passion for the straightforward flavors and textures of authentic Italian cooking while she demonstrates how to prepare some of the menu items of her London-based restaurant, Murano.
Price: €250 / per person
SATURDAY, 28 September
12:00PM – The Sicilian Kitchen of Ragusa Hosted by Ciccio Sultano
An expert and admired interpreter of Sicily's distinctive and satisfying cuisine, two-Michelin-Star chef Ciccio Sultano will create dishes capturing and enhancing Sicilian essence without lapsing into exaggerated decadence. The pillars of Sultano's culinary vision reach to the depths of the Ibleo territory's immense history, encompassing the historical and cultural influences that have occurred here over centuries.
Price: €170 / per person
---
FAQs
What are the age requirements to enter the event?
To purchase Tickets for and/or attend any of the Gather Venice events, you must be at least 18 years old. No guests under the age of 18 (including infants and small children) are permitted to attend the Festival.
What are the transportation options for getting to and from the event?
All Gather Venice events are located at JW Marriott Venice Resort & Spa property located at Isola delle Rose in the Laguna di San Marco, Venice, Italy. Complimentary shuttle transportation can be secured at the private pier in Venice located just in front of the Royal Gardens. For more information or to reserve VIP or Private Water Taxi transportation, kindly contact the hotel's concierge: info.venice@jwmarriotthotels.com. Once at JW Marriott Venice Resort & Spa, you may walk to each event location.
How can I contact the organizer with questions?
For event-related questions, please call +39 041 852 1300 or email info.venice@jwmarriotthotels.com
What is the refund policy?
There are no refunds or exchanges for Gather Venice ticketed events.
Do I have to bring my printed ticket to the event?
Tickets are distributed electronically via a purchase confirmation to your email. If you cannot locate your purchase confirmation, the organizer can re-send it to you.
Is my ticket transferrable?
Gather Venice event tickets are purchased for the purchaser's use only and shall not be resold, exchanged, or transferred. To do so or to alter or deface any Event ticket will render it void.
Who do I contact if I have a food allergy?
If you have any food allergies or other dietary considerations, please notify us by contacting info.venice@jwmarriotthotels.com
What is the dress code for the events?
For all events the dress code is smart casual. Jackets for men and dresses for women preferred for dinner events.
Location
JW Marriott Venice Resort & Spa
Isola delle Rose
Laguna di San Marco
30133 Venice
Italy