Description
Please join us for our second annual GATHER celebration – a networking and community building event presented by the Coalition of Somali American Leaders. We are made up of stakeholders who believe racial equity is not only necessary but possible. We believe that through expanded cultural and professional learning opportunities for SomaliAmericans and positive partnerships with the broader mainstream community, we will achieve effective integration, conquer adversity, and build resilience.
Proceeds from the event support longterm solutions to the challenges of poverty, unemployment, and access to community services experienced by Somali immigrants and refugees. More about the Coalition of Somali American Leaders at http://csalmn.com/.
This event is hosted by

A professional services firm comprised of cross-sector experts with broad and deep experience in human development and poverty solutions.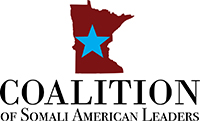 The Coalition existis to: cultivate leadership effectiveness; increase community capacity building; building organizational capacity; facilitate intercultural exchange; and mobilze resources to support full participation of Somali Americans in Minnesota's globalized society and traditions.