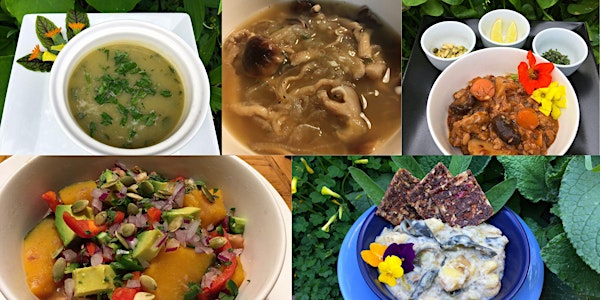 Gather and Connect: Super Soups and Stews
Eat for the Earth is hosting a Whole Food Plant-Based potluck and YOU are invited!
When and where
Location
Private Live Oak Home, address provided with registration Encina Drive Santa Cruz, CA 95062
About this event
What's Happening?
Eat for the Earth is restarting our ongoing potluck series! Each month we Gather and Connect to nurture community, create a context for learning about and sharing Whole Food Plant-Based Oil-Free food, inspire involvement, and have fun!
The topic for December's Gather and Connect potluck is Super Soups and Stews! You are invited to bring any type of Whole Food Plant-Based Oil-Free soup, stew, or accompaniment.
All ingredients should be derived from plants, in their whole state or minimally-processed. Please feel free to contact us with any questions.
In case you want ideas for soups or stews to bring, here are some links to resources to get you started:
Because many people are looking for support and ideas for healthy eating, we are asking people to bring oil-free dishes to this potluck series. If you have a favorite recipe that contains oil, please reach out to us to ask for ideas for maintaining or improving the flavor without the added oil. Whole foods containing oil such as nuts and avocados are welcome!
If the idea of bringing a Whole Food Plant-Based oil-free dish is intimidating or would keep you from participation, please come! It's more important for you to be there than that you bring a dish. We know there will be more than enough food, so feel free to just show up without any dish. If you will feel most comfortable bringing something, great options include fresh fruit or a beverage such as sparkling water, fruit juice, or herbal tea. Or bring an undressed green salad or a plate of raw veggie sticks. Just please come, because we would love to have you there!
In addition to sharing a meal together, we will play some games and we will let you know how you can get involved (or further involved) with Eat for the Earth. The event is free, however we will ask for donations to support our work during our time together.
What to Bring
Along with your delicious Whole Food Plant-Based Oil-Free soup, stew, or accompaniment to share, please bring a bowl, flatware, napkin, and a list of ingredients or recipe for your dish.
How to Find Us
We will be having our event on the patio of a private home in Live Oak if the weather is suitable. Otherwise, we will eat inside. For address and directions, please register. Scroll to the bottom of your confirmation email to find the information.
All Ages are Welcome!