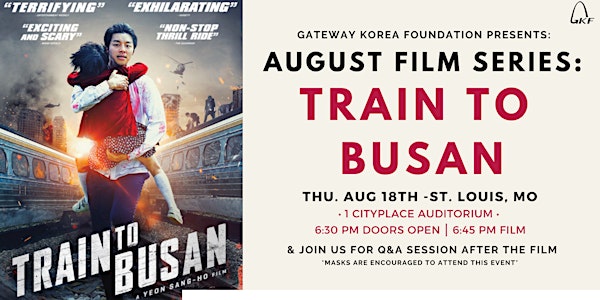 GATEWAY KOREA FOUNDATION FILM SERIES EVENT: TRAIN TO BUSAN
The Gateway Korea Foundation invites you to a special screening of Train to Busan (Dir. Yeon Sang-ho, 2016).
When and where
Location
1 Cityplace Dr 1 Cityplace Drive Creve Coeur, MO 63141
About this event
This event is a part of GKF's quarterly film series, at the 1 CityPlace Auditorium in Creve Coeur. The film screening will be followed by a post-film conversation with special guests.
Brief Film Synopsis: TRAIN TO BUSAN is a harrowing zombie horror-thriller that follows a group of terrified passengers fighting their way through a countrywide viral outbreak while trapped on a suspicion-filled, blood-drenched bullet train ride to Busan, a southern resort city that has managed to hold off the zombie hordes... or so everyone hopes.
Full Film Synopsis: Seok-woo is divorced, and his job leaves him unable to devote barely any time to his young daughter, Su-an. For her birthday, Su-an wants nothing more than to take the train from Seoul to her mother's home 280 miles away in Busan. Convinced, Seok-woo takes off from work to accompany her on what may very well be the last train ride either of them take.
Shortly after they depart from Seoul, reports of riots and mass chaos throughout the country begin to flicker through, before communication becomes entirely cut off. Soon, some sort of virus begins to spread from passenger to passenger, quickly filling the train with blood thirsty zombies that begin to kill those on board.
Now, Seok-woo, Su-an, and a motley crew of surviving passengers must do their best to fend off the zombie horde as the train careens toward Busan, where the end of the line may only be the beginning... if it's still there at all.
Seats are limited––please reserve yours today.
Please note that masks are encouraged for this event.
RUN TIME 118 Minutes / Korean with English subtitles
RATING: Not Rated
RELEASE DATE: July 22, 2016
DIRECTED BY: YEON Sang-ho
WRITTEN BY: PARK Joo-suk
STARRING: GONG Yoo, JUNG Yu-mi, MA Dong-seok, CHOI Woo-sik, AN So-hee, KIM Eui-sung, KIM Su-an