Description
Geen excuses, dans je leven!
Over je uitdagingen omzetten in kansen, het herkennen van de volgende stap, je balans vinden en vooral vertrouwen hebben in jezelf ... een gastcollege in de dansschool
In dit interactieve gastcollege leert digitale nomade, schrijfster en spreker Esther Jacobs – the no excuses lady – je dat dansen je veel basisprincipes meegeeft voor een succesvol leven en succesvolle relaties, zowel privé als zakelijk. Dansleraar Henk-Jan Dekker laat aan de hand van eigen voorbeelden zien hoe belangrijk daarbij houding kan zijn en wat je met de juiste houding kunt bereiken.
Esther, die drie jaar geleden in een opwelling besloot de Argentijnse tango te leren dansen in Buenos Aires, gebruikt dans sinds die tijd als metafoor in haar lezingen en workshops. Over geen excuses en vertrouwen hebben in jezelf, leiden en volgen, communicatie, in het moment zijn en connectie. "Dansen is als een spiegel, waarin we ervaren hoe het kan zijn om helemaal 'in flow' te zijn, maar ook met de neus op de feiten worden gedrukt als we teveel 'in ons hoofd' zitten …"
Ga samen met Esther en Henk-Jan aan de slag en bekijk je privé- en zakelijke leven, je relaties en je favoriete dans eens met andere ogen. Ervaar hoe het is om te 'spelen' met de elementen waar je je normaal gesproken misschien niet bewust van bent, leer het herkennen van de volgende stap en vind je balans.
Deze workshop is geschikt voor iedereen. Danservaring is dan ook niet nodig, maar het geeft wel een extra dimensie als je interesse hebt in dans en bewegen en openstaat voor de ervaring.
Laat je inspireren en leer alles over jezelf!
---
Programma
13.30 uur : inloop met koffie/thee
14.00 uur : welkomstwoord
14.15 uur : aanvang interactief gastcollege met Esther Jacobs: persoonlijke ervaringen, inspiratie, metaforen en tips
15.00 uur : over 'houding' met Henk-Jan Dekker
15.30 uur : korte pauze
15.40 uur : vervolg interactief gastcollege met Esther Jacobs: praktijkcase - over leiden en volgen, communicatie en vertrouwen
16.50 uur : vragen & antwoorden

17.00 uur : einde gastcollege met aansluitend een hapje en een drankje
---
Wil je meer informatie, neem dan contact op met Anne Marie Westra van EPLÚ Management Support, via e-mail: annemariewestra@e-plu.nl, of telefoon: +31648828577
Wees verzekerd van een plaats en koop nu je ticket* voor dit verrassende gastcollege bij Danscentrum Dekker op zaterdag 22 september 2018!
Speciale aanbieding: deelnemers aan het gastcollege kunnen ter plaatse voor slechts 10 Euro een exemplaar van het boek van Esther 'Wat is jouw excuus' bemachtigen. In dit boek, door Esther gesigneerd en van een persoonlijke noot voorzien, laat ze zien dat er nooit een excuus is wanneer je iets écht graag wilt!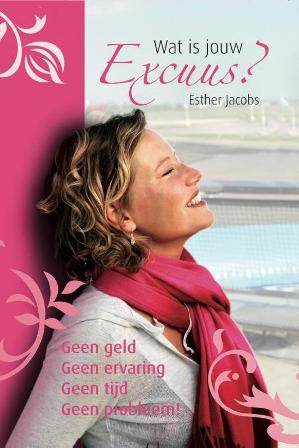 *Je krijgt geen restitutie van je ticket. Ben je toch verhinderd? Dan is er vast iemand anders die graag namens jou deel wil nemen!