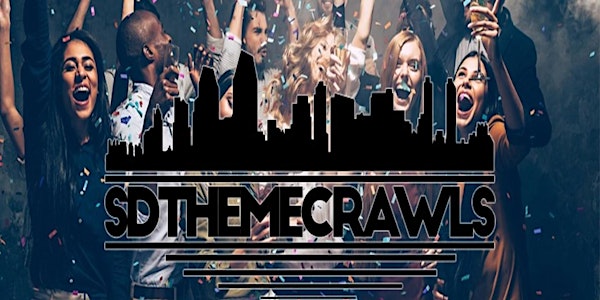 Multiple dates
Gaslamp Club Crawl (Downtown San Diego)
What better way to experience the nightlife scene of the historic Gaslamp than our Gaslamp Party Crawl!
Date and time
January 20 · 8pm - June 25 · 12am PST
Location
The Tipsy Crow 770 Fifth Avenue San Diego, CA 92101
About this event
SD Theme Crawls is one of San Diego's Premier Nightlife event Company's. We provide a unique Tour to the best nightclubs in downtown San Diego. What better way to meet new people every Friday and Saturday night while checking out multiple nightclubs! 
Our club crawl offers a VIP experience that allows guests to skip long lines and avoid paying any cover charges. We provide a host who guides you from Club to Club. The host will go over all details of the night when you check in.
THE LINEUP:
Email us to get the exact list of venues, it changes every week.  
CHECK IN:
The Tipsy Crow 
@ 8:00pm
770 5th Ave., San Diego, CA 92101
21+ Event Dress Code Strictly Enforced Appropriate dress is required and strictly enforced. No athletic gear of any kind including flip flops, tennis shoes, shorts, hats, etc. No chains, offensive prints, torn/cut-off or baggy clothing.
__________________________________________________________________________________________
RELEASE OF LIABILITY, WAIVER OF CLAIMS, ASSUMPTION OF RISKSAND INDEMNITY AGREEMENT WARNING: BY CLICKING "I ACCEPT", YOU GIVE UP IMPORTANT LEGAL RIGHTS, INCLUDING THE RIGHT TO SUEPLEASE READ THIS AGREEMENT CAREFULLY!ALL PARTICIPANTS MUST BE 21 OR OLDER By purchasing tickets for and participating in the pub crawl, club crawl or special event parties (the "Events") offered by SD Theme Crawls LLC (the "Company"), and in consideration for my being allowed to participate in the Events, the receipt and sufficiency of which is hereby acknowledged, I am 21 or older, agree to be bound by each of the following provisions of this waiver, release of liability, assumption of risks and indemnity agreement (the "Agreement"): RELEASE OF LIABILITY & WAIVER OF CLAIMS: The SD Theme Crawls LLC and its affiliated entities, former employees, owners, officers, members, managers, partners, contractors, insurers, shareholders, and directors (collectively "Released Entities") are not responsible for any injury, loss or damage of any kind sustained by any person while participating in the Event(s), including injury, loss or damage which might be caused by the action, inaction, or negligence of others. I hereby for myself, my heirs, executors, administrators or anyone else who might claim in my behalf, covenant not to sue, and waive, release and discharge the SD Theme Crawls LLC and its affiliated entities, former employees, owners, officers, members, managers, partners, contractors, insurers, shareholders, and directors of any and all claims of liability for death, personal injury or property damage of any kind or nature  (collectively "Claims") whatsoever arising out of, or in the course of my participation in the event(s). This Release and Waiver extends to all claims of every kind or nature whatsoever, foreseen or unforeseen, known or unknown. ASSUMPTION OF RISKS: In consideration of my participation in the Event(s), I acknowledge that I am aware of the possible risks, dangers and hazards associated with my participation in the Event(s) (including the risk of severe or fatal injury to myself or others). I assume all risks, known and unknown, foreseeable and unforeseeable, in any way connected with my participation in the Event(s). I accept personal responsibility for any liability, injury, loss, or damage in any way connected with my participation in the Event(s). These risks include but are not limited to the following:(i)  the risks associated with travel to and from location(s) to be visited during the Event(s), including transportation provided by commercial, private and/or public motor vehicles; (ii)  intoxication and/or alcohol poisoning from the alcohol I consume whether voluntarily or through coercion;(iii) the possibility of bodily injury of any kind, including dental damages, from (a) falling down, (b) entering or exiting the mode of transportation being used for the event, (c) being knocked down or being involved in a physical confrontation whether caused by myself or someone else; and(iv)  the risks associated with returning to my residence after participating in the event, whether travelling by foot or in any kind of commercial, private and/or public motor vehicle. ALCOHOL CONSUMPTION: All persons 21 and older are able to drink alcohol freely at their own risk and will be asked for photo identification prior to any crawl or event involving alcohol consumption and in conjunction with California State Laws. Participants who buy tickets assume all risks associated with drinking, eating or anything else associated, in any possible way, with the company and cannot hold Released Entities liable for any injury whatsoever. COMPLIANCE WITH INSTRUCTIONS: I agree at all times during the Event(s), to abide by and comply with any additional instructions given to me by my crawl master or Released Entities, and I accept that non-compliance may result in injury, death, or property damage. I understand that non-compliance by me or other participants may result in removal from the Event. I acknowledge that to provide clients with the best possible overall experience, crawl masters have the right and authority to add, change, or reduce the total number of bars/pubs visited and the travel routes. INDEMNITY: I WILL INDEMNIFY, SAVE AND HOLD HARMLESS "Released Entities" from any and all losses, claims, actions, or proceedings of every kind and character, including attorney's fees and expenses, which may be presented or initiated by any other persons and which arise directly or indirectly from (a) my participation in the activities covered by this Agreement or (b) the participation by persons whom I have invited or permitted to participate in the activities covered by this Agreement, whether or not such persons have entered into an agreement with Released Entities. I understand that this indemnification obligation shall apply whether or not the claim results from the negligence and/or other fault of any Released Entities or from any other cause.  INTELLECTUAL PROPERTY: I agree that all text, images, videos, and other electronic data collected during the event is an intellectual property owned by SD Theme Crawls LLC. I understand that I have the right to use these assets for non-commercial purposes only. I HAVE READ THIS ENTIRE DOCUMENT. I UNDERSTAND THAT I HAVE GIVEN UP SUBSTANTIAL RIGHTS BY AGREEING TO ITS PROVISIONS. By continuing to participate in the events and pub crawls I am indicating my voluntary agreement to the provisions of this Agreement. Participation in the Events by a person who is not yet 21 years old indicates that they are unlawfully attending the events and are subject to California State and San Diego Laws and assume the liabilities of such decisions of falsifying their age.
About the organizer
We bring the fun to the Gaslamp!
Join us for one of our amazing guided and fun-themed pub crawls!
Our pub crawlers enjoy a private tour guide, free entry to all venues on the crawl and exclusive drink specials!
Check out our line up of upcoming events, grab your friends and your tickets and be ready to have a blast in the Gaslamp.