Description

Garnet Valley Alumni Association Presents
"Garnet and White Night"
For more than a half century, Garnet Valley School District has produced over 10,000 graduates who have had the opportunity to be educated by one of the top public school systems within the Commonwealth of Pennsylvania. Over the years, the size, curriculum needs, and technology of the district has changed and enhanced through the population growth of more than 35,000 residents from the Bethel, Concord, and Chester Heights communities encompassing 21 square miles. As we propose this celebration for our alumni and community friends, our greater goal is to give back and pay forward the gifts we received from GVHS. The Garnet Valley Alumni wishes to continue with a tradition of promoting educational partnerships through a wide range network of 10,000 plus graduates, many of whom still reside in the region today. Together, we can build partnerships, encourage and nurture our children, and as a result, make our community a better place to live.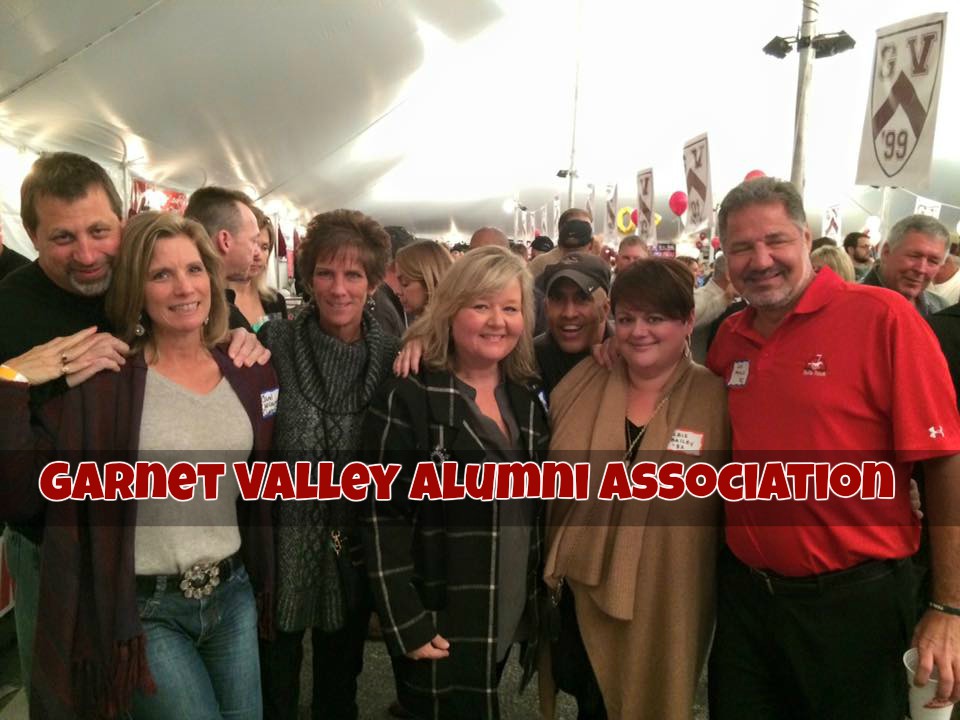 To that end, the Garnet Valley Alumni Association is holding its second major celebration All Alumni GV Bash entitled, "Garnet and White Night" to continue promoting community wide partnerships to enhance the GV educational experience. Proceeds of this event will benefit the Garnet Valley School District Education Foundation. This event will be held on Saturday, October 20, 2018, at the Concordville Towne Center "Major Tent Event" from 6-10:00PM.
We are asking our alumni, friends, neighbors, local business persons and the corporate community to help us sponsor this second ever epic celebration through the Garnet Valley Alumni Association to raise the necessary funds needed to continue supporting future worthy educational initiatives. Presently, we are in need of sponsors.
All listed sponsors will be part of the advertising and email campaign to our GV Alumni directory, mass social media advertisement, Up to a 2000 Attendees Sponsor's corporate name and logo on event signs and banner opportunities. The level of how much and how big will be tied directly to the sponsor level.
Event Details:
Ø

Why: The Garnet Valley Alumni celebrating their connection as GVHS graduates for its 2nd major event.

Ø

Who:*Exclusive event for All GV Alumni, Spouses and Parents, Teachers, and School Officials

Ø

When: Date and Time:

Saturday, Oct 20th, 2018 6pm-10pm

Ø

Where: Location:

Concordville Town Center - 914 Baltimore Pike, Glen Mills, PA 19342 (Home Depot Lot)

Ø

What:

The Garnet Valley Alumni Association Presents:

"Garnet & White Night"

Ticket Price: $25.00
This all alumni event is being supported by sponsors from the GV Alumni business community. In addition to eating, drinking and dancing, the evening will also host a premium silent auction, loca celebrity appearances, and commemorate the many milestone class reunions.
The Garnet Valley Alumni Association represents over 10,000 GV graduates and aims to promote and support our school district, its member communities, and current and future generations of students. "Celebrating the Past, Committed to the Future."