Description
SAN DIEGO, California + On Saturday, August 17, 2019, from 11:00am to 4:00 pm, Garimot Arnis Training (GAT) will host a one-day seminar introduced by Abundio S. Baet (GAT PUNO), head of the #GarimotSystem
Welcome to all who will be participating in the Garimot Seminar in San Diego on Saturday, August 17, 2019 from 11:00 am to 4:00 pm. This is a one-day Filipino Martial Arts (FMA) seminar introduced by Abundio S. Baet (GAT PUNO), head of the #GarimotSystem
The Garimot System was introduced and brought into the United States from Paete, Laguna, Philippines by GAT PUNO (or head of Garimot) Abundio S. Baet. The Garimot System has been in the Baet family for five generations. We hope that this will be a positive experience for you. We only do this Garimot Seminar once per year in Southern California. Funds for organizing this FMA seminar are collected by private donations, fundraising at local Filipino festivals, and registration fees. This will be an all-day GAT Seminar open to Beginner, Intermediate, and Advanced students in Filipino Martial Arts are welcome. Participants are encouraged to register early.
At any point, if you have any questions or comments, please let us so we can help answer any questions you may have.
ARRIVAL
The Garimot Seminar in San Diego will take place at Marina Village Conference Center located at 1936 Quivera Way (Terrace Room), San Diego, CA 92109. Please arrive early to ensure that your registration is taken care of. Registration will begin at 9:30 am. We encourage you to register in advance so that you have an opportunity to converse, communicate, and get to know Abundio S. Baet.
TRAFFIC
If you are driving from Los Angeles/Orange/Riverside Counties, it is recommended that you carpool together knowing that traffic will occur between Oceanside, Encinitas, and Del Mar. This weekend in San Diego, the International Comic Con will be in full swing around Downtown San Diego. Please consider leaving at least two hours in advance, between 7:30 am-8:00 am. We plan to be onsite by 9:00 am in the Terrace Room.
LOCATION
The location/address for the Marina Village Conference Center (Terrace Room): 1936 Quivera Way, San Diego, CA 92109
PARKING
Parking will be FREE and available at the Marina Village Conference Center Parking Lot. Please lock your vehicle during your participation at the Garimot Seminar.
REGISTRATION PROCESS
Thank you for all who have registered early for this Garimot Seminar in San Diego. This information outlines how we will proceed with registration for the Garimot Seminar. Registration will begin at 10:00 am on Saturday, July 21, 2018, as we will be expecting participants from out of San Diego (i.e., Los Angeles, Orange County, Sacramento). The Garimot Seminar will begin promptly at 11:00 am and will end at 4:00 pm.
To help us expedite the registration for the Garimot Seminar, there will be two lines: those who have PRE-PAID (under Pre-Registration) and those who are paying on the SAME-DAY (under Same-Day Registration).
PRE-REGISTRATION
Pre-Paid Registration is no longer available after August 15, 2019. Anyone who has pre-registered (paid in advance, $55-$60) will be asked to identify themselves as your name will be on a Pre-Registration List. As soon as we have identified your name from our Pre-Registration List, you will be given a particular wristband, and will be asked to sign a waiver. Please report any previous or current injuries so that we are aware of your physical condition.
SAME-DAY REGISTRATION
If you are registering on the same day of the Garimot Seminar, then we will ask you to line up on the Same-Day Registration or At-The-Door Line. We will ask you to (1) print your first and last name on a list that we will have provided; (2) sign waiver form; (3) report any previous or current injuries; and (4) make payment for Same-Day or At-the-Door Registration. You will also be asked to pay $75.00 for Same-Day Registration on Eventbrite. Alternate forms of include PayPal or Venmo, which will be available at the Registration Table on August 17. As soon as Payment has been made and confirmed for Same-Day Registration, you will be given a wristband. We appreciate your patience.
WRISTBAND – "You must pay in order to stay!"
The method for how we will identify those who have pre-registered or paid on the same-day will be with the use of a wristband. Everyone participating in the Garimot Seminar will need to have a distinguished colored wristband by the start of the seminar. Anyone who does not have a wristband by 11:00 am will be asked to exit the Terrace Room.
RECORDING
There will be no recording allowed during the seminar. Please put away any cameras, digital phones, and/or recording devices. Participants may be asked to participate in a group photo.
EQUIPMENT
For beginners, wear something comfortable that allows you the freedom to jump around (i.e., sweats, workout shorts, tank top, muscle shirt, etc.) as you will be moving about. Feel free to bring gym bag to carry any extra shirts, clothes, and towel. For all, bring your own arnis/escrima sticks for possible single- and double-stick training. Feel free to bring your own bottled or self-contained water and snack as we will have occasional breaks throughout the seminar.
AT-THE-START
Prior to the start of GAT Seminar, participants must: (1) Submit seminar fee; (2) All seminar participants must sign waiver (this will be made available on the day of the GAT Seminar, August 17, 2019); (3) Report and list any prior injuries.
MINDSET
Enter this seminar with an open mind for learning. Garimot operates on a family-style of learning and supporting. Practitioners will be available to help and support anyone who needs assistance.
AT-THE-END
We must clear the room by 5:00 pm. Please know that conversation can continue, but must be held outside of the Terrace Room by 5:00 pm.
QUESTIONS
If there are any questions or comments, please direct them to GAT Ninong & Instructor Ronald Buenaventura via email: GarimotSD@gmail.com or BuhawiGarimot@gmail.com
Find us here: www.FMASD.com or on Facebook "Garimot Los Angeles"
(424) 488-3846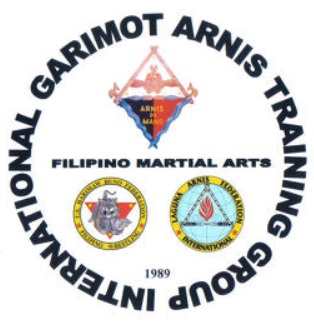 Bunal Brand Filipino Martial Arts Equipment is a sponsor for this event.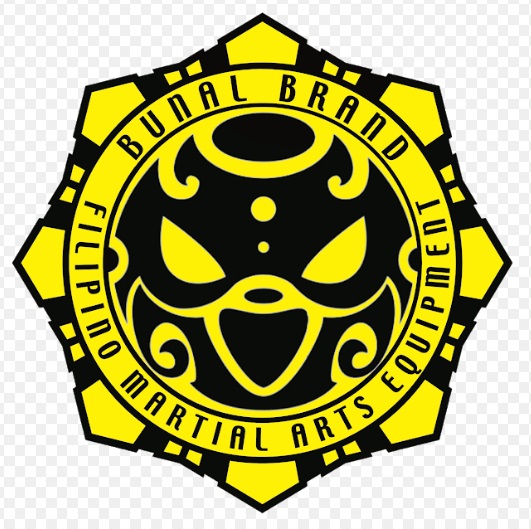 Let's Do This, San Diego! Here is a promotional video from Abundio S Baet, GAT PUNO. Enjoy: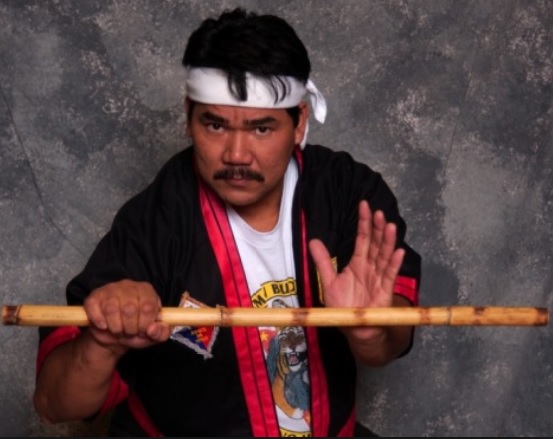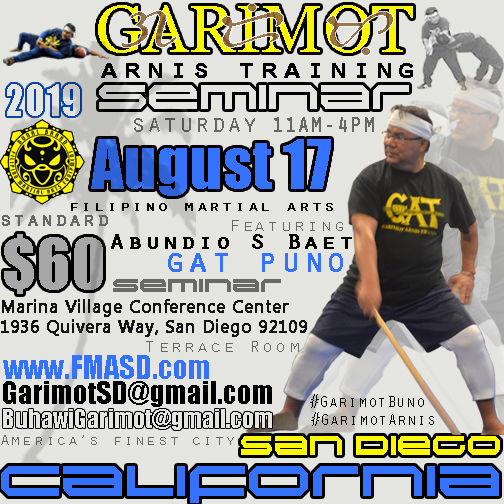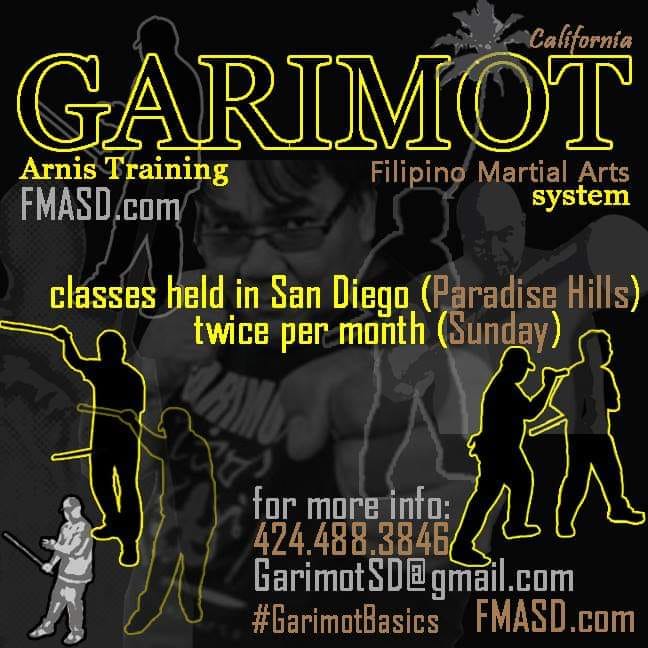 FAQs
What are my transportation/parking options for getting to and from the event?
vehicle
What can I bring into the event?
arnis/escrima sticks (with name/initials marked); practice knife; self-contained bottled water; self-contained baon (food/snack); knee pads; comfortable shorts/sweats; comfortable top
How can I contact the organizer with any questions?
BuhawiGarimot@gmail.com
What's the refund policy?
No refunds after June 1, 2019
Do I have to bring my printed ticket to the event?
No. If you pre-paid, your name will be on a Pre-Registration List. We'll ask that you verify your full name. You can also display your ticket from your mobile device.
Is it ok if the name on my ticket or registration doesn't match the person who attends?
Talk with organizer