About this Event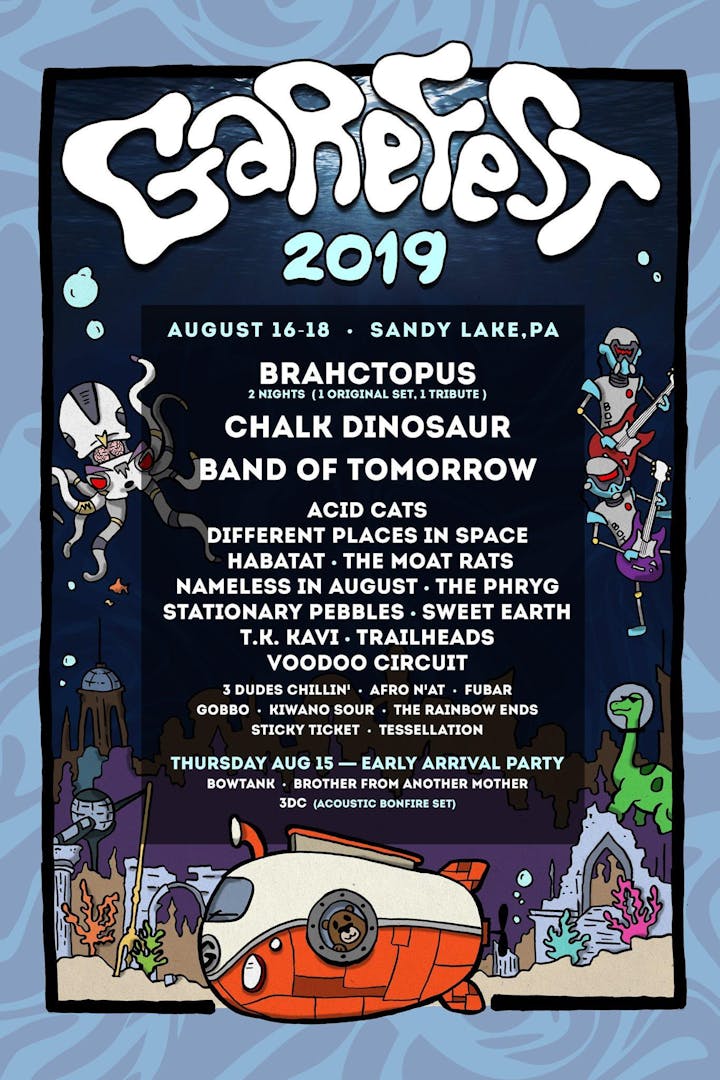 A music and arts festival located in Sandy Lake, Pennsylvania. Originated in 2012, and now operated at its current location since 2015. GareFest has featured many performances from the local music scene. Most of the performances hail from Pittsburgh, PA, but there are many who come from outlying states. Music genres range from Reggae, Funk, Jam Rock, Jamtronica, EDM, Alt Rock, Folk, and Bluegrass.
GareFest 2019 August 16-18
Three days of good music, good people, and good vibes!
If you are interested in Vending, Live Painting, or both, here is our Artist/Vendor Application! https://goo.gl/forms/d0wuXvLSOOUiyzQr1
————————————
FULL LINEUP:
————————————
Brahctopus x2 (1 Original, 1 Tribute)
Chalk Dinosaur
Band of Tomorrow
Acid Cats
Different Places in Space
HABATAT
The Moat Rats
Nameless in August
The Phryg
Stationary Pebbles
Sweet Earth
T.K. KAVI
TrailHeads
Voodoo Circuit
3 Dudes Chillin'
AFRO N'AT
FUBAR
GOBBO
Kiwano Sour
The Rainbow Ends
Sticky Ticket
Tessellation
THURSDAY PRE-PARTY Featuring:
BowTank
Brother From Another Mother
3 Dudes Chillin' Bonfire Acoustic Set
————————————
AUGUST 15TH PRE-PARTY
————————————
Pre-party available to attendees with purchase of the Early Arrival Pass!
————————————
RULES & REGULATIONS:
————————————
-U.S. law applies on festival grounds
-NO ILLEGAL SUBSTANCES
-No underage drinking
-18+
-No Glass (BYOB-alcohol must be in cans or plastic bottles)
-Only bands and Staff permitted on stage and behind stage
-Fires must be in rings
-Fire rings can be rented for $5 while supplies last
-Wood is $10 per bundle or bring your own
-Dogs must be kept on a leash at ALL TIMES (check bottom of details for more on dog policy)
-No violence or weapons
-No Fireworks
-Respect the GareField (this is our home for the weekend)
-Clean up after yourself
-Respect your neighbors space and property
-Property owners and event staff are not responsible for stolen or damaged belongings
-Property owners and event staff are not responsible for injury
-NO BAD VIBES
-Breaking of rules may result in removal without refund
-Have an amazing time!
———————
DOG POLICY:
———————
🐕Dogs🐩 will be permitted this year with a few strict rules applied!! (It is encouraged to leave your dog at home, not all animals are suited for the festival atmosphere.)
1) $10 pet fee
2) Well trained dogs only.
3) No avid barkers, please. People are here to listen to music, not dogs having conversations!
4) Must be leashed AT ALL TIMES! No exceptions!
5) Must clean up (💩) after them immediately. (And please don't just flick it in the woods.)
6) Must provide own bags for pickup and disposal
7) Violations will result in expulsion from the festival without refund