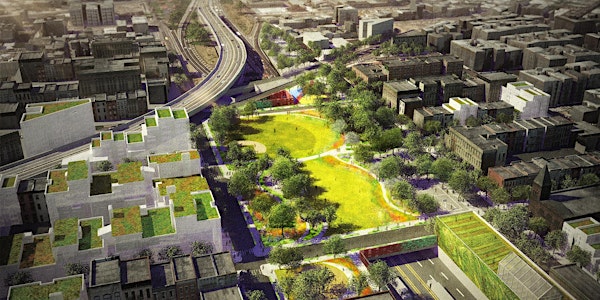 Gardens in the City - Round Table "Urban Green Perspectives"
Round table talk with Lucia Della Putta, Kimberlee Douglas, Nancy Kohn, and Valerio Morabito moderated by Susannah Drake
About this event
Gardens in the City: Beauty & Industry - A series of events organized and curated by Marina Della Putta Johnston, Studio DPJ and Barbara Klinkhammer, TJU College of Architecture and the Built Environment
Lucia Della Putta "A Love for Gardens: From Aesthetic Emotional Experience to Eco-business"
Kim Douglas "Park in a Truck: Re-imagining How Social, Ecological, and Economic Networks in Cities are Designed, Built, and Maintained"
Nancy Kohn "Community Gardens as Respite and Resistance"
Valerio Morabito "Design and Imagination: Art for a Different Ecology"
Susannah Drake - Moderator
Round Table "Urban Green Perspectives"
Our concept of the garden is primarily decorative, a place of beauty and relaxation, but a garden requires "industry" in the Latin sense of diligent purposeful action in order to be beautiful. Additionally, the beautiful garden is productive, the ultimate goal of industria, whether the product be simply the perpetration of beauty, its flowers and fruits be put to a more practical use as food, medicine, and dyes, or it serve broader environmental and social concerns.
Private or public space, sprawling through expansive city squares and parks or filling only a windowsill box, the garden expresses our need and desire to commune with nature, and much more so in an urban setting and at a time of great environmental awareness and worries about the future of our planet. The Covid-19 pandemic appears to have further heightened the craving for gardens all over the world, from Europe to the US, to Australia and China. Statistics show that the global gardening market passed the $100 billion mark in 2020 and is projected to grow to $130 billion by 2024. While the American gardening market is the largest, the European market is the fastest growing, and Italy can be taken as example of the upward trend. The Italian gardening market, which in 2019 generated revenues for €2.85 billion ($3.14b), has grown to €3 billion ($3.3b) in 2021 and is continuing to grow as new home gardeners enter the market cultivating both ornamental plants and plants for food. According to a 2021 survey by Promogiardinaggio, an Italian non-profit organization founded in 2008 by a group of forty companies in the gardening sector, 72% of Italians have a vegetable garden, 36% of surveyed Italian families have developed a greater interest in gardening during the pandemic, and 34% intend to spend more time in green spaces in order to relax, though indoor and outdoor green spaces are used also virtual offices for working remotely. Gardens thus connect us with nature and food as well as socially in a variety of novel ways, thanks also to the digital technology that allows us to monitor the watering and lighting system of our smart kitchen garden as well as map and manage our cities' community gardens and collaborate with one's work team from the leafy shade of a city park.
Beyond its long artistic and literary history, we intend to explore the garden in a variety of forms and functions primarily in urban spaces and in different cultural and social contexts, raising also issues of equity, diversity and social justice, through an exhibit of works by landscape architect Valerio Morabito and a round table (Urban Green Perspectives) following presentations by Valerio Morabito, Nancy Kohn, Lucia Della Putta, Kim Douglas, and Susannah Drake, who will deliver also the plenary address.