Multiple Dates
Gardens for Wildlife garden visits - Frankston City Council
Sales Have Ended
Registrations are closed
If you have any further questions regarding your please visit the Gardens for Wildlife page on Frankston City Council web page or email pande.events@frankston.vic.gov.au Looking forward to talking with you Gardens for Wildlife team
Event Information
Location
Frankston
Davey Street
Frankston, VIC 3199
Australia
Sales Have Ended
Registrations are closed
If you have any further questions regarding your please visit the Gardens for Wildlife page on Frankston City Council web page or email pande.events@frankston.vic.gov.au Looking forward to talking with you Gardens for Wildlife team
Description
Gardens for Wildlife is a free program (open to residents of Frankston City Council) to support more wildlife friendly and environmentally sustainable gardening practices within Frankston City Council. Gardens that contribute to our wildlife habitat can greatly assist the survival of plants and animals that are dependent on the habitats that once occupied our municipality. The Gardens for Wildlife program will assist you to create a wildlife-friendly habitat in your garden by providing you with simple, practical advice for an environment-friendly garden. The program is provided by Frankston City Council supported by our wonderful garden guide volunteers
What is a Wildlife Garden?
A wildlife garden contains features that provide a safe haven for wildlife, with food, shelter, nesting sites and safe areas to raise young.
Make your garden wildlife friendly with this simple recipe
Pick any of these ingredients to make your garden a wildlife garden
A tall mature tree, native to the area

A patch of natural mulch for beetles and worms

A clump of dense shrubs where birds can shelter

Nectar plants for honeyeaters

A cat-proof birdbath

A frog-friendly pond or bog with unpolluted water

A warm, sheltered corner for lizards

Local daisies for butterflies
How does Gardens for Wildlife program work?
The program will open up each term with a number of available garden visit times availabe for you to book into. Select one and complete your booking answering the required questions. You will recieve an email to confirm your booking.
On the day of your garden visit two or three of our volunteer Garden Guides will come to your home for about one hour to provide you with advice on your garden and suggestions on how you can make your garden more wildlife-friendly. Following the assessor's visit, you will receive a written assessment listing your garden's native and indigenous plants, and suggestions and plant recommendations to increase your garden's biodiversity. The guides are unable to provide general gardening or landscaping advice.
There is a limited number of properties that can be visited however we hope to be able to cater for more properties as we grow our team of garden guides. If you would like to be placed on the waiting list please email PandE.events@frankston.vic.gov.au with your contact number and will will be in touch if a visit becomes available.
The Garden Guides who visit your gardens are made up of a team of volunteers who have a passion for conservation of our indigenous plants and animals. If you are interested in becoming a volunteer you can register your interest at PandE.events@frankston.vic.gov.au and we will contact you.
What are the benefits of joining Gardens for Wildlife?
Participants will receive:
A garden habitat assessment carried out by a friendly local garden guide.

A gift voucher for 20 indigenous plants from the Frankston Indigenous Nursery.

A letterbox sticker to help promote the program to your neighbours.

Invitations to Gardens for Wildlife events and information sessions across the year
You will also have opportunities to meet and connect with other people interested in preserving our local biodiversity.
Is my garden too small to be considered?
No matter how small your garden – be it plant containers, a courtyard, deck or larger space – we can all contribute to the survival of wildlife by providing suitable places for birds, insects, frogs, lizards and other animals.


Happy Gardening!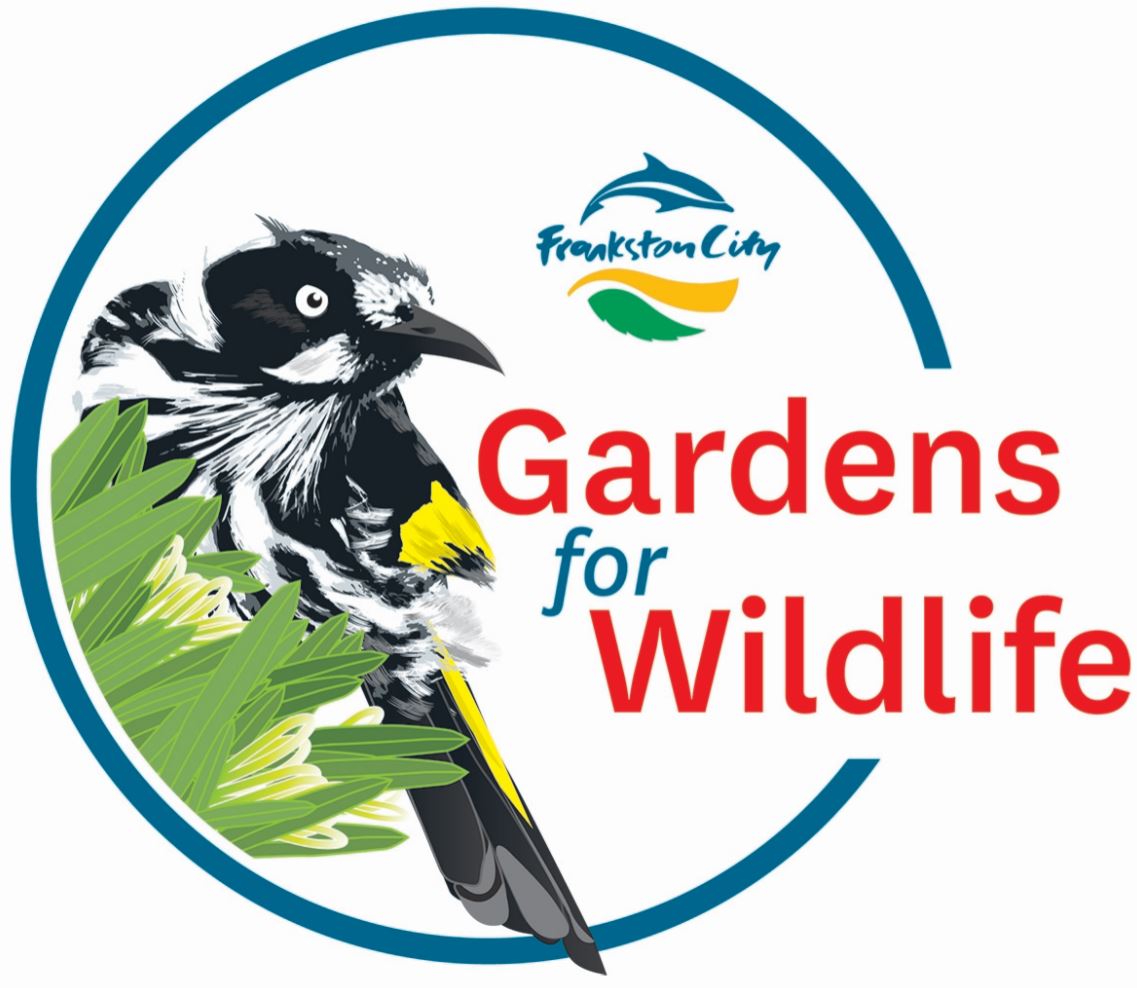 Location
Frankston
Davey Street
Frankston, VIC 3199
Australia