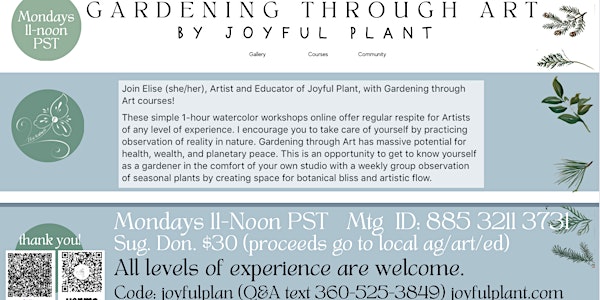 Gardening through Art (Botanical Watercolor eClass)
The objective of this course is to hone our attention and positive creative emotions to serve our living environment.
Refund Policy
Contact the organizer to request a refund.
Eventbrite's fee is nonrefundable.
About this event
Welcome!
Let's gather pencils, paper, and watercolors to make botanical observations together in a 1-hour Artist Retreat. Nature drawing and painting can help us rejuvenate inspiration. A seasonal sample of botanical bliss can uplift the spirits for therapeutic arts that are also great for the planet.
Why Gardening through Art?
We can change the environment through creative participation. In this course we will use art and meditation exercises to bring our personal environment into the imaginary space. Understanding nature's processes through plant observation will bring forth ideas for environmental stewardship at Holden, at home and beyond. The goal of this course is to understand techniques that tune our joyful feelings to the living world.
Gardener's Personality Test: Consider how landscapes shape the way we see the world (and vice versa).
Landscaping Like the Creator Cares: Learn techniques for building biodiversity and mitigating climate change.
Art Tutorial Workshops (Leaf Rubbings, line drawings, and therapeutic art exercises)
Meditation Exercise: Group plant observation, Solo plant observation. Understanding plants as a process.
We can achieve global solidarity through gardening and art.
How: Join Elise (she/her), Artist and Educator of Joyful Plant, with Gardening through Art courses!
These simple 1-hour watercolor workshops online offer regular respite for Artists of any level of experience. I encourage you to take care of yourself by practicing observation of reality in nature. Gardening through Art has massive potential for health, wealth, and planetary peace. This is an opportunity to get to know yourself as a gardener in the comfort of your own studio with a weekly group observation of seasonal plants by creating space for botanical bliss and artistic flow.
11:00 - Introduction & Warm-Up
11:05 - Plant-Thinker Reports
11:15 - Observation A
11:25 - Observation B
11:35 - Break / Free
11:40 - Observation C
11:55 - Reflections
12:00 - Closing
When and how much?
Weekly Mondays 11-noon PST on Zoom
Q&A Text: 360-525-3849
Suggested Donation: $30*
(Proceeds benefit local plants, accessible arts, and lifelong education.)
If you prefer Honor System:
Zoom Classroom Meeting ID: 885 3211 3731
Passcode: joyfulplan
Zelle: thejoyfulplant@gmail.com
Venmo: @joyful.plant
PayPal: @watness
(Thank you for supporting small business, family, and stewardship!)
*Sliding scale & scholarship are limited, but possible with inquiry.
Shared "Gallery" on Instagram: #gardeningthroughart