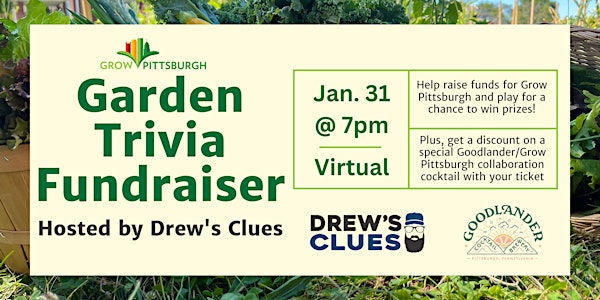 Garden Trivia Fundraiser with Drew's Clues
Join Grow Pittsburgh for a virtual garden-themed trivia fundraiser hosted by Drew's Clues!
About this event
Join Grow Pittsburgh and Drew's Clues for a trivia fundraiser on a cozy winter night. This event will take place over Zoom and is a great opportunity to grab some friends and test your garden knowledge!
You can register solo or as a team (of up to 6 people)
If registering as a team, list your team name and team mates names in the optional question after purchasing a ticket
If you're not sure about a team yet don't worry! You can register as a solo player and email us later to form a team
If you want to play but don't have a team Drew can randomly assign you to a team day-of!
If you register by 1/27, you will recieve a special Goodlander coupon that can be used until Saturday 1/28.
Tickets are on a sliding scale starting at $10. All proceeds will support Grow Pittsburgh and our mission to develop and support food-growing initiatives and programs across the region as a key way to improve the social, economic, environmental, health, and educational realities of people in our community.
Prizes include a Goodlander gift certificate, Grow Pittsburgh T-Shirts and Garden Journals, discounts at Grow Pittsburgh's annual seedling sale, and coupons for free Grow Pittsburgh workshops!"