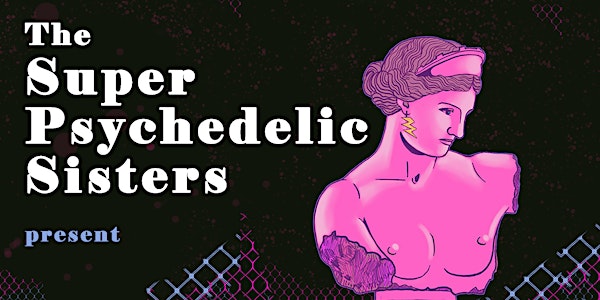 Garden of Venus: a phygital art event
An exhibition that combines digital art and music with traditional art-making.
When and where
Location
Mahall's 13200 Madison Avenue Lakewood, OH 44107
About this event
NFTs have become a way for women to yield more power in technology and creative arts. The goal of our exhibition is to challenge the perception of value. Is women's art more valuable in the ether or the flesh? Women are extremely underrepresented in traditional art genres such as solo shows and the secondary market.
The three exhibitors are Arabella Proffer, Tessa LeBaron, and Jenna Fournier (AKA The Super Psychedelic Sisters). Their artwork plays on themes of transformation, beauty, and unseen worlds. Art is often used to integrate psychedelic experiences, transcending language, culture, and experience. Unlike typical tech-art exhibits with screens in a white cube, attendees will walk into an immersive environment, displaying traditional paintings alongside crypto art.
Despite the ability to break stigmas, women only make up 16% of the NFT space. This trend is rapidly changing, women in the crypto art space do not want a repeat of the traditional art world, and even worse statistics. Resident engagement and education is our second major goal, and part of our mission is to teach the public that crypto art is approachable and here to stay.
Building on the educational aspects, a major component of our project is a free zine with a punk rock edge which will be distributed throughout Greater Cleveland during the run of the show. This "info zine" is an easy guide to NFTs and how to get involved as a creator at any level.
The first 50 attendees will get a free zine, and a claim for a free NFT without needing crypto. The bar will have themed cocktails on the menu.
This will be the first and only women-led NFT exhibition in the state of Ohio and this part of the country to date.