About this Event
Bridge View is a coastal landscape sloping from west to east. Through the combination of hardscape and plantings, the design reflects the strength of the architecture of the neighboring Claiborne Pell Newport Bridge and the scale of the shoreline sky.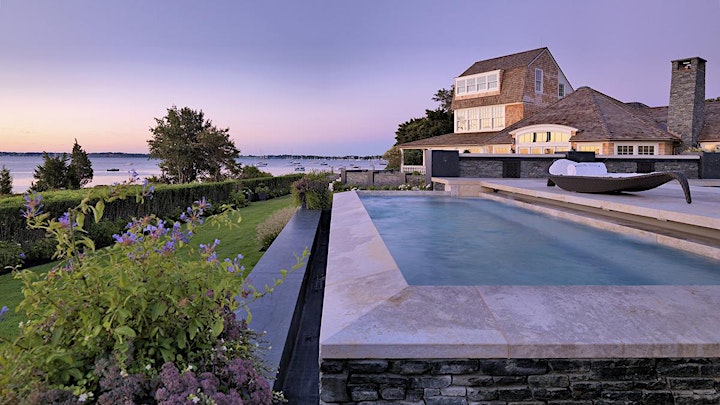 As a part of Phase I, Katherine Field and Associates lined the bottom of the pool with Italian glass tile that reflects the arches of the bridge. A fiber-optic light pattern in the pool floor recreates the constellations overhead on the day the clients were married. Custom pieces of glass and metal created by local artists are included throughout the site, as well as pieces from the clients' own art collection.
Stone features echo the rock outcroppings of the natural environment. Fieldstone retaining walls, monolithic granite buttresses, limestone paving, and granite slabs are seen throughout the site, each highlighting important features of the surrounding landscape and architecture.
During Phase II, the tennis court was lowered almost ten feet in grade to create a strong site-line connection across the property and open up the opportunity for continued ocean views. This also created a beautiful sloped perennial garden and viewing platform.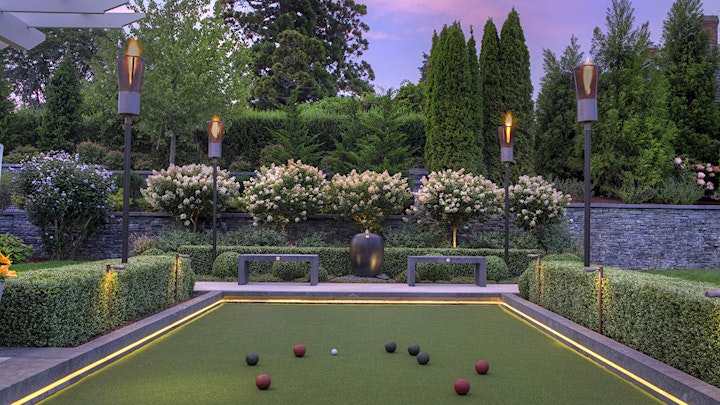 Plant material was selected for sustainability, summer color, and resiliency to the frequently unforgiving coastline conditions. Shades of blue and ornamental grasses connect the landscape visually to its shoreline location, with more color incorporated closer to the house. Native plants are used as the palette for the perimeter.
This Garden Dialogue will be led by Kate Field, Principal, Katherine Field and Associates; Lisa Frazier, RLA, Project Manager, Katherine Field and Associates; Mike Ward, Landscape Contractor, Fields of Dreams; Doug Shear, General Contractor, Newport Housewrights; and Richard Clark, Landscape Maintenance, Clark Farms.
LA CES™ professional development hours will be available to attendees, upon approval.