Description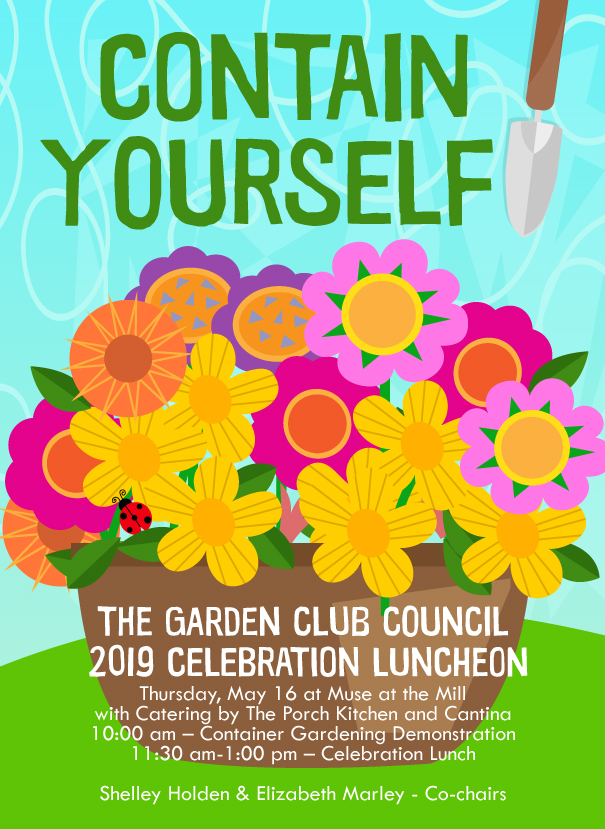 Members - please join us for the Garden Club Council of Winston-Salem & Forsyth County 2019 Celebration Lunch on Thursday, May 16 at Muse at the Mill (right behind The Porch). Doors open at 10:00 am. Come early and enjoy a container garden demonstration and view gorgeous containers created by talented members of our garden clubs. Our Celebration Lunch will be from 11:30 am until 1:00 pm. Tickets are $40 and include a beautiful buffet lunch, iced tea and dessert. Cash bar for margaritas and sangria will be available.
At our annual Celebration Lunch, we'll take a moment to honor our amazing garden club volunteers and look back on all of the incredible accomplishments of the year. We'll also be announcing the winners of the Wava Howard Lifetime Achievement and the Nancy D. Sherk Award for Achievement in Beautification. To download a entry form for either of these awards, or to find out more about them, click here.
Our dress code for the event will be gardening clothes. Come in a relaxed gardening outfit with wellies or whatever casual outfit you prefer. Jeans welcome.
It has been an INCREDIBLE year for the Garden Club Council and we look forward to celebration with our membership.
The 2019 Garden Club Luncheon is for members of our 21 Garden Clubs and invited guests only.
Parking at the Muse at the Mill is extremely limited. Please consider carpooling or taking Uber.
Shelley Holden and Elizabeth Marley are our 2019 Co-Chairs. We'll be announcing the committee for the Celebration Lunch soon!