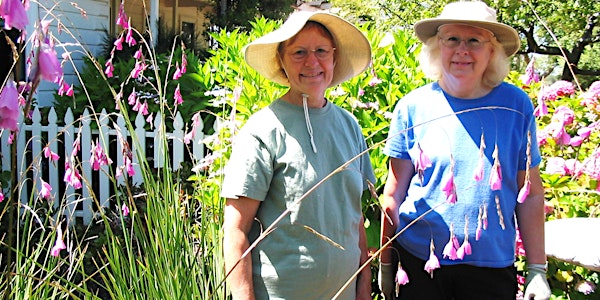 Garden AND Architectural Tour of the Rengstorff House
Celebrating 30 Years: A Rengstorff House Garden Tour!
When and where
Date and time
Saturday, September 11, 2021 · 10 - 11:30am PDT
Location
Rengstorff House 3070 N. Shoreline Boulevard Mountain View, CA 94043
About this event
Tour Update: Due to popular demand of the architectural tour on 9/4, we have expanded the offerings on September 11th to include a brief tour highlighting architectural details of the house. Former Shoreline Engineer will join in on the tour taking place on 9/11!
EVENT OVERVIEW
Join Master Rosarian Barbara Gordon for a tour of the Rengstorff House gardens, as she shares her knowledge on the history of development of the garden, including heritage species that were selected in keeping with the history of the house.
As described above, former Shoreline Engineer Mark Rogge will also attend, allowing for guests to rotate through a series of tours to expand their knowledge of the venue.
The historic Rengstorff House is Mountain View's oldest homes and one of the finest examples of architecture on the West Coast. It is a fine garden site and rental venue, as well as a locale for members of the general public to enjoy.
Barbara Gordon is a long-time supporter of the Rengstorff House, a current Board member of the Friends of "R" House, and a dedicated President of the Mountain View Garden Club. Since the historic home's opening to the public thirty years ago, she has contributed nearly 1,000 volunteer hours by helping to introduce of Lady Banks (Rosa Banksiae) climbing roses, the heritage rose garden, and even donating bulbs and plants from her own garden.
This is the second in a series of four (4) educational tours at the Rengstorff House in the month of September. Other tours include: an architectural tour on Saturday, September 4, walk-up tours on September 18, and a day of family fun in the gardens on September 25. Beginning in October, the Rengstorff House expects to fully-reopen to the public on Tuesdays/Wednesdays 1:00 - 4:00 p.m. and Saturdays 9:00 a.m. - Noon.
Per current health orders, masks are currently required for vaccinated/unvaccinated individuals when entering the home. Pre-registration is kindly required for each event separately. In addition, a guest check-in will be monitored upon arrival, so don't be late. For additional information or to get involved as a volunteer, kindly visit www.mountainview.gov/rengstorffhouse and/or www.friendsofrhouse.org. Join us in celebrating 30 years since the Rengstorff House restoration in 1991!
About the organizer
The Rengstorff House is one of the oldest homes in Mountian View and one of the finest examples of Victorian Italianate architecture on the West Coast.  Also an attractive, historic rental venue, the Rengstorff House offers highly-competitive rental rates at $200/hour on weekends, and includes use of the downstairs portion of the house as well as spacious brick patios surrounded my manicured lawns, blooming flowers and natural areas.  The house is open to the public for docent-led tours Tuesdays, Wednesdays and Sundays from 11:00 a.m. to 5:00 p.m.  For additional information, please call (650) 903-6392.