Location
Glendale Civic Auditorium
1401 North Verdugo Road
Glendale, CA 91208
Refund policy
Refunds up to 7 days before event
Description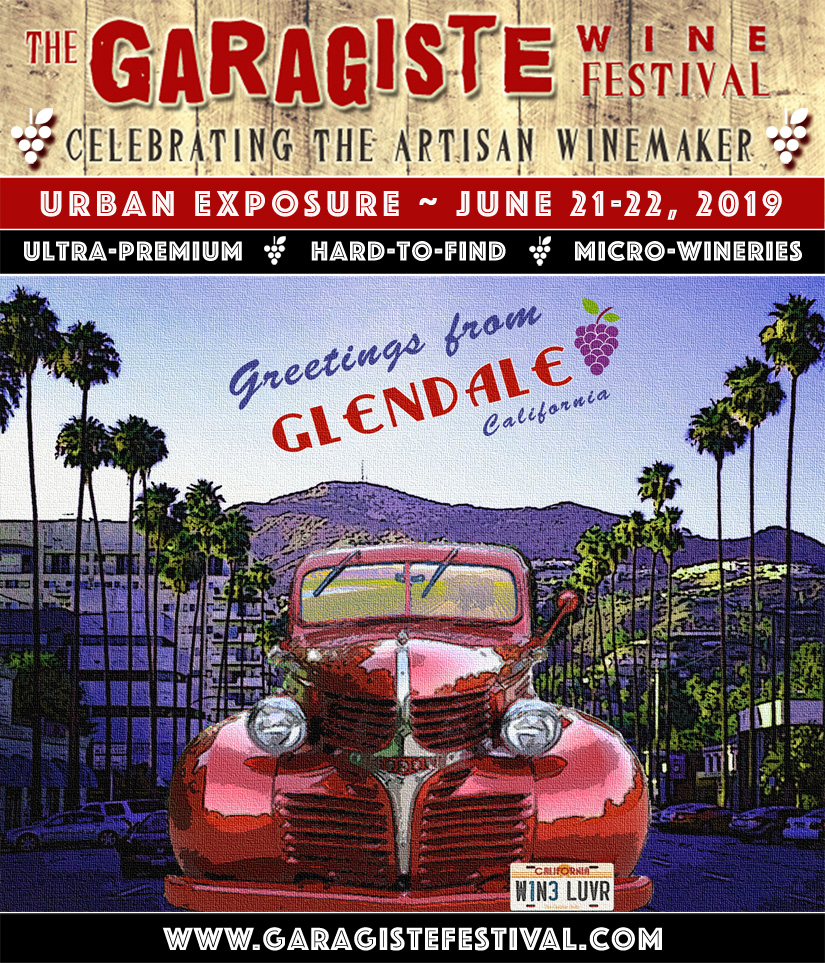 You'll find out why USA Today named The Garagiste Festival the "#1 Best Wine Festival in America" when you discover over 50 of the best, hard-to-find, high-quality micro-production wineries from all over California at The 6th Annual Garagiste Festival: Urban Exposure held this year for the first time in Glendale, CA.
The majority of our wineries do not have tasting rooms, cannot be found on "wine country" maps, and their wines can be very hard to find on store shelves. We make it easy for you to find a world of new wine discoveries all under one roof.
As with all Garagiste events, only the winemakers and/or owners (often the same person) will be pouring the wines. Come meet the artists who are making some of the most exciting and innovative wines in the world. And no snobs allowed!
Limited ticket sales so no waiting 15-20 minutes for a taste! Spend less time standing and more time exploring these amazing wines.

Indoors with A/C so you are comfortable and the wines aren't warm...and you don't get sun-burned.

Open seating for all ticket levels, so you can relax a bit between tastes and ponder what you've been enjoying.

A Silent Auction filled with the good stuff - great wine! Want to take some vino home? This is a great way to find amazing bottles.

Complimentary cheese & charcuterie board courtesy of Cabot Cheese. Only the best!

Plenty of onsite parking for just $6
Participating Wineries Include: 13th & Third Wines*, Adron Wines*, Aldina Vineyards*, Alma Sol Winery, Angeleno Wine Co.*, Armitage Wines, Ascension Cellars, Bella Luna Winery, Bevela Wines, Bodega de Edgar, Brooks Note Wines*, Byron Blatty Wines, Cavaletti Vineyards, Changing Patterns Wines*, Cholame Vineyard, Cloak & Dagger Wines, Copia Vineyards, DB Cellars*, DENO Wines, DeWitt Vineyard*, Dusty Nabor Wines, Enriquez Wines*, Etnyre Wines*, Ferguson Family Winery*, Frostwatch Vineyard*, Gary Kramer Guitar Cellars*, Golden Star Vineyards, Golden Triangle, Gravel Pit Wines*, Greyscale Wines*, Hoi Polloi Winery, Kendric Vineyards, Kings Carey Wines*, Kitson Wines, Lions Peak Wines*, LXV Wines, Marin's Vineyard, MCV Wines, Metrick Wines, Montagne Russe, Ocean's Churning*, Playground Cellars*, Powicana Farms, Record Family Wines, Republic of Pink, RF Fine Wines*, Rhondonnee Wines*, Say When Wine*, Torch Cellars, Turiya Wines, Two Papas Wine*, Two Shepherds, Velvet Bee Wines*, Vino Vargas, Wander-Must Wines*, and Zanoli Wines.
* First Time LA Participants
WEEKEND SCHEDULE
ALL EVENTS at Glendale Civic Auditorium - 1401 North Verdugo Road, Glendale, CA
FRIDAY - JUNE 21st - 6:30-9:00pm
"RARE & RESERVE" KICK-OFF PARTY:
We are very excited to bring this popular event to the LA area for the first time! Get up close and personal with the winemakers as they share wines you won't get to try anywhere else this weekend…and few other people get to try at all!
This evening will showcase over 50 extremely limited Club Only, Library and Pre-Release bottles – and even some barrel samples! – that truly showcase what micro-production winemaking is all about. This event is like digging for diamonds with an earth mover. You are guaranteed to find more than a few gems!
A down-home, full-on Summer BBQ Buffet - provided by Fired Up Chef Services - is also included, to make your stomach as happy as your palate. A unique night of food & wine not to be missed! Our most intimate event with ONLY 150 tickets available!
SATURDAY - JUNE 22nd - Please note different starting times below...
The day begins with one of the most popular features of the Garagiste Festivals, its engaging, educational and unique winemaker panel and tasting seminars.
*SATURDAY SEMINAR: 11:30am-12:30pm

"Garagiste Goes Local: The Rebirth of the LA Wine Industry"
Think great wine can't come out of LA County? Think again. The California wine industry was born in Los Angeles in 1782 thanks to Spanish missionaries and vineyards were planted in Glendale (that's right!) as early as 1784. Over a hundred and fifty years ago the region was home to one hundred vineyards with a flourishing local community that was the heart of the California wine business. It was even the place where Bordeaux vine cuttings were first planted! While urbanization has overtaken all of these original vineyards, the drive to regain world-renown for LA's wine scene is on! The three winemakers on our panel are all-in, propeling the return of LA wineries (and vineyards) to prominence and striving to place this AVA back on the map as a must-visit wine region. Discover - and taste - the variety of quality wines hand-crafted right under your nose!
Panelists include: Jasper Dickson & Amy Luftig Viste, Angeleno Wine Co.; Mark & Jenny Blatty, Byron Blatty Wines; and Patrick Kelley, Cavaletti Vineyards.

*The seminar is only available as part of the Saturday VIP TICKET, which also includes a Wine Country Box Lunch and (1) hour early access to the Grand Tasting. ONLY 75 SEATS AVAILABLE
Saturday continues with the Grand Tasting from 2-5pm showcasing over 50 winemakers pouring 200+ wines and 20+ varietals. There will be a limited number of Early Access Tickets available, which gives attendees an extra hour of tasting from 1-2pm. More time = more wines to discover. These tickets grant you 4 hours of tasting so you will have plenty of time to chat, taste and explore.
VIP All Access (11:30am-5pm)
Early Access (1-5pm)
Grand Tasting (2-5pm)