Event Information
Location
Veterans' Memorial Hall
1745 Mission Drive
Solvang, CA 93463
Refund policy
Refunds up to 7 days before event
Description
ALL EVENTS at Veterans' Memorial Hall - 1745 Mission Drive, Solvang CA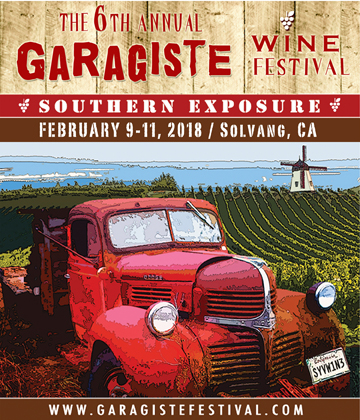 We are excited to be bringing many of the best, hard-to-find, high-quality micro-production wineries from all over California to the Santa Ynez Valley for The 6th Annual Garagiste Festival: Southern Exposure.
The majority of our wineries do not have tasting rooms, and their wines can be very hard to find on store shelves. Most are making less than 500 cases per vintage! We make it easy for you to find a world of new wine discoveries all under one roof.
As with all Garagiste events, only the winemakers and/or owners (often the same person) will be pouring the wines. Come meet the artists who are making some of the most exciting and innovative wines in the world.
Winery participants include: Ann Albert Wines, Ascension Cellars, Bevela Wines, Bradley Family Winery, Buscador Wines*, Byron Blatty, Caliza Winery, Camlow Cellars, Cavaletti Vineyards*, Cholame Vineyards, Cloak & Dagger Wines, Clos Des Amis, Cordon Wines, D. Volk Wines, Diablo Paso, Dunites Wine Co*., Dusty Nabor Wines*, El Lugar Wines, Elwood Wines*, Golden Triangle, Ground Truth Wines*, Hoi Polloi Winery, Lepiane Wines*, Luna Hart Wines*, March Wines, Marin's Vineyard, MCV Wines, Metrick Wines, Mollie Wines, Montagne Russe, Montemar Winery, Ryan Cochrane Wines, Seagrape Wine Co., Serrano Wines, Sycamore Ranch*, TLO Cellars, Torch Cellars*, TW Fermentation Co., Velvet Bee Wines*, Vino Vargas, Volatus Wines and Weatherborne Wine Co.

WEEKEND SCHEDULE
All Events at The Veterans' Memorial Hall. 1745 Mission Drive, Solvang, CA
FRIDAY - FEBRUARY 9th - 6:30-9:00pm - $49 per person - Must be purchased in advance / No Walk-Ups
"NO REPEATS RARE & RESERVE" KICK-OFF BBQ: Get up close and personal with the winemakers as they share wines you won't get to try anywhere else this weekend…and few other people get to try at all! This evening will showcase extremely limited Club Only, Library and Pre-Release bottles – perhaps even some barrel samples – that truly showcase what micro-production winemaking is all about. This event is like digging for diamonds with an earth mover. You are guaranteed to find more than a few gems! A Texas-Style BBQ buffet by Neighbor Tim's BBQ is also included in the fun.
SATURDAY - FEBRUARY 10th - Please note different starting times below...
The day begins with one of the most popular features of the Garagiste Festivals, its engaging, educational and unique winemaker panel and tasting seminars.
SATURDAY SEMINAR - Starts at 11:30am. Included as part of VIP and Weekend Pass Tickets - - Must be purchased in advance / No Walk-Ups.
"Original Garagistes: A Talk & Tasting with Bob Lindquist"
What better way than to start this series than with Central Coast winemaking legend Bob Lindquist from Qupé.
Bob's storied winemaking career has not only won him wide acclaim from wine aficionados around the world, but he is an inspiration to micro-production winemakers everywhere and epitomizes everything that the American Garagiste movement is about – handcrafting stunning wines from under-appreciated grapes, ignoring established rules, innovating and taking risks and generously sharing knowledge with his peers. There would be no Garagiste movement, no Rhone Rangers - and the Central Coast would still be a blip on the way to Napa - without visionary winemakers like Bob.
This seminar will not only give attendees the opportunity to sample Mr. Lindquist's wines but will also chronicle, via moderator Stewart McLennan, his story and winemaking journey. This seminar promises to be a unique and not to be missed view behind the man and his amazing wines.
The seminar is only available as part of the WEEKEND PASS* or Saturday VIP ALL ACCESS TICKET, which also includes a Wine Country Box Lunch and (1) hour early access to the Grand Tasting. They MUST be purchased in advance. Secure your space today!
SATURDAY EVENT SCHEDULE:
All Events at The Veterans' Memorial Hall
VIP ALL-DAY ACCESS: From 11:30am-5:00pm (includes Seminar, Lunch & Early Access to Grand Tasting)
EARLY ACCESS: From 1:00pm-5:00pm
GRAND TASTING: From 2:00pm-5:00pm - LIMITED TICKETS AVAILABLE AT THE DOOR
WEEKEND PASS: Includes both Friday's Kick-Off Party and Saturday All Day VIP Access at a 20% discount off both tickets.
PRESS & TRADE
There will be limited tickets made available to the Grand Tasting to members of the Trade and Media. ONLY wine bar / shop / restaurant owners and wine brokers will be allowed entry. Members of the media & trade will need to provide appropriate credentials. If you are interested in attending, please contact us at info@garagistefestival.com for further details.
DISCLAIMER
Due to Alcohol Beverage Control regulations, no one under 21 years of age will be permitted at the event including infants and children. Due to Health and Safety Codes, no animals will be permitted at the event, except Service Animals meeting state and federal standards. Thank you for your understanding. The Garagiste Southern Exposure Festival is a Rain or Shine event.
Location
Veterans' Memorial Hall
1745 Mission Drive
Solvang, CA 93463
Refund policy
Refunds up to 7 days before event