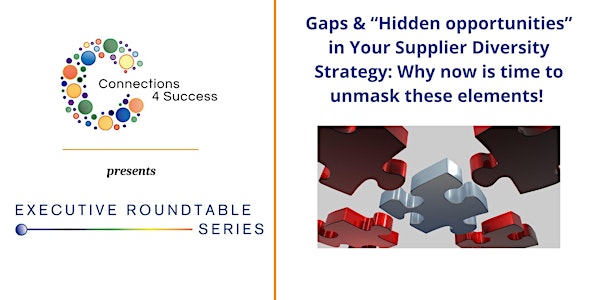 Gaps & "Hidden opportunities" in Your Supplier Diversity Strategy
Discover why Supplier Diversity is at the forefront to bridge the gaps and decrease the challenges experienced in business today.
About this event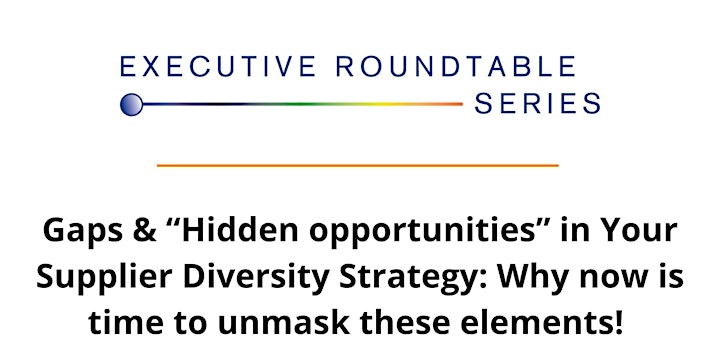 Lingering supply chain challenges, widening talent shortages, and the increasing need to improve corporate diversity are why Supplier Diversity is at the forefront to bridge the gaps and decrease the challenges experienced in business today. Therefore, all businesses must assess their gaps and hidden opportunities to improve how minority, women-owned, disability-owned, and diverse business enterprises can begin to engage and do business with your organizations.
An established framework, measurable supplier diversity allocations and metrics, vendor technical assistance, and means for engagement and recruitment of minority, woman-owned, and diverse business firms will be vital in driving an increase of approximately 4 million jobs for minority populations and women1.
Is your organization structured and prepared to meet all the growing supplier diversity requirements and responsibilities of leading corporation ESG parameters, government funding allocations, increased consumer scrutiny regarding real diversity pivots, and increasing demands of top talent to see the needle moved on corporate social responsibility?
Why is it important?
True Diversity across all business operations (internal & external engagements) sets top-performing businesses apart from competitors
64% of millennials say they won't work for companies that perform poorly on corporate social responsibility1
MWDBE spending, if doubled, to $2 trillion, from the current estimate of $1 trillion, could generate $280 billion in additional income and four million jobs for minority populations and women1
COVID-19 caused companies to need to buy products and services they have not purchased before & companies will begin to bring sourcing back to the US to reduce supply risk. Diverse Suppliers can fill in the gap2
Diverse companies created 72% of all new jobs in the five years after the Great Recession. They are critical to helping bring back the US economy.2
Two in three small businesses (67%) are run by an underrepresented group: women (35%), racial and ethnic minorities (20%), veterans (19%), LGBTQ (14%), and those with disabilities (12%) — highlighting the role diversity plays in the small business world.3
78% of CEOs reported experiencing changes in buyer behaviors – Q3 2021 CEO Confidence Index Survey
Join the discussion on realistic supplier diversity structures that are necessary right now. This forum is a monthly convening that is invite-only for leading companies and corporations ready to pivot their supplier diversity strategy to meet today's industry and consumer demands.
_________________________________________________________
Discussion Topics:
How is your company reframing its supplier diversity priorities for:
Expansion into minority, woman-owned, disability-owned, diverse vendor markets and professional services,
Being purposeful in establishing new diverse business set-aside frameworks for disability-owned and LGBTQIA+ vendors,
Tracking supplier diversity goals vs. actual spends,
Offering technical assistance to vendors to create sustainable/viable partners long-term,
Getting creative in diversifying to remediate supply-chain challenges?
What needs to change in our supplier diversity strategy?
Are there hidden gaps with our suppliers that could endanger the business?
__________________________________________________________
As a change management and organizational development agency at Connection 4 Success, we challenge the status quo of business models, operations, and workforce development. Our firm provides customized solutions based on proven best-practice strategies and our proprietary systems to build resilient, perseverant, and strong organizations, processes, and teams. We utilize our proprietary business model and techniques: Connections 360⸰ Methodology, Business Accelerator, RPS Modality: Resiliency, Perseverance & Strength, and DE&I for Disability and Difference frameworks to elevate our clients' ability to achieve and sustain business opportunities and success.
Our team has over 100,000 hours of expertise in offering best-in-class business strategies to ensure our clients' organizations are profitable, sustainable, and meeting the needs of their clientele, communities, and workforce populations. The Connections 4 Success team has over 40 years of research and evaluation experience, with over 41,000 hours of quantitative and qualitative evaluation techniques. We have experience managing projects with a net worth of over $5,000,000.
Here at Connections 4 Success, we become that pivotal business partner to evaluate the need for change, devise the appropriate pivots and modifications required for sustainable success, and provide support to ensure the seamless implementation of all professional services.
Meet Connections 4 Success's CEO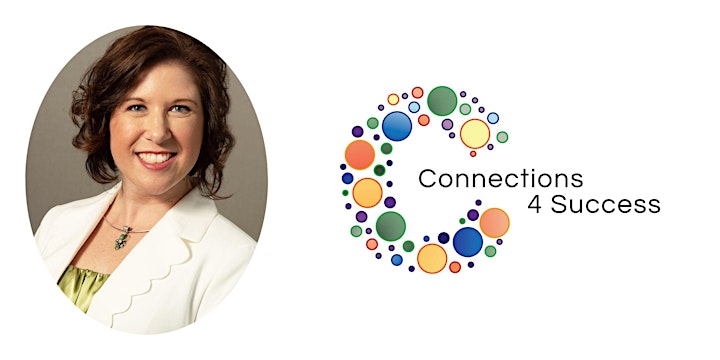 Vanessa Dodds, CEO/President of Connections 4 Success, is a business strategy, professional development, and workforce development expert with over eighteen years' expertise and experience across corporate and small businesses, public sector, and nonprofit industries. She is an accomplished leader and well recognized within the Greater Pittsburgh region with a proven track record of helping organizations expand, increase profitability, and impact. She serves on the Carlow University's Alumni Advisory Council as the Co-Chair, is a National Small Business Association Leadership Council member, and is the past President of the Rotary E-Club of District 7305.
In 2020, Vanessa received the Pittsburgh Business Times 2020 Women of Influence award. Vanessa's business acumen, leadership, experience, and capability to solve problems across multiple industries are what make her methods and insights so valuable. She has had a diverse work experience spanning across the education, nonprofit, public, and for-profit sectors.
Vanessa has successfully implemented business alignment, strategic growth objectives, fiscal and operational management, program development, and organizational training for numerous award-winning for-profit corporations and nonprofit organizations in the Greater Pittsburgh region.