Description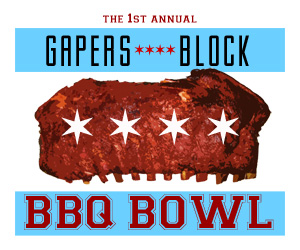 Gapers Block presents its First Annual BBQ-Bowl, co-sponsored and hosted by Club Lucky, Saturday, February 4th from 12pm to 3pm.
Join us for an afternoon of tangy-sweet indulgence at its very best. Representatives from legendary Chicago barbecue joints and restaurants, including Honey 1 BBQ, Honky Tonk BBQ, Mrs. Murphy & Sons Irish Bistro, The Piggery, Pork Shoppe, Rub BBQ Company and Club Lucky, will cook up some their finest smokey treats for you to savor and taste... or just devour whole.
$25 at the door will get you admission, one tasting from each BBQ contestant, and your choice of two Southern-inspired sides, generously prepared by Club Lucky's Executive Chef Alfredo Anaya. Additional tastings and sides may be purchased for $3 per ticket.
Club Lucky's bar will be mixing up cocktails and dishing out beers all afternoon. And Koval Distillery will be conducting FREE tastings of several of their best organic whiskeys.
Feeling full? Cast your vote for the "People's Pick" award at our polling booth. A panel of esteemed judges will also vote for the "Critic's Choice" award. This year's champions will be announced at 2pm.
Live music by soul group The Congregation will top off the finger-licking afternoon, and food and drink will remain available after the winners are chosen.
Gapers Block presents its 1st Annual BBQ-Bowl
Saturday, February 4, from 12pm to 3pm
BBQ winners announced at 2pm
Located at Club Lucky, 1824 W. Wabansia Ave., Chicago, IL 60622
Tickets are $25
About Gapers Block
Gapers Block is a Chicago-centric web publication providing information on news, events and other interesting stuff around town. Our volunteer staff of contributors is made up of Chicagoans both native and imported, with diverse backgrounds and interests but two things in common: a deep love of the city and a wish to share it with their audience. Read more at http://www.gapersblock.com/.
About Club Lucky
Described by co-owner Bobby Paladino as a "1940s supper club and cocktail lounge on the verge of the 1950's", Club Lucky is a casual Italian neighborhood restaurant that was conceived as he next generation of Chicago icons like Club Lago and Gene & Georgetti's. The atmosphere is casual, portions are generous and the prices are reasonable. Club Lucky seats 175 people and is open for lunch Monday thru Friday, Sunday brunch, and dinner seven nights a week.
Organizer of Gapers Block BBQ Bowl
Gapers Block's mission is to get you to slow down and check out all the cool things happening in Chicago. Check it out at gapersblock.com!