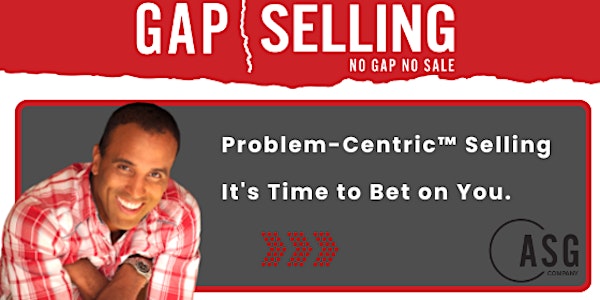 Gap Selling Problem-Centric™ Methodology Training BETA!
BACK AFTER A 2-YEAR HIATUS, Gap Selling Problem-Centric ™ is back and available to the general public for one EVENT ONLY!!
Refund Policy
Contact the organizer to request a refund.
Eventbrite's fee is nonrefundable.
About this event
Welcome to Gap Selling Problem-Centric™ Training - Virtual Classroom. Get your pens and pencils ready because we are converting our 9 Hour in-person training to 3 zoom sessions LIVE with Keenan! This an extreme RARE event that does not happen often as our training is not open to the public hardly ever!
August 24th, 25h, 26th: 8:00-11:00 MT / 10:00-1:00 ET This is a three-Day event; 3 hours each day!
This is NOT your typical sales training...
Gap Selling Problem-Centric ™ Training is the most anticipated, sought after, and talked about NEW sales training methodology on the market. This is not that same bullsh!t sales tactics you've seen or heard before. Gap Selling makes sure you know how to be successful in the 21st-century sales world. Don't take our word for it...check out Gap Selling Sales Training on G2 Crowd.
KEENAN LIVE ONLINE!
Gap Selling Problem-Centric ™ Training is based on Keenan's book Gap Selling. This training takes the book methodology from print to straight live coaching from the man himself. Keenan will personally and directly coach, challenge, and motivate the group to want to be better and have the skills to do it.
Profanity Disclaimer: Gap Selling Problem-Centric ™ Sales Training is Keenan in his most authentic form...UNCENSORED! If you are easily offended by profanity, this training may not be for you.
Beta Disclaimer: Please note, this will be the first run through of this training. It is being offered at a significantly discounted price (Greater than a 90% discount.) with the expectation that by signing up you will be willing to offer feedback and deal with any bumps along the way. This is a BETA test of a NEW VERSION of the Original Gap Selling Problem-Centric™ Training.
LEARN!
How to shorten your sales cycle
Close more deals
Increase your average deal size
Handle objections like price and competition
Build a robust pipeline
And be a sales BadA$$
DON'T MISS OUT!
A Sales Growth Company is offering this training to the sales community wanting to Bet on Themselves! This training curriculum is available for direct purchase by sales organizations for in-person training. This online training is here to give access to those who do not have access through their company but want to get better. We ask companies to limit the number of tickets they utilize to no more than 5.
Want to know more? Check out what other sales professionals are saying by going to #GapSelling on LinkedIn or check out this testimonial: How Ryan Cannady Increased Membership 5X.
AGENDA:
August 24th: 8:00-11:00 MT / 10:00-1:00 ET
Introduction to Gap Selling
Sales Myths Busted
Foundation of Gap Selling
Become a Change Agent
Defining Current State
Defining Future State
Measuring the Gap
Problem Identification
Technical Vs. Business Problems
August 25th: 8:00-11:00 MT / 10:00-1:00 ET
Powerful Discovery
Leading the Process
Understanding Value
Presenting Solutions
August 26th: 8:00-11:00 MT / 10:00-1:00 ET
Discovery Continued
Basic Structure
Deal Management
Troubleshooting
Empathy and Helping Mindset
EVENT HELD OVER ZOOM - Details will be sent via eventbrite email.