About this Event
When: Friday 17, Saturday 18 and Sunday 19 January 2020
Time: 10:00 am to 3:00 pm
Venue: GAP Seymour – 298 Goulburn Valley Highway, Seymour, VIC 3661
Free? Our greyhounds are priceless! GAP Seymour are waiving their adoption fees at the upcoming three-day adoption weekend on 17th, 18th and 19th of January at the Seymour kennels
Come join us on Friday through to Sunday 10am to 3pm each day. Around 130 greyhounds will be on-site eager to meet their new families.
If you're not ready to adopt just yet, don't worry. Come along for a pat and find out more information. Our experts from GAP will be on hand to answer any questions you may have.
If you are interested in adopting on the day, please go to https://goo.gl/F6eeXO and fill out the adoption application. The form needs to be filled out in addition to registering to attend the event.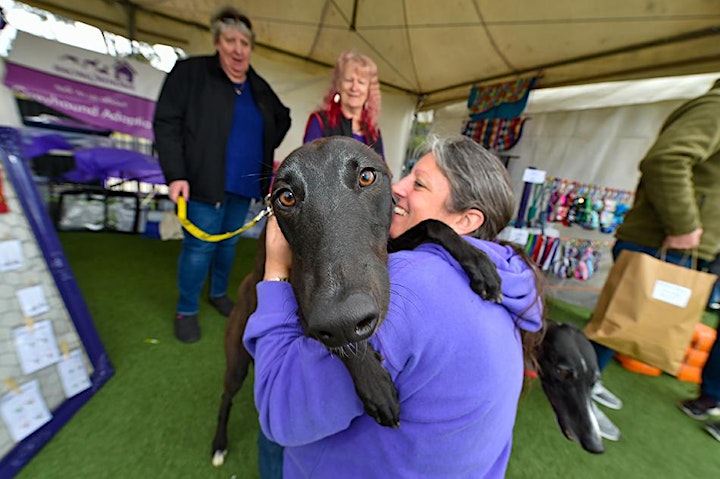 FAQs
What can/can't I bring to the event?
All you need is yourself!
Can I bring my pet dog with me?
Yes, but please make sure that your dog is on-lead at all times within the venue.
Will there be cat-tolerant greyhounds available for adoption?
NO. Unfortunately, due to these greyhounds being in high demand there won't be any cat-tolerant greyhounds available on the day for adoption. If you would like to adopt a cat-tolerant greyhound, please contact GAP directly on 03 5799 0166.
What greyhounds are up for adoption?
In the week leading up to the event, we will publish the list of greyhounds that will be available on the day, which we will post on this page closer to the event. However, if you register prior to Wednesday 15 January 2020, you will also receive an email by Thursday 16 January 2020, with information regarding the day which includes the list of greyhounds available.
Can I have a greyhound held for me and just pick up on the day?
We cannot hold a greyhound(s) for you. Remember every day is an Adoption Day at GAP, so if you don't get the greyhound you are looking for don't worry. There are more coming through the program on a weekly basis, so the right one will come along eventually, you just need to give it time.
What happens if I miss out on the day?
Unfortunately, we can only transport a certain number of greyhounds to these events, therefore, with the popularity of them, there is a chance you will miss out on adopting a greyhound. It is important to remember though; every day is an Adoption Day at GAP. If you don't get the greyhound(s) you would like, don't forget there are more coming through the program on a weekly basis. The right greyhound will come along, it just may take some time so don't be discouraged.
Where can I contact the organiser with any questions?
For more information please visit the GAP Adoption Days page on our website. You can also contact us at adoptionday@grv.org.au.
Do I have to bring my printed ticket to the event?
Ideally, it would be great if you did but no, you don't need to bring your printed ticket. We can still check you in without it.