Ganesh Sitaraman: The Crisis of the Middle-Class Constitution
Description
12:00 p.m. - Check-in + lunch is served
12:30 p.m. - Program
1:45 p.m. - Book signing
In his provocative new book, Professor Ganesh Sitaraman argues that a strong middle class is a prerequisite to our constitutional system. Today with economic and political inequality on the rise, Professor Sitaraman says Americans face a choice: Will we accept rising economic inequality and risk oligarchy or will we rebuild the middle class and reclaim our republic?

Dive in to this lively dialogue about economics, history, philosophy, law, and politics with Ganesh Sitaraman, author of The Crisis of the Middle-Class Constitution. He makes a compelling case that inequality is more than just a moral or economic problem; it threatens the very core of our American constitutional system.
---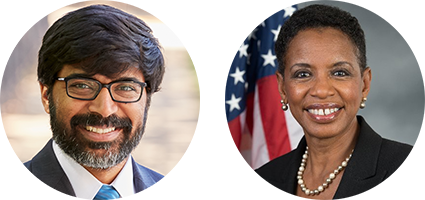 Ganesh Sitaraman, author, The Crisis of the Middle-Class Constitution; Associate Professor, Vanderbilt Law School; Senior Fellow, Center for American Progress

The Hon. Donna F. Edwards, Senior Fellow, Brennan Center for Justice at NYU School of Law (moderator)
Lunch will be served.