GAN-e-meed Theatre Project presents SILENCE, Dec 2-18, Thurs/Fri/Sat at 8pm

Weekly Event - Every Thursday Friday & Saturday: 8:00 PM (EST)
Event Details
Silence by Moira Buffini
directed by SerahRose Roth
A comedy set in the Dark Ages of England, Silence tells the story of Ymma, a bitter Norman noblewoman banished to England and forced to marry 14-year-old lordling, Silence, who is worth far more than he seems.  After an unexpected stand-off with the despotic King Ethelred, the two lovers--joined by Ymma's innocent servant Agnes; Roger, a hapless priest; and Eadric, a soldier with an eye for radiance—embark on a journey through power, identity, gender, and desire that will change their lives forever.
Dec 2-18 at 8pm, Thurs, Fri, Sat
Elizabeth Peabody House
277 Broadway Somerville, MA
General Information
All tickets are open seating.  House opens at 7:30pm.
Running time is approximately 2.5 hours which includes one intermission.
This play contains mature content and is not recommended for children under the age of 14.  However, you know your child.  Feel free to call and discuss the topics of the show to determine if it is appropriate for your child.
Children ages 5 and under are not allowed in the theatre for performances.  This includes babes-in-arms
The Elizabeth Peabody House is not wheel chair accessible.  We regret the inconvenience and would be happy to assist you in determining how we can help surmount the stair challenge so you can join us for a performance.  Please call 617-863-0664 to discuss options.

Pay with Credit Card in advance or Cash at the Door
To pay in advance with credit card, purchase your ticket as instructed using eventbrite
To pay with cash at the door, reserve your ticket using the Pay Cash at the Door option. Please pick up your ticket by 7:45.
Opening Night Reception

Thursday, December 2.  Please join us after the 8pm show for a celebratory reception!

Post-show Talkbacks
Thursday Night performances are followed by a discussion with the cast and director.

Under 25 Rush
$15 Under 25 rush tickets are available every night at 7:30pm for patrons who are under 25 years old.  Cash Only.
Getting There & Parking

Metered street parking is available which is payable with quarters only until 8pm.  Once past 8pm, it's free.
Free street parking is available on Fellsway Way, next to the park, until 10pm, at which point it becomes residential
The Elizabeth Peabody House is a short bus ride away from the Sullivan Square stop on the Orange Line, or the Davis Square stop on the Red Line.

Production Team
Production Manager - Samson Quaintance
Stage Manager - Amanda Sheehan
Costume Design - Emily Woods-Hogue
Lighting Design - Emily McCourt
Sound Design - Gillian Moon
Sound Intern/Board Op - Shane

Wiechnik
Cast
Erin Scanlon*
Terrence Haddad
Marc Harpin
Madeline Schulman
Scott Sweatt
Molly Haas-Hooven

*This actor is a member of of Actors' Equity Association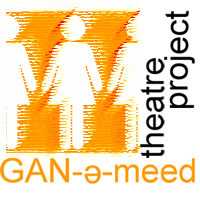 GAN-e-meed Theatre Project is a mission-driven non-profit company dedicated to advancing the role of women in theatre.
Where

Elizabeth Peabody House
277 Broadway
Somerville, MA


Weekly Event - Every Thursday Friday & Saturday: 8:00 PM (EST)
Add to my calendar
Organizer
advancing the role of women in theatre