Description
HRDF CLAIMABLE & SBL-KHAS APPROVED! OFFLINE PAYMENT IS AVAILABLE UPON REQUEST
OVERVIEW
This workshop will focus on the application of gamification in reshaping employee experience with a behavioral change to motivate participation, engagement, loyalty, and productivity in the workplace.
OUTCOME OF THE WORKSHOP
Learn to engage with employees using gamification to make the working environment more enjoyable and exciting

Boost the rate of learning for the employees in a more engaging way, retain more knowledge over time, and utilize the knowledge in creative ways

Manage problems with retaining employee at the onboarding process

Create HR policies that encourage positive behavior

Produce the right incentive scheme to entice employees loyalty to the organization

Become more persuasive in all forms of communications
WHY YOU NEED TO ATTEND THIS WORKSHOP
Gamification in the workplace is the use of game mechanics and behavioral design to motivate behavior change and engage employees in improving their performance, productivity, participation, and loyalty.
Gamification uses game design to taps into human behavior to understand the science behind human motivation and how to impose the natural drive of human motivation in the workplace environment.
The workshop will discuss the concepts and frameworks of gamification such as the Octalysis Framework, An Coppen's framework, Andrzrej Marczewski's Player and User Types Hexad to name a few. The participants will then use this concepts and frameworks to develop their own prototype by the end of the workshop.

HOW HR CAN USE GAMIFICATION
With properly designed gamification strategy, gamification can be used to achieve the following business goals:
Motivate Employees to Learn and Participate in Training

Improve Talent Acquisition Management

Cultivate Corporate Culture and Retain Valued Employees

Incentivize Paperwork and Other Administrative Requirements

Map the Path to Career Success
ENDORSED BY GAMFED
We are so proud to present our gamification workshops that are now endorsed by the International Gamification Confederation (GamFed), which reviewed and determined the best practices of gamification to be applied in specific areas of HR. We have trained and developed our trainers using frameworks that were designed from the world top gamification gurus like Yu-Kai Chou, An Coppens, Andrzej Marczewski, Pete Jenkins and much more to ensure the content delivered is aligned with international best practices and standard.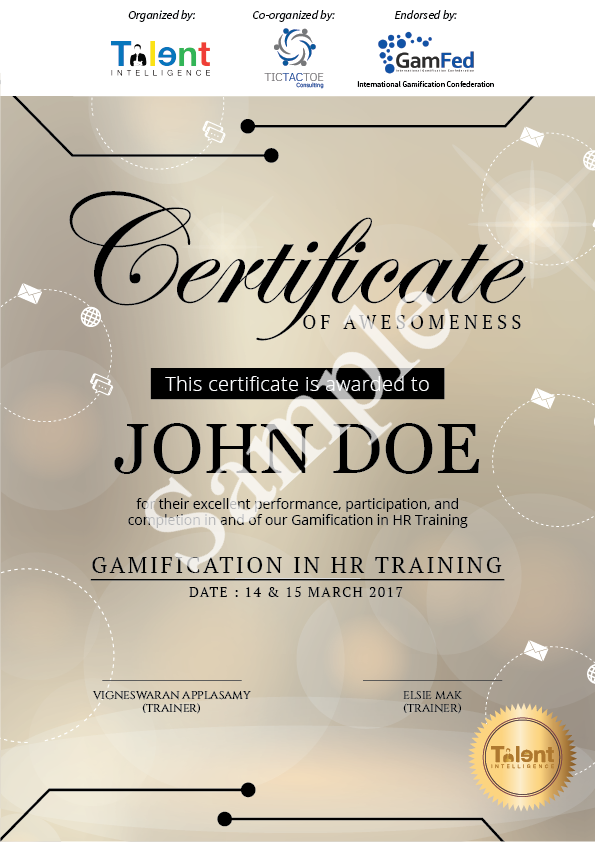 ---
TESTIMONIAL VIDEO OF OUR PREVIOUS WORKSHOP
As the learning experience and effectiveness is vital to the workshop success, seats are limited to 25 participants only. Therefore registration is based on first come, first serve basis.
For further information, please contact us at mia@talent-intelligence.asia or call +6017 929 9507 (MIA).


HRDF CLAIMABLE & SBL-KHAS APPROVED! OFFLINE PAYMENT IS AVAILABLE UPON REQUEST