Description
OVERVIEW
Based on an accumulation of studies reported on in the mid-1990s, Gallup findings revealed the primary determinant of an engaging and high-performing workplace is the manager. Wide variation in most organizations occurs across teams and business units. People leave managers more than companies. More recently, Gallup has reported that as much as 70% of the variance in the employee engagement of teams can be traced back to the influence of the manager -- through the manager's engagement, behaviors as observed by team members and the natural wiring of managers. In order to prepare managers to become the ambassador, to engage and motivate your employee, human motivation and behavioural design has became one of the important leadership skills. 


This workshop will focus on the application of gamification in reshaping employee experience with a behavioral change to motivate participation, engagement, loyalty and productivity in the workplace.
OUTCOME OF THE WORKSHOP
• Apply Gamification framework at work for employee engagement and motivation
• Produce a balance of extrinsic & intrinsic rewards design to entice employees loyalty and build long term engagement
• Shape new & good behaviour to drive productivity and performance
• Manage problems with retaining employee
• Become more persuasive in all forms of communications
WHY YOU NEED TO ATTEND THIS WORKSHOP
Gamification in the workplace is the use of game mechanics and behavioral design to motivate behavior change and engage employees in improving their performance, productivity, participation, and loyalty.
Gamification uses game design to taps into human behavior to understand the science behind human motivation and how to impose the natural drive of human motivation in the workplace environment.
The workshop will discuss the concepts and frameworks of gamification such as the Octalysis Framework, An Coppen's framework, Andrzrej Marczewski's Player and User Types Hexad to name a few. The participants will then use this concepts and frameworks to develop their own prototype by the end of the workshop.
ENDORSED BY GAMFED
We are so proud to present our gamification workshops that are now endorsed by the International Gamification Confederation (GamFed), which reviewed and determined the best practices of gamification to be applied in specific areas of HR. We have trained and developed our trainers using frameworks that were designed from the world top gamification gurus like Yu-Kai Chou, An Coppens, Andrzej Marczewski, Pete Jenkins and much more to ensure the content delivered is aligned with international best practices and standard.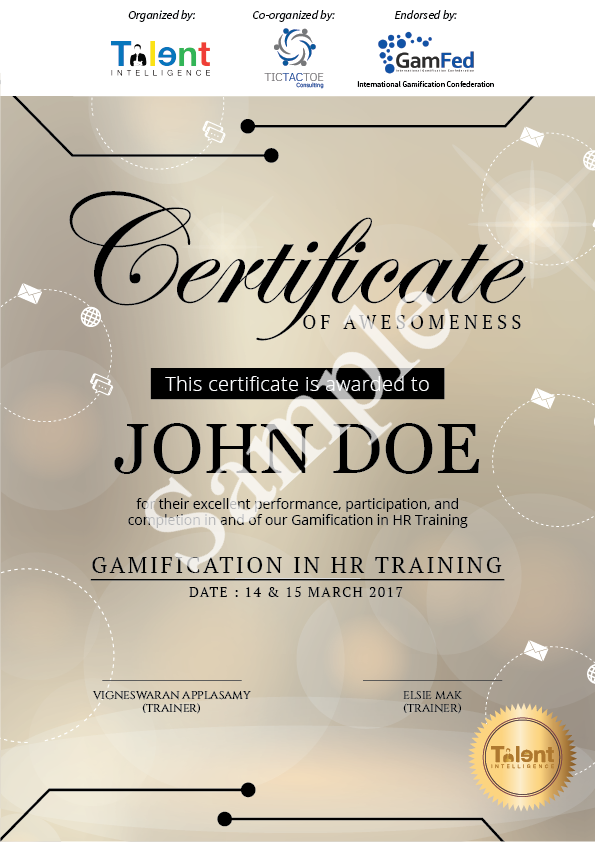 ---
TESTIMONIAL VIDEO OF OUR PREVIOUS WORKSHOP

As the learning experience and effectiveness is vital to the workshop success, seats are limited to 25 participants only. Therefore registration is based on first come, first serve basis.
For further information, please contact us at djae@talent-intelligence.asia or call +6010-789-3012
100% HRDF CLAIMABLE & SBL-KHAS APPROVED! OFFLINE PAYMENT IS AVAILABLE UPON REQUEST