Description
About
Harness the power of games. Gamification Europe is the 2 day gamification conference that gives you all the necessary tools to use gamification in your organisation. Our exceptional speakers will do more than just inspire you: they will motivate you to design better, to embrace failure with grace (which is far easier to learn from), and finally they will help you avoid making the mistakes that they made.
Organised by GAMIFICATION+


Our Speakers
The Theme - From Player to Professional
Gamification has evolved. It is becoming a profession, whereby the individuals who practice and preach it are helping to define what is and more importantly what isn't, gamification. In this conference we are curating successful and unsuccessful case studies and experiences to help define a more definitive set of common practice standards and rules. This should aim to influence more accessible gamification to the masses, without simplifying it to the point where it's no longer gamification at all. The reach gamification has achieved in such a short time is awe inspiring, but we believe that this reach includes some massive respsonsibily.

In fostering a greater understanding of the opportunities and threats that the gamification profession faces, we can tackle the adversities head on and innovate and improve the qualities of tools and frameworks from the inside out.
Schedule:
Become a gamification master
Leading innovative firms and startups bought their tickets AGES ago. Attending this conference will:

Allow you to ask the speakers questions after their talk (YouTube comments aren't the same and you know it)

Boost you into presence of industry leaders who are building the future (e.g. hear it here first)

Help you to reimagine what gamification is and isn't, through best practice, case studies and insight from industry leaders

Hear talks you've not heard anywhere else (You go to conferences to learn something new right?)

Expose you to new ideas

Upgrade your understanding of gamification through new perspectives (we lead this industry from the inside out)

Expose you to other industry leaders and innovators. (This is more than just a convergence of great minds, this is a chance to find new partners, solve your business problems and experience dozens of 'aha' moments.)

Put you at the epicenter of gamification knowledge
You should Enter into the Awards


Our team is proud to present The Outstanding Gamification Europe Awards 2018. We have curated these awards with Dr. Michael Wu to highlight the fantastic work that gamification practioners have engaged in. We aim to highlight: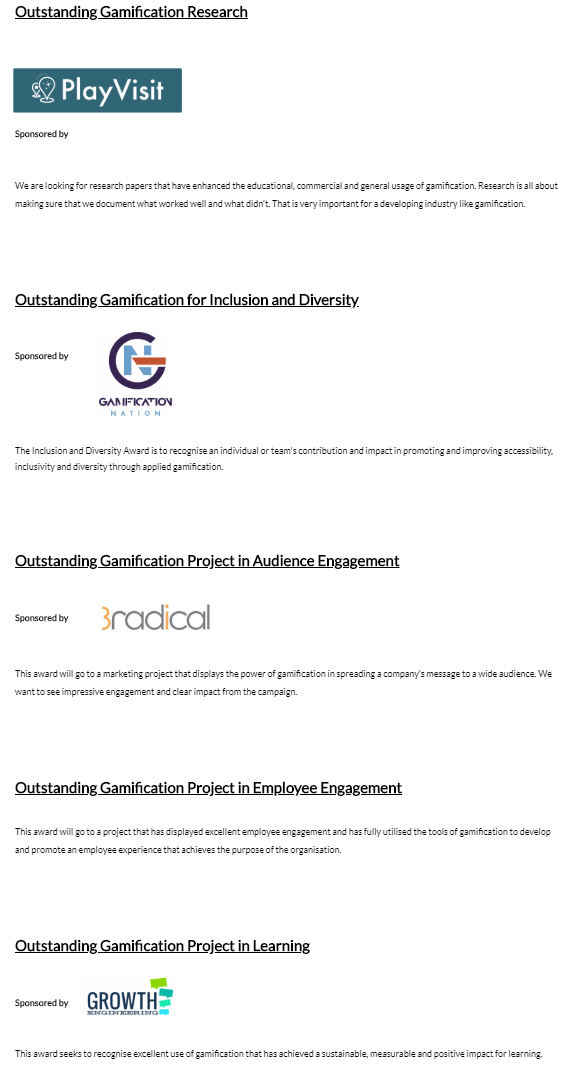 Answer the call to adventure now!
Buy a ticket for both days of the conference, and be at the epicenter of gamification knowledge.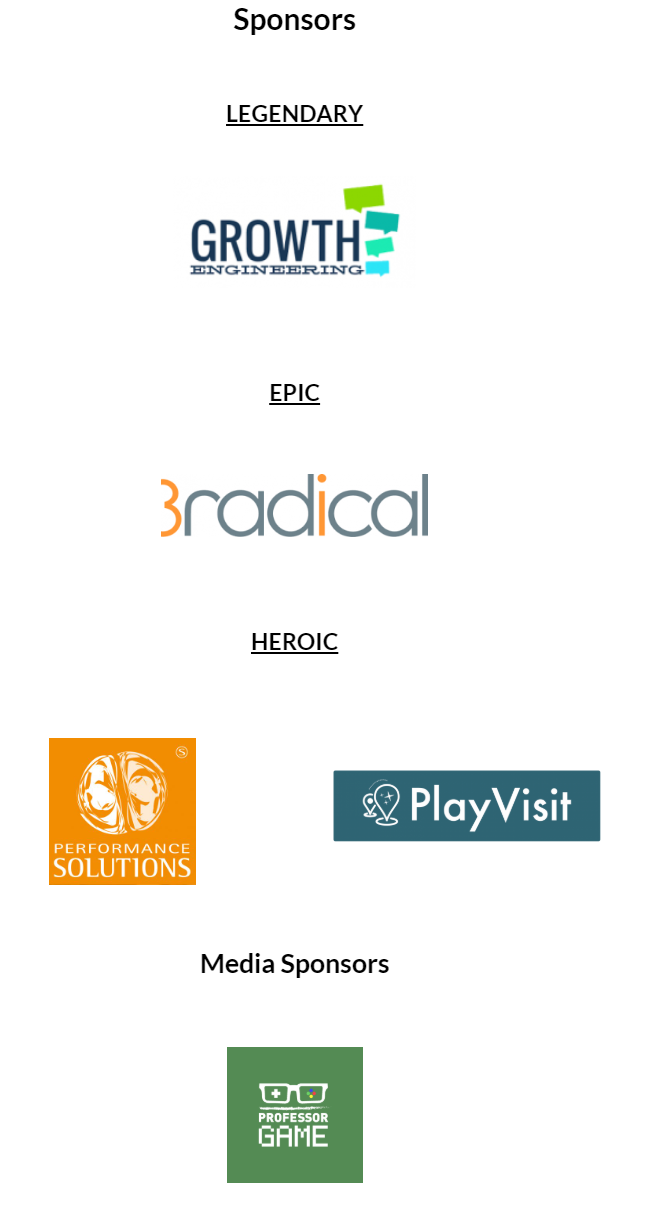 The organising team,
Pete, Vasilis, Kira and Sofia