Refund policy
Refunds up to 30 days before event
Sales Have Ended
Ticket sales have ended
Thank you so much for your interest in #gamesUR Summit. Unfortunately our ticket sales have ended, but do follow us on Twitter @gamesUR for information about upcoming events.
The GRUX SIG of the IGDA is happy to welcome you to the 2022 #gamesUR Summit!
About this event
This year's Summit is hosted via Zoom May 19 & 20 2022 starting at 11AM EST.
We are very excited to be covering a breadth of content for the Games User Research and User Experience community at this year's flagship event. If you haven't yet, please take a look at the full schedule, available here (also included as images below). You'll see our talks presented by expert practitioners covering a range of topics that cover our theme of this year - metamorphosis. Our theme is split into three subcategories - Beyond AAA, How research has changed due to the COVID pandemic, and our #gamesUR Classics. Find out more information about this year's theme here, and the speakers and their presentations.
In addition to informative content, this year's conference also offers plenty of networking opportunities via exciting social events.
Upon purchasing a ticket via this Eventbrite website, you will be granted access to our Eventbrite Attendee Page. This page includes all the information you need to register for the Zoom webinar, sign up for social events, buy swag, and more.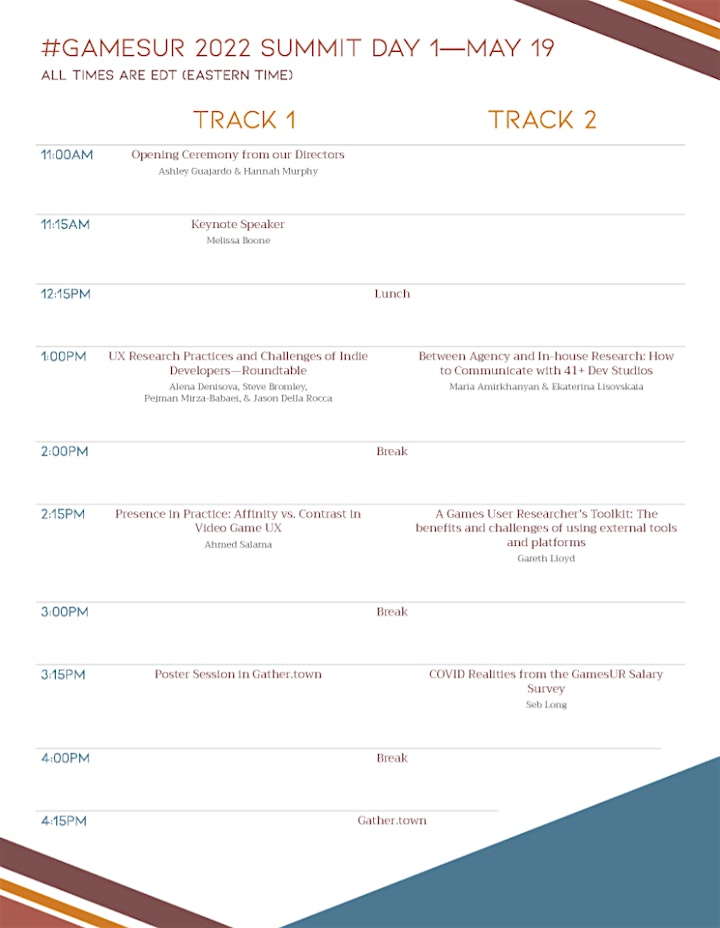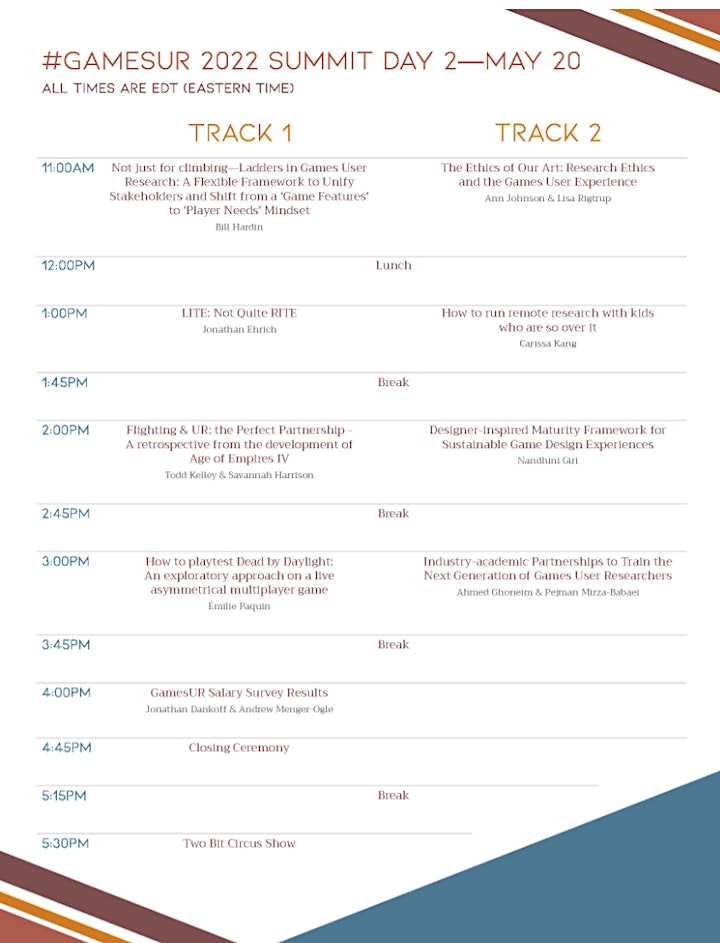 By purchasing a ticket, you agree to abide by the gamesUR Summit Code of Conduct. More information about our Code of Conduct can be found here. https://gamesurconf.com/us/conduct_2022/
Of course none of this would be possible without the gracious support of our sponsors. A heartfelt thanks to the following folks:

For information about our decision to move the Summit online, please see the details below:
Due to the rising concern over the Omicron variant of COVID-19, the #gamesUR Summit committee has made the difficult decision to pivot to an online event. We are excited to welcome everyone to an online, Zoom-based format.
We've made every effort to keep the cost of participation this year low without losing the accessibility gains attained by last year's online Summit. We hope you understand that a ticket fee assists us in being able to adequately anticipate the need and use of online resources like GatherTown and Zoom.
We are also excited to introduce the #gamesUR Summit 2022 Hero Ticket Tier. The #gamesUR Summit organizing committee recognizes that systemic injustices put certain communities at a disadvantage and we seek to correct that. To make our community a more diverse, inclusive, and welcoming place, we have set up the Hero Ticket Tier to support the involvement of under served members of our community.
$10 of each Hero ticket sale goes to our Diversity Equity and Inclusion travel fund. This fund supports the cost of travel for members of Black, Indigenous, African American, Asian American, Pacific Islander communities as well as disabled communities who may not otherwise be able to participate in the Summit. Although this year's summit is online, it is our hope that a seed will be planted for brighter times when travel is again safe and responsible.
In addition to the Hero Ticket Tier, you are able to purchase general admission and student tickets for the event.