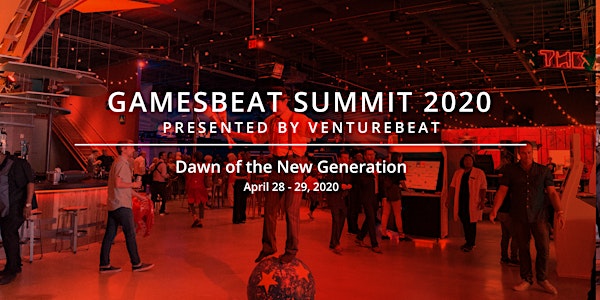 Refund Policy
Refunds up to 30 days before event
Description
-----------------------------
In this year's first ever digital GamesBeat Summit, we're excited to provide the community with the same great speakers, unique panels, groundbreaking content, and a personalized networking experience that brings the best of GamesBeat Summit digital.
Attendees will have access to livestreamed and recorded talks, the chance to engage in intimate breakout sessions and networking roundtables, 1:1 meetings with gaming thought leaders, access to our sponsors and gaming partners, and more.
With GamesBeat Summit going digital, we're excited to bring the #1 gaming event global. Register today to save your spot!
-----------------------------
Curated by VentureBeat's lead game writer, Dean Takahashi, we're exploring "The Dawn of a New Generation" with exciting speakers including:
Andrea Rene, Cofounder of What's Good Games

Doron Nir, CEO of StreamElements

Edward Saatchi, Cofounder of Fable Studios

Gary Whitta, screenwriter for Rogue One: A Star Wars Story

Mari "AtomicMari" Takahashi, Cofounder of Smosh Games

Tina Amini, editor-in-chief of games at IGN
With the release of next-gen consoles from Sony and Microsoft, the on-going evolution of Google Stadia, and the emergence of players like Apple, HBO, and Netflix to the industry, GamesBeat 2020 will focus on how companies can best navigate these transitions to new machines, new markets, and new business models.
---
This event is intended for Director level and above executives, plus today's leading game developers and publishers. VB reserves the right to refund tickets.
Please note: By purchasing a ticket to GamesBeat, you agree to receive information from VentureBeat and event sponsors. You can withdraw your marketing consent at any time by sending an email to events@venturebeat.com. You may unsubscribe from receiving marketing emails by clicking the unsubscribe link in each such email. More information on our processing can be found in the VentureBeat Privacy Statement.


---

VentureBeat's ticket refund policy effective as of March 3, 2020. VentureBeat will honor requests for ticket refunds in the following manner:
8 weeks out by March 3rd we will honor a refund request at 75% of the original ticket value
6-8 weeks out by March 14th we will honor a refund request at 50% of the original ticket value
4 weeks out by March 31st onward no refunds will be available
In the event that GamesBeat Summit must be postponed or altered, we will offer a 75% refund if the ticket holder chooses not to attend the updated event.